Table of goal data by year
Year
25/3 Mbps
100/20 Mbps
2020
#60 of 87
81.14%
#41 of 87
79.03%
2019
#45 of 87
85.22%
#37 of 87
78.56%
2018
#47 of 87
78.47%
#79 of 87
23.31%
2017
#22 of 87
94.78%
#14 of 87
90.2%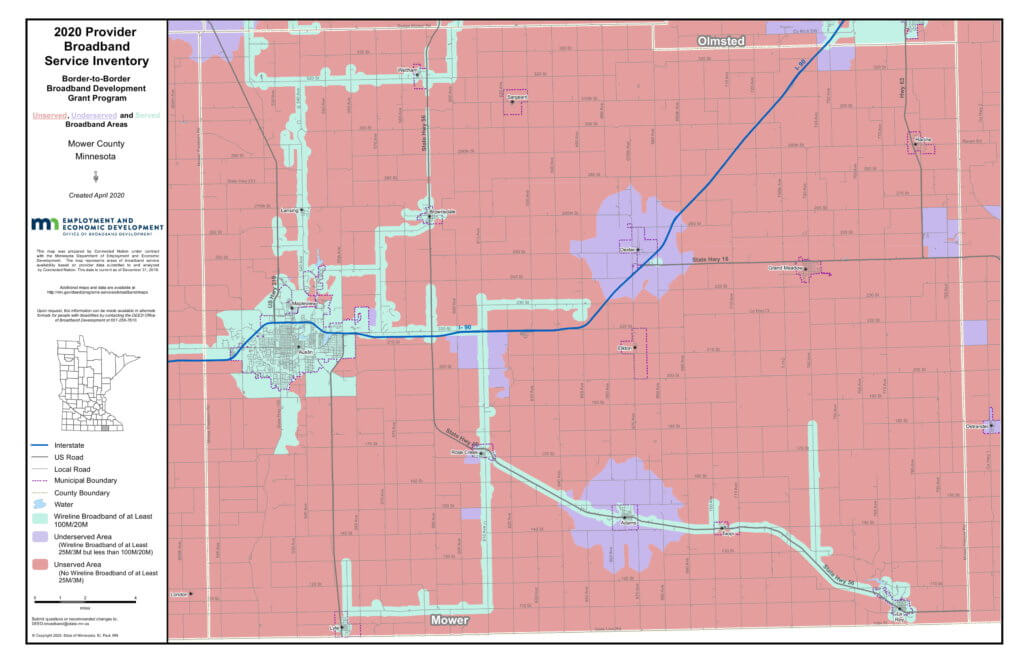 Rank: 40 (out of 87) for access to 100/20 megabits per second (Mbps)
Mower County applied for funding last year and didn't get it but in the process, they have found a partner in Midcontinent. It seems likely that they might try again. Mower County has a few providers in the area that are engaged, or claim to be engaged, so they are better off than counties with large national providers that seem less interested in investing in rural expansion.
What we learned in the past:
In 2017, Mediacom announced that part of Mower County (Adams, Brownsdale, Le Roy, Lyle, Waltham) are part of its Gigabit upgrade. That may explain some growth. In August 2019, Mid Continent asked Mower County to support their application for a Minnesota Broadband grant to extend/expand broadband in the area. Mower agreed to support it; but it was not funded.
Update from 2020:
Part of Mower County was served by Jaguar, which was acquired by MetroNet in July (2020). MetroNet claims they will invest $150 million to grow their Minnesota market.
Find more articles on broadband in Mower County.
Households with Device Access
Computer
85.5%
90.3%
statewide
Desktop or Laptop
72.2%
81.1%
statewide
Smartphone
67.0%
76.5%
statewide
Tablet
53.5%
59.3%
statewide
Has Worked with Blandin Foundation
No
Has Received MN Grant(s)
No
Government Districts
U.S. Congress: CD 1
MN Senate: 27
MN House: 27A, 27B