Table of goal data by year

| Year | Rank | 100/20 Mbps |
| --- | --- | --- |
| 2022 | #37 of 87 | 83.25% |
| 2021 | #35 of 87 | 84.95% |
| 2020 | #41 of 87 | 79.03% |
| 2019 | #37 of 87 | 78.56% |
| 2018 | #79 of 87 | 23.31% |
| 2017 | #14 of 87 | 90.2% |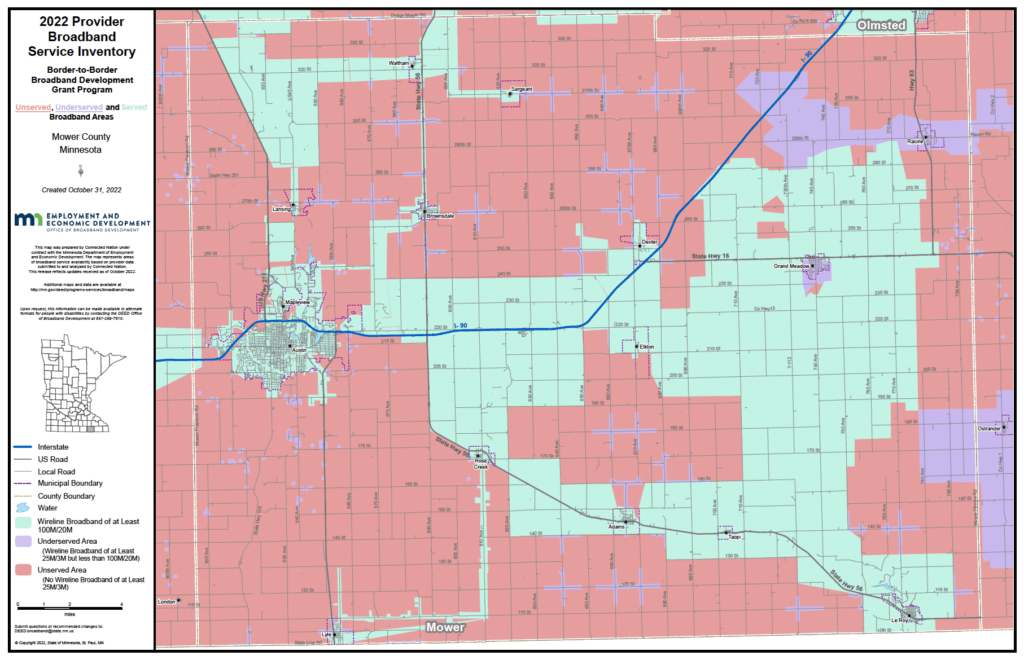 Rank: 37 (out of 87) for access to 100/20 megabits per second (Mbps)
Mower County ranks 37 for broadband access and 51 for digital equity out of 87 counties. They had slow growth for a few years and now saw a small slip with 83.25 percent coverage to broadband of 100 Mbps down and 20 up in 2022. The slip is likely due to increased granularity of reporting, not an actual decrease. They have 2835 households without access to broadband at that speed. Estimates indicate that it will cost $26.4 million to get to ubiquitous broadband in the county.
Mower County saw a great leap in access in 2019 and they have had steady growth since. They have some engaged providers in their area. They seem a little stagnant but last summer (2022) the Mower County Board of Commissioners met to talk about various options and even local investment of ARPA funding into improving local broadband. Unfortunately one of the providers they were working with was LTD Broadband.
LTD Broadband was awarded the opportunity to submit a long form to get federal funding (RDOF) to deploy FTTH throughout much of Minnesota but their application for RDOF has since been rejected. And the Minnesota PUC (Public Utilities Commission) are looking at revoking the ETC designation that LTD needed to qualify for RDOF money.
But Mower County has demonstrated an interest in engaging and investing in broadband so they maintain their yellow code.
Digital Equity:
Mower County ranks 51 out of 87 for digital equity. (See full Digital Equity Profile)
Mower County ranks 36 out of 87 for computer ownership. 91.5 percent of homes have a computer of device as compared to statewide ownership of 95.5 percent.
Households with Device Access
A Device
85.5%
95.5%
statewide
Desktop or Laptop
72.2%
83.2%
statewide
Smartphone
67.0%
90.1%
statewide
Tablet
53.5%
65.8%
statewide
Has Worked with Blandin Foundation
Yes
Has Received MN Grant(s)
Yes
MN State Grant awarded in 2021: KMTelecom – Rock Dell Southwest Fiber Build – GRANT $404,709 This last mile project will serve approximately 96 unserved households, 70 farms and five unserved businesses in rural Vernon Township in Dodge County and Sargeant Township in Mower County.
Government Districts
U.S. Congress: CD 1
MN Senate: 23, 26
MN House: 23B, 26B