Table of goal data by year

| Year | Rank | 100/20 Mbps |
| --- | --- | --- |
| 2022 | #81 of 87 | 51.38% |
| 2021 | #76 of 87 | 54.37% |
| 2020 | #78 of 87 | 51.59% |
| 2019 | #69 of 87 | 51.59% |
| 2018 | #51 of 87 | 50.78% |
| 2017 | #53 of 87 | 41.65% |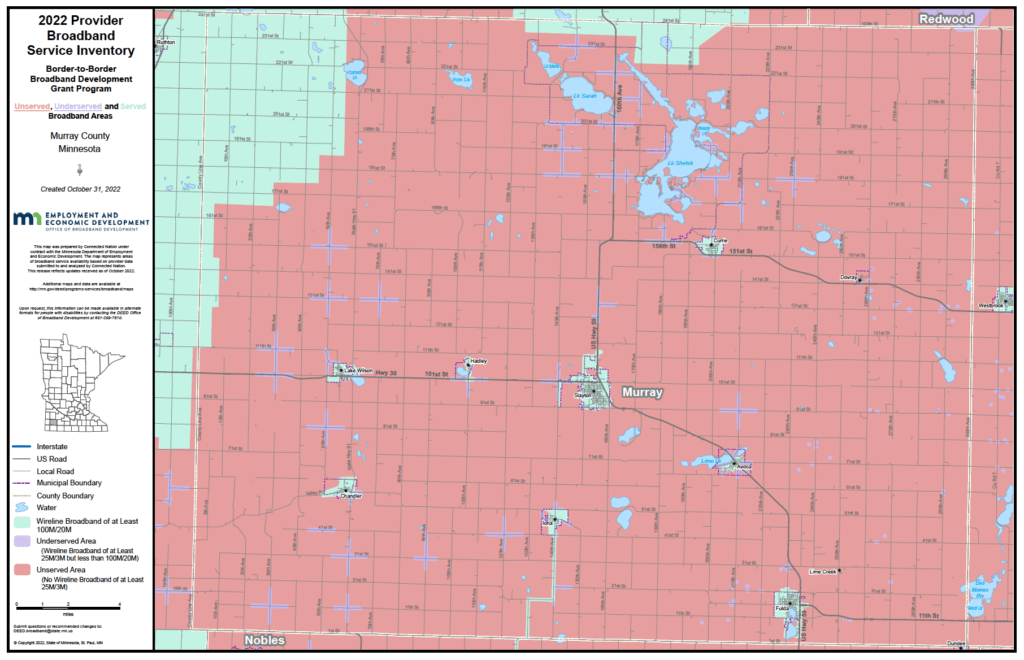 Rank: 81 (out of 87) for access to 100/20 megabits per second (Mbps)
Murray County ranks 81 for broadband access and 70 for digital equity out of 87 counties. They have hovered around 50 percent coverage to broadband of 100 Mbps down and 20 up since we started tracking. They have 2133 households without access to broadband at that speed. Estimates indicate that it will cost $19.8 million to get to ubiquitous broadband in the county.
Murray County will benefit from a border to border grant announced in December 2022:
Woodstock Telephone Company – Lake Sarah Township FTTP – GRANT $1,333,199
In 2018, with support from the Blandin Foundation, released a feasibility study that was not promising; it indicated that it is not economically feasible to build fiber everywhere. Subsequently, they are left looking at hybrid models, trying to convince the state to increase the 50 percent match or find another solution. Last summer (2022), the county committed $500,000 to support the broadband project that ended up receiving a border to border grant.
They are working, they just need to keep working and because of it the main code red standing.
Digital Equity:
Murray County ranks 62 out of 87 for digital equity. (See full Digital Equity Profile)
Murray County ranks 70 out of 87 for computer ownership. 88.3 percent of homes have a computer of device as compared to statewide ownership of 95.5 percent.
Households with Device Access
A Device
85.1%
95.5%
statewide
Desktop or Laptop
73.8%
83.2%
statewide
Smartphone
64.5%
90.1%
statewide
Tablet
50.4%
65.8%
statewide
Has Worked with Blandin Foundation
Yes
Has Received MN Grant(s)
Yes
2015 – MVTV Wireless Middle Mile – Grant award: $808,080
MN State Grants awarded in 2021: Lismore Cooperative Telephone Company (Lismore Broadband) – Iona FTTP – GRANT  $219,714 This last mile and middle mile project will serve approximately 100 unserved locations including 75 households, nine businesses, 13 farms, and three community institutions within the town of Iona.
Government Districts
U.S. Congress: CD 7
MN Senate: 21
MN House: 21A