Table of goal data by year
Year
25/3 Mbps
100/20 Mbps
2020
#78 of 87
65.2%
#78 of 87
51.59%
2019
#80 of 87
65.37%
#69 of 87
51.59%
2018
#81 of 87
51%
#51 of 87
50.78%
2017
#77 of 87
50.47%
#53 of 87
41.65%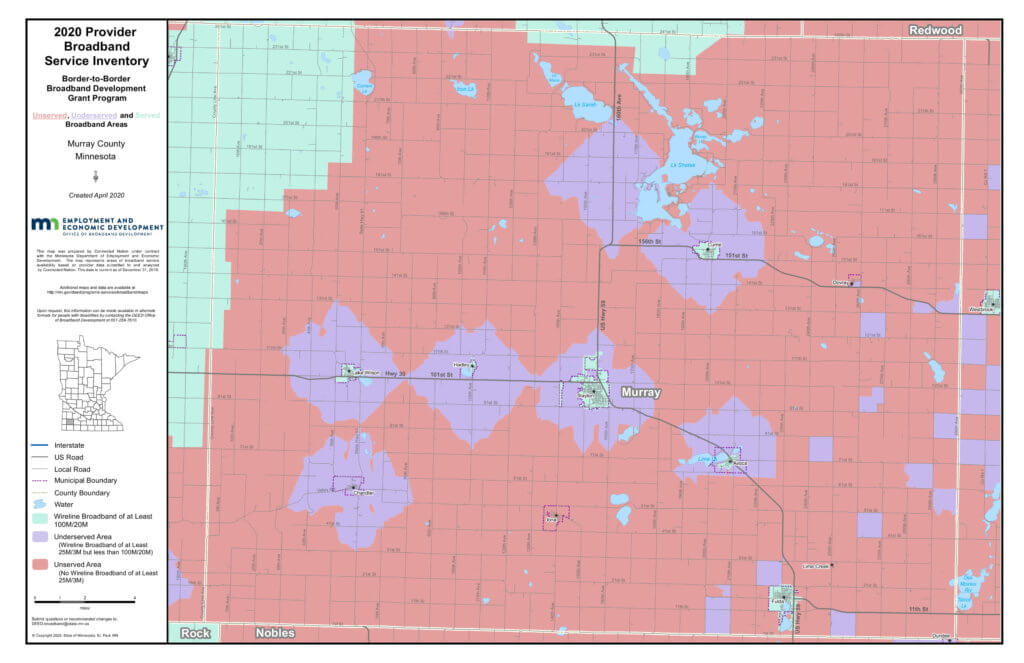 Rank: 69 (out of 87) for access to 100/20 megabits per second (Mbps)
In 2018, Murray County published a feasibility study that indicated that even with a MN Border to Border grant, it was not financially possible to build Fiber to the Home (FTTH). Subsequently, they are left looking at hybrid models, trying to convince the state to increase the 50 percent match or find another solution. There are a few counties with similar feasibility studies that indicate the same thing. I suspect there are other counties that may be in similar situations but have not had feasibility studies to spell it out.
What we learned in the past:
In 2018, with support from the Blandin Foundation, released a feasibility study that was not promising; it indicated that it is not economically feasible to build fiber everywhere in the rural parts of the county using the existing Border-to-Border grant program—the 50% grant matching in that program is not high enough to create a sustainable network.
Murray has benefited from one MN broadband grant:
2015 – MVTV Wireless Middle Mile – Grant award: $808,080
Update from 2020:
No broadband news to report from Murray County since last year's report.
Find more articles on broadband in Murray County.
Households with Device Access
Computer
85.1%
90.3%
statewide
Desktop or Laptop
73.8%
81.1%
statewide
Smartphone
64.5%
76.5%
statewide
Tablet
50.4%
59.3%
statewide
Has Worked with Blandin Foundation
Yes
Has Received MN Grant(s)
Yes
Government Districts
U.S. Congress: CD 7
MN Senate: 22
MN House: 22A