Table of goal data by year

| Year | Rank | 100/20 Mbps |
| --- | --- | --- |
| 2022 | #53 of 87 | 77.29% |
| 2021 | #45 of 87 | 78.49% |
| 2020 | #42 of 87 | 78.29% |
| 2019 | #38 of 87 | 78.42% |
| 2018 | #73 of 87 | 33.29% |
| 2017 | #38 of 87 | 54.54% |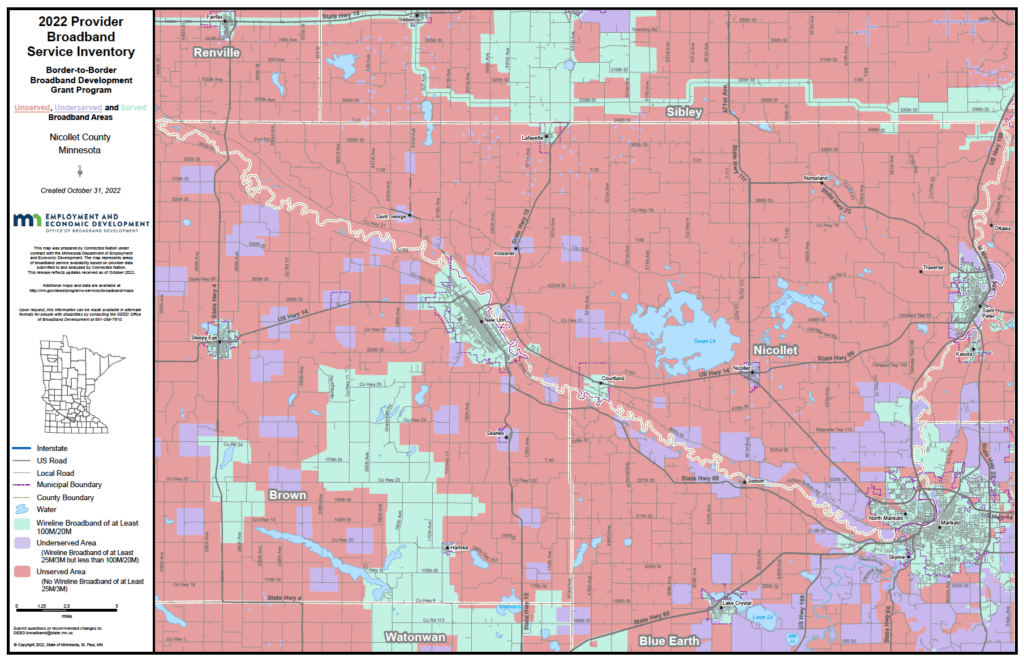 Rank: 53 (out of 87) for access to 100/20 megabits per second (Mbps)
Nicollet County ranks 53 for broadband access and 17 for digital equity out of 87 counties. They saw a nice leap in access in 2019 but have been stagnant at 78 percent coverage to broadband of 100 Mbps down and 20 up since. Their access actually decreased this year, but that is likely due to increased granularity of reporting and are within an acceptable margin of error.  They have 3037 households without access to broadband at that speed. Estimates indicate that it will cost $28.2 million to get to ubiquitous broadband in the county.
Nicollet County will benefit from a border to border grant announced in December 2022:
Nuvera Communications, Inc. – Nicollet County RTF DTF FTTP – GRANT $479,011 (Learn more)
Nicollet County saw great progress in 2019; they have been stagnant since then. They saw the one of greatest drops in broadband ranking – down 8 spots. They may see progress from Fidium Fiber, part of Consolidated Communications, as they extend service to the area. The most recent grant helps them hold onto their yellow code as opposed to going red.
Digital Equity:
Nicollet County ranks 17 out of 87 for digital equity. (See full Digital Equity Profile)
Nicollet County ranks 32 out of 87 for computer ownership. 91.7 percent of homes have a computer of device as compared to statewide ownership of 95.5 percent.
Households with Device Access
A Device
89.4%
95.5%
statewide
Desktop or Laptop
79.8%
83.2%
statewide
Smartphone
74.6%
90.1%
statewide
Tablet
59.7%
65.8%
statewide
Has Worked with Blandin Foundation
Yes
Has Received MN Grant(s)
Yes
2015 – MVTV Wireless Middle Mile = Grant award: $808,080
MN State Grant awarded in 2021: Nuvera Communications, Inc. – New Ulm HDT 202 FTTP – GRANT $444,386 This last mile project north of New Ulm will serve approximately 80 unserved and 67 underserved locations in Nicollet County.
Government Districts
U.S. Congress: CD 1
MN Senate: 18
MN House: 18A