Table of goal data by year
Year
25/3 Mbps
100/20 Mbps
2019
#51 of 87
82.68%
#38 of 87
78.42%
2018
#40 of 87
83.91%
#73 of 87
33.29%
2017
#36 of 87
86.1%
#38 of 87
54.54%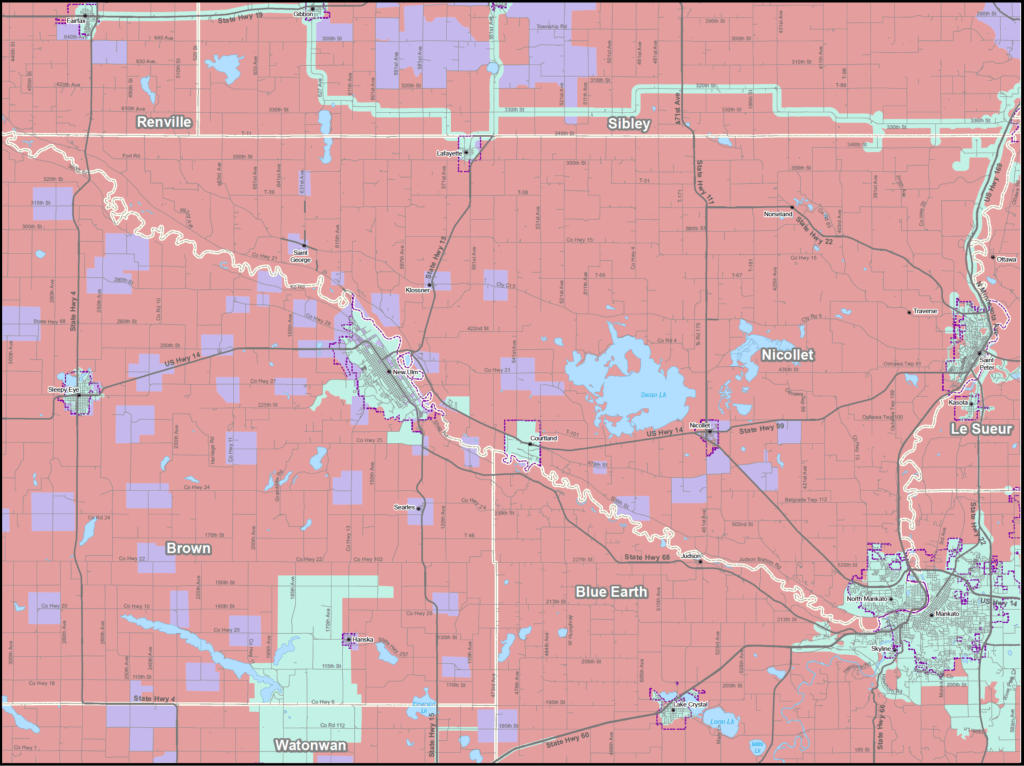 Rank: 37 (out of 87) with broadband at 100/20 megabits per second (Mbps)
Nicollet County could be poised to meet the broadband speed goals for 2022 and 2026. Although it will take a concerted effort.
Nicollet County has benefited from a state broadband grant:
2015 – MVTV Wireless Middle Mile
Grant award: $808,080
This project is a Middle Mile broadband infrastructure buildout to upgrade backhaul capacity between site locations within 20 southwestern Minnesota counties: Blue Earth, Chippewa, Cottonwood, Jackson, Kandiyohi, Lac Qui Parle, Lincoln, Lyon, Meeker, Murray, Nicollet, Nobles, Pipestone, Rock, Redwood, Renville, Sibley Swift, Watonwan, and Yellow Medicine.
It's difficult to get a clear picture of Nicollet's progress toward the speed goals given the dip in 2018 – caused by provider Nuevera going more granular with its DSL data – but it looks like Nicollet is experiencing  momentum toward reaching the state's speed goals.
Mediacom announced upgrades in 2017. Consolidated Communications announced improvements in 2018. County Commissioners have recognized the need for better broadband. In 2019, RS Fiber  completed construction of a gigabit fiber to the home  networks in ten communities located in Renville, Sibley, McLeod, and Nicollet Counties of west central Minnesota.
Find more articles on broadband in Nicollet County.
Has Worked with Blandin Foundation
Yes
Has Received MN Grant(s)
Yes
Government Districts
U.S. Congress: CD 1
MN Senate: 19
MN House: 19A