Table of goal data by year
Year
25/3 Mbps
100/20 Mbps
2019
#56 of 87
80.89%
#41 of 87
77.66%
2018
#46 of 87
79.24%
#24 of 87
77.18%
2017
#48 of 87
75.69%
#35 of 87
59.25%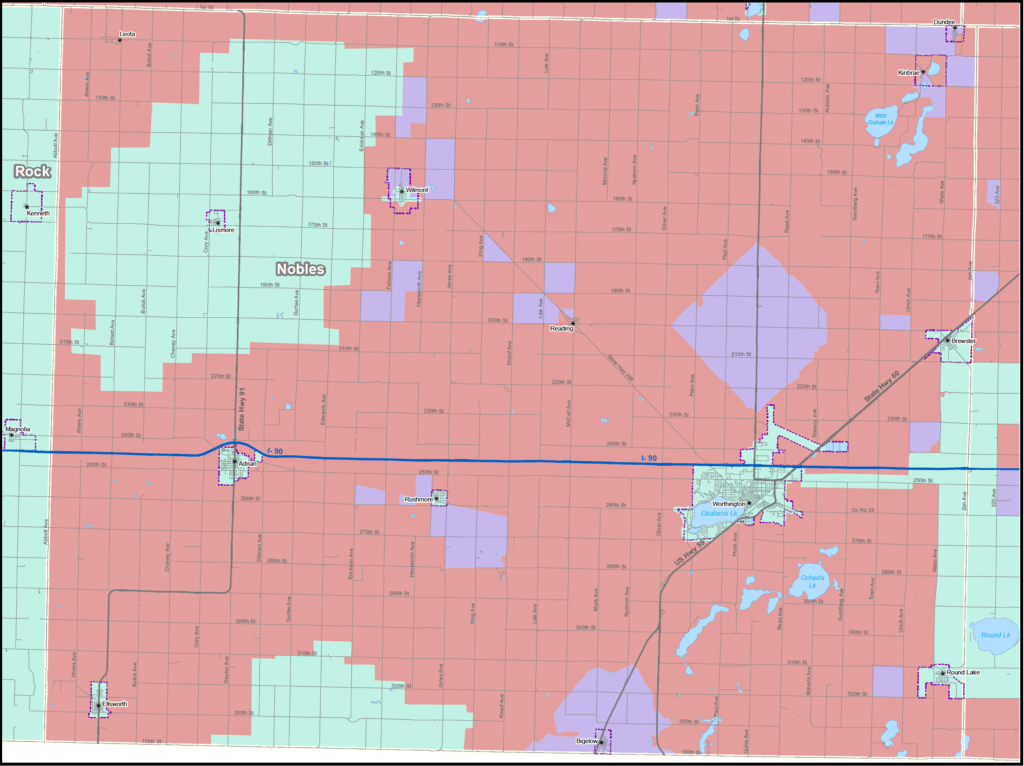 Rank: 40 (out of 87) for broadband speeds of 100/20 megabits per second (Mbps)
Nobles County is in a precarious position; they could reach broadband speed goals for 2022 and 2026 but it will take a concerted effort. Lismore Telephone is a cooperative in the area that has been active in the community. It looks like their state-funded project in 2016 only targeted speeds of 25/3 Mbps, though they do offer faster services. If Nobles County can get them (or another provider) to extend services, that will increase their chances of meeting the state speed goals.
Nobles County has benefited from two state broadband grants:
2016 LISMORE COOPERATIVE TELEPHONE NOBLES COUNTY BROADBAND – GRANT: $2,944,578
Serving 469 unserved households, 1060 unserved businesses, and 6 unserved community anchor institutions across Nobles County with services to 25 Mbps download by 3 Mbps upload via a fixed wireless solution for nearly 1,000 passings, and fiber to obtain gigabit levels for close to 500 passings.
2015 – MVTV Wireless Middle Mile
Grant award: $808,080
This project is a Middle Mile broadband infrastructure buildout to upgrade backhaul capacity between site locations within 20 southwestern Minnesota counties: Blue Earth, Chippewa, Cottonwood, Jackson, Kandiyohi, Lac Qui Parle, Lincoln, Lyon, Meeker, Murray, Nicollet, Nobles, Pipestone, Rock, Redwood, Renville, Sibley Swift, Watonwan, and Yellow Medicine.
As a member of Blandin Foundation's 2015-2016 Blandin Broadband Community cohort, Nobles County implemented nearly a dozen broadband adoption projects focused on digital inclusion, increasing public access to broadband, and improving the digital literacy skills of the county's business community. So, they are as community focused on broadband. Late in 2018, SDN Communications partnered with local providers to expand service into Nobles County.
Nobles County could benefit from future grants. In 2019, Lismore Telephone applied to upgrade service in Nobles. (That doesn't mean they will get the grant; they have only applied.)
Find more articles on broadband in Nobles County.
Has Worked with Blandin Foundation
Yes
Has Received MN Grant(s)
Yes
Government Districts
U.S. Congress: CD 1
MN Senate: 22
MN House: 22A, 22B