Table of goal data by year
Year
25/3 Mbps
100/20 Mbps
2020
#51 of 87
83.54%
#35 of 87
81.24%
2019
#56 of 87
80.89%
#41 of 87
77.66%
2018
#46 of 87
79.24%
#24 of 87
77.18%
2017
#48 of 87
75.69%
#35 of 87
59.25%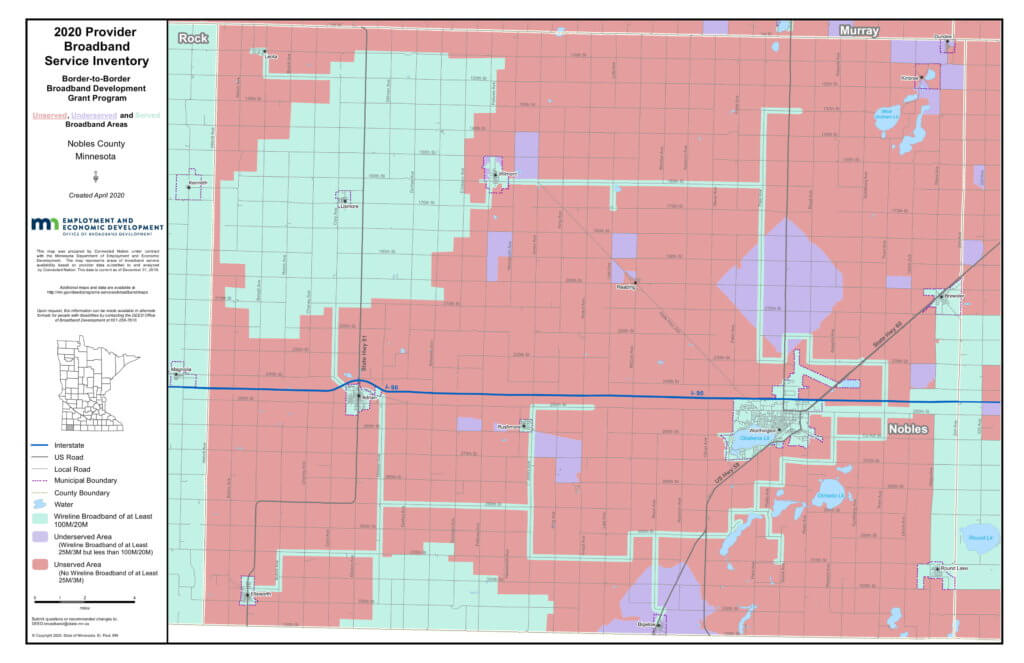 Rank: 36 (out of 87) for access to 100/20 megabits per second (Mbps)
Nobles County was a Blandin Broadband Community (BBC); they have deployed lots of broadband adoption programs. They have benefited from past MN Border to Border grants. In 2018, SDN found a way to expand to parts of Nobles County. They have pretty good coverage and there have been incremental upgrades but to get to the 2026 speed goals throughout the county, they will need to make a push. Because they were a BBC, they likely have a team together that might be able to take that on.
What we learned in the past:
As a member of Blandin Foundation's 2015-2016 Blandin Broadband Community cohort, Nobles County implemented nearly a dozen broadband adoption projects. Late in 2018, SDN Communications partnered with local providers to expand service into Nobles County.
Nobles County has benefited from two MN broadband grants:
2016 LISMORE COOPERATIVE TELEPHONE NOBLES COUNTY BROADBAND – GRANT: $2,944,578
2015 – MVTV Wireless Middle Mile – Grant award: $808,080
Update from 2020:
No broadband news reported from Nobles County since the last profile.
Find more articles on broadband in Nobles County.
Households with Device Access
Computer
84.8%
90.3%
statewide
Desktop or Laptop
70.3%
81.1%
statewide
Smartphone
68.2%
76.5%
statewide
Tablet
50.7%
59.3%
statewide
Has Received MN Grant(s)
Yes
Government Districts
U.S. Congress: CD 1
MN Senate: 22
MN House: 22A, 22B