Table of goal data by year

| Year | Rank | 100/20 Mbps |
| --- | --- | --- |
| 2022 | #44 of 87 | 80.27% |
| 2021 | #39 of 87 | 81.24% |
| 2020 | #35 of 87 | 81.24% |
| 2019 | #41 of 87 | 77.66% |
| 2018 | #24 of 87 | 77.18% |
| 2017 | #35 of 87 | 59.25% |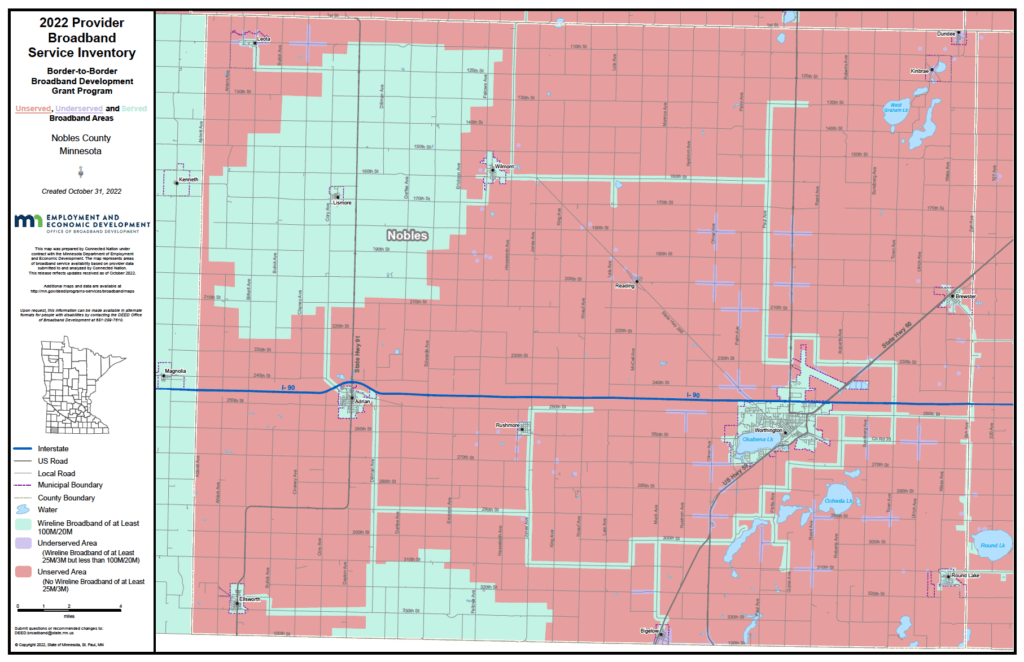 Rank: 44 (out of 87) for access to 100/20 megabits per second (Mbps)
Nobles County ranks 44 for broadband access and 48 for digital equity out of 87 counties. They have hovered around 80-81 percent coverage to broadband of 100 Mbps down and 20 up since 2018. There is a slight dip in access this year but it is within a margin of error and may simply reflect a more granular look at access.  They have 5527 households without access to broadband at that speed. Estimates indicate that it will cost $51.4 million to get to ubiquitous broadband in the county.
Nobles County was a Blandin Broadband Community (BBC); they have deployed lots of broadband adoption programs. They have benefited from past MN Border to Border grants. But they have been hung up at 81 percent since 2019.
Nobles County has shown their commitment to broadband; last fall (2022) they committed $4 million to Lismore Cooperative Telephone's Fiber to the Home project as they apply for federal funding. Because of that commitment, Nobles County retains their yellow code.
Digital Equity:
Nobles County ranks 69 out of 87 for digital equity. (See full Digital Equity Profile)
Nobles County ranks 48 out of 87 for computer ownership. 90.6 percent of homes have a computer of device as compared to statewide ownership of 95.5 percent.
Households with Device Access
A Device
84.8%
95.5%
statewide
Desktop or Laptop
70.3%
83.2%
statewide
Smartphone
68.2%
90.1%
statewide
Tablet
50.7%
65.8%
statewide
Has Received MN Grant(s)
Yes
2016 – LISMORE COOPERATIVE TELEPHONE NOBLES COUNTY BROADBAND – GRANT: $2,944,578
2015 – MVTV Wireless Middle Mile – Grant award: $808,080
Government Districts
U.S. Congress: CD 1
MN Senate: 21
MN House: 21A, 21B