Table of goal data by year

| Year | Rank | 100/20 Mbps |
| --- | --- | --- |
| 2022 | #17 of 87 | 94.38% |
| 2021 | #17 of 87 | 93.9% |
| 2020 | #16 of 87 | 92.87% |
| 2019 | #15 of 87 | 92.66% |
| 2018 | #62 of 87 | 41.29% |
| 2017 | #62 of 87 | 34% |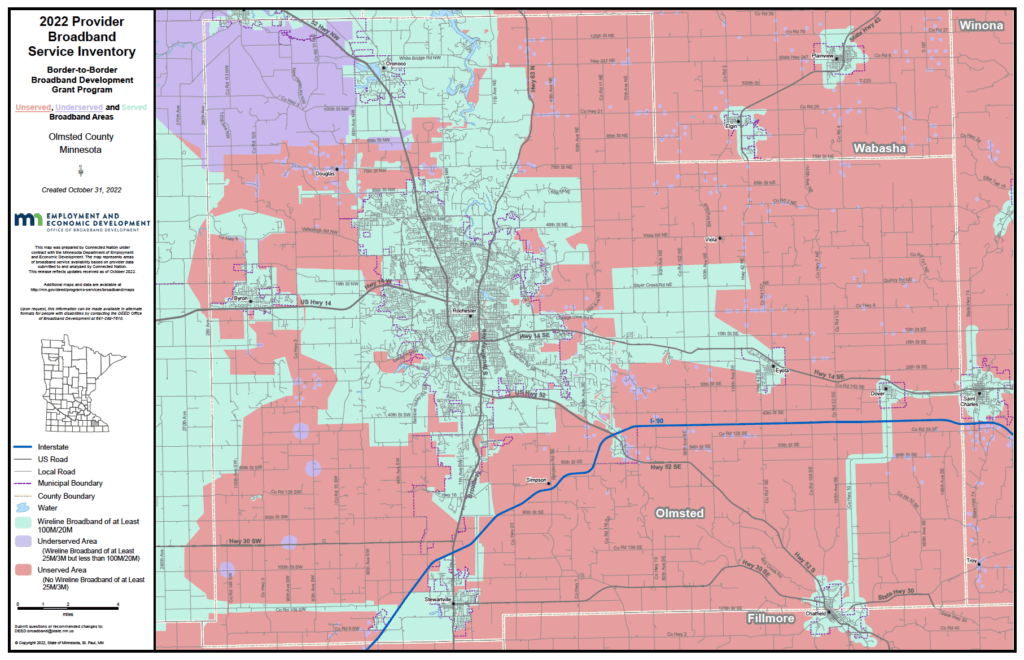 Rank: 17 (out of 87) for access to 100/20 megabits per second (Mbps)
Olmsted County ranks 17 for broadband access and 5 for digital equity out of 87 counties. They have had slow steady progress since 2019, landing at 94.38 percent coverage to broadband of 100 Mbps down and 20 up in 2021 to 60.36 percent coverage in 2022. They have 3893 households without access to broadband at that speed. Estimates indicate that it will cost $36.2 million to get to ubiquitous broadband in the county.
Olmsted County will benefit from a border to border grant announced in December 2022:
Kasson & Mantorville Telephone Company, $1,620,007.00
Olmsted County is nearly there, which is why they retain the green code. They are the home of the Mayo Clinic, which acts as an anchor for providers looking to expand service.
Digital Equity:
Olmsted County ranks 5 out of 87 for digital equity. (See full Digital Equity Profile)
Olmsted County ranks 8 out of 87 for computer ownership. 96.2 percent of homes have a computer of device as compared to statewide ownership of 95.5 percent.
Households with Device Access
A Device
92.4%
95.5%
statewide
Desktop or Laptop
85.5%
83.2%
statewide
Smartphone
78.3%
90.1%
statewide
Tablet
61.9%
65.8%
statewide
Has Worked with Blandin Foundation
No
Has Received MN Grant(s)
Yes
2016 – KMTELECOM RURAL MANTORVILLE – GRANT: $764,663
2019 – BEVCOMM (Pine Island Telephone Company) – NE Pine Island Fiber Project Phase I – GRANT $222,222
MN State Grants awarded in 2021: Charter Communications (Spectrum) – Cambridge Hills – GRANT $28,950 This middle and last mile project will serve approximately 41 unserved households in Marion Township in Olmsted County.
KMTelecom – Rock Dell Northwest Fiber Build – GRANT $385,173 This last mile project will serve approximately 125 unserved locations in the rural Ashland and Vernon townships in Dodge County and Salem Township in Olmsted County.
Government Districts
U.S. Congress: CD 1
MN Senate: 20, 24, 25
MN House: 20B, 24A, 24B, 25A, 25B