Table of goal data by year
Year
25/3 Mbps
100/20 Mbps
2020
#16 of 87
95.74%
#16 of 87
92.87%
2019
#21 of 87
94.63%
#15 of 87
92.66%
2018
#21 of 87
93.7%
#62 of 87
41.29%
2017
#17 of 87
97.75%
#62 of 87
34%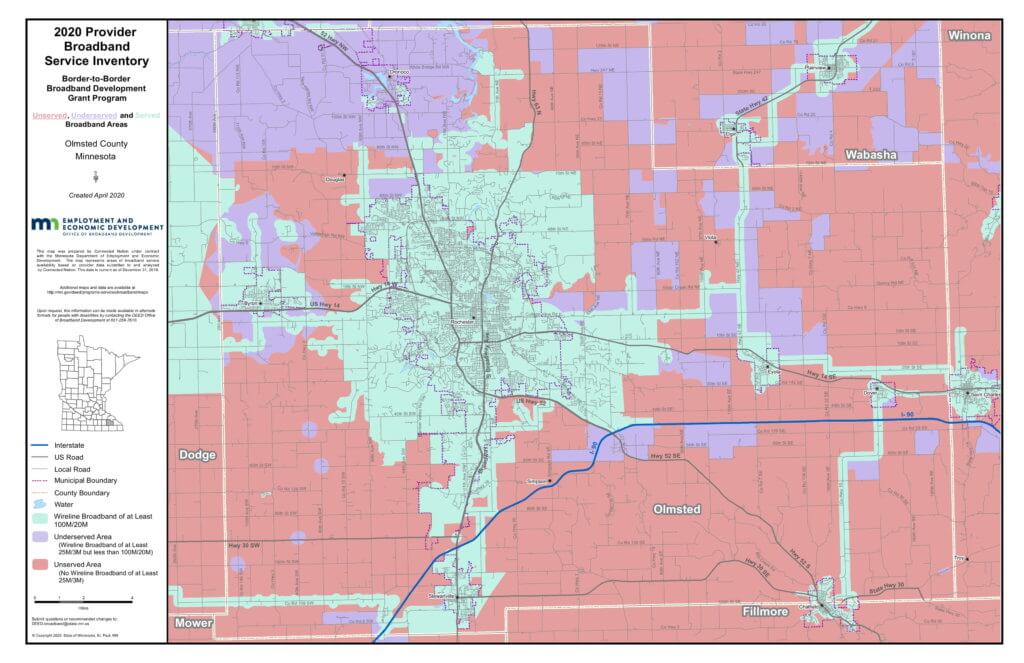 Rank: 16 (out of 87) for access to 100/20 megabits per second (Mbps)
Olmsted County is the home of the Mayo Clinic, which can act as an anchor for providers looking to expand service. And they are well served, although not yet ubiquitous. In 2016, KMTelecom got a grant to serve the area. In 2017, Mediacom announced service upgrades. And now BEVCOMM has received a grant to extend service to the area. There are engaged providers and the county is getting close to ubiquitous coverage.
What we learned in the past:
Olmsted has benefited from a MN broadband grant:
2016 – KMTELECOM RURAL MANTORVILLE – GRANT: $764,663
There are two factors that seem to have led to increase in 100/20 Mbps access – the KMTelecom grant and Mediacom's  2017 announcement it would expand service to Chatfield and Dover Township. That indicates that there are at least two providers in the area interested in providing 100/20 Mbps. The county needs to encourage those providers to expand or other providers to upgrade to the state goals.
Update from 2020:
Olmsted will see improvement with BEVCOMM's Border to Border project awarded in the last round:
2019: BEVCOMM (Pine Island Telephone Company) – NE Pine Island Fiber Project Phase I – GRANT $222,222
This last mile project will upgrade approximately 54 unserved households, eight unserved farms, 14 unserved businesses, and one underserved household in areas of Pine Island and New Haven Townships in Goodhue County, and a small portion in Olmsted County. In a funding partnership with the State of Minnesota and Goodhue County Economic Development Authority, BEVCOMM will improve broadband service levels up to 1 Gbps download and 1 Gbps upload, exceeding the 2022 and 2026 state speed goals. The use and development of broadband will provide various home-based business options, stimulate economic growth, innovation, and investment. Education, health care, agriculture, energy efficiency, and public safety will improve with high-speed Internet access.
Total eligible project cost is $634,920
Local match is $412,698
Find more articles on broadband in Olmsted County.
Households with Device Access
Computer
92.4%
90.3%
statewide
Desktop or Laptop
85.5%
81.1%
statewide
Smartphone
78.3%
76.5%
statewide
Tablet
61.9%
59.3%
statewide
Has Worked with Blandin Foundation
No
Has Received MN Grant(s)
Yes
Government Districts
U.S. Congress: CD 1
MN Senate: 25, 26
MN House: 25A, 25B, 26A, 26B