Table of goal data by year
Year
25/3 Mbps
100/20 Mbps
2020
#12 of 87
98.53%
#10 of 87
96.95%
2019
#18 of 87
97.21%
#11 of 87
96.18%
2018
#26 of 87
91.78%
#12 of 87
90.75%
2017
#26 of 87
91.78%
#77 of 87
9.63%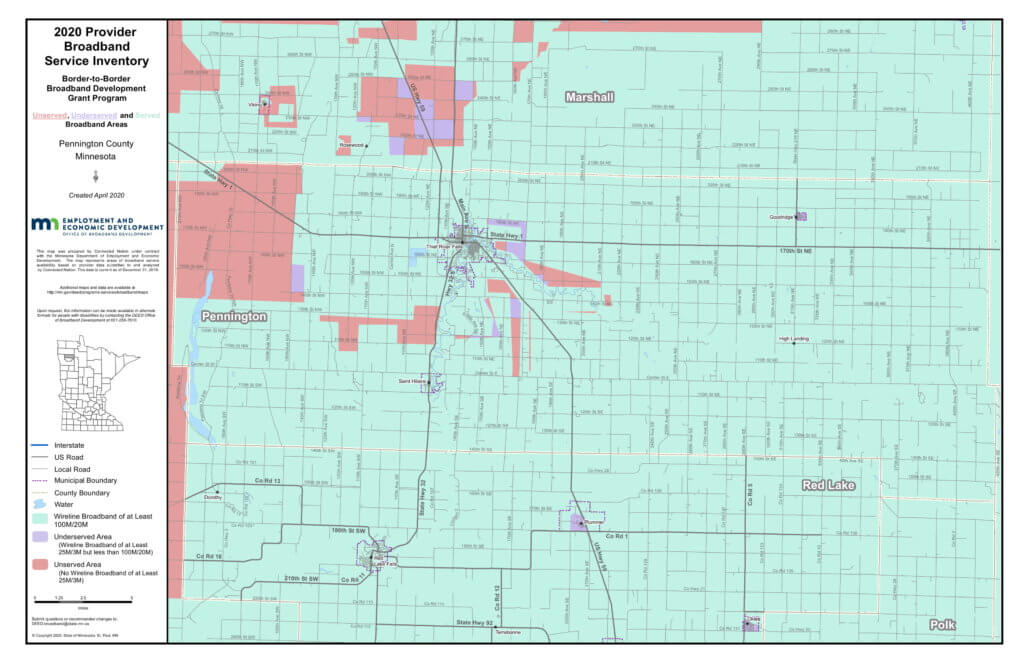 Rank: 10 (out of 87) for access to 100/20 megabits per second (Mbps)
Pennington County has done well with engaged providers and successful Border to Border grants. And they will continue to benefit with a project from Wikstrom awarded in the last grant round. Pennington has broken through the top ten best served list!
What we learned in the past:
Pennington County has benefited from several MN broadband grants:
2017 – Sjoberg's Inc. – NW MN Rural Broadband – GRANT $307,088
2016 – CENTURYLINK THIEF RIVER MIDDLE MILE – GRANT: $1,324,400
2016 – GARDEN VALLEY TELEPHONE COMPANY RURAL THIEF RIVER FALLS EAST – GRANT: $2,027,035
Update from 2020:
Pennington will see improvement with one Border to Border projects awarded in the last round:
2019: Wikstrom Telephone – Wiktel NW MN Broadband Project – GRANT $1,151,526
This last mile project will upgrade approximately 316 unserved locations in areas of Kittson, Marshall, Lake of the Woods, Pennington, and Roseau Counties. In a funding partnership with the State of Minnesota, Wikstrom Telephone will improve broadband service levels up to 1 Gbps download and 1 Gbps upload, exceeding the 2022 and 2026 state speed goals. This project will provide service to an area with 1.6 subscribers per route mile of cable, in some cases extending from routes placed under the 2016 and 2017 Border to Border State Grant program. Broadband service is the key to economic development, successful education services for children, and allows at-home health care monitoring in this remote area.
Total eligible cost is $2,558,946
Local match is $1,407,420
Find more articles on Pennington County.
Households with Device Access
Computer
86.0%
90.3%
statewide
Desktop or Laptop
75.5%
81.1%
statewide
Smartphone
69.7%
76.5%
statewide
Tablet
49.5%
59.3%
statewide
Has Worked with Blandin Foundation
Yes
Has Received MN Grant(s)
Yes
Government Districts
U.S. Congress: CD 7
MN Senate: 01
MN House: 01A, 01B