Table of goal data by year

| Year | Rank | 100/20 Mbps |
| --- | --- | --- |
| 2022 | #86 of 87 | 35.1% |
| 2021 | #86 of 87 | 39.89% |
| 2020 | #85 of 87 | 39.13% |
| 2019 | #81 of 87 | 37.26% |
| 2018 | #68 of 87 | 38.18% |
| 2017 | #59 of 87 | 37.37% |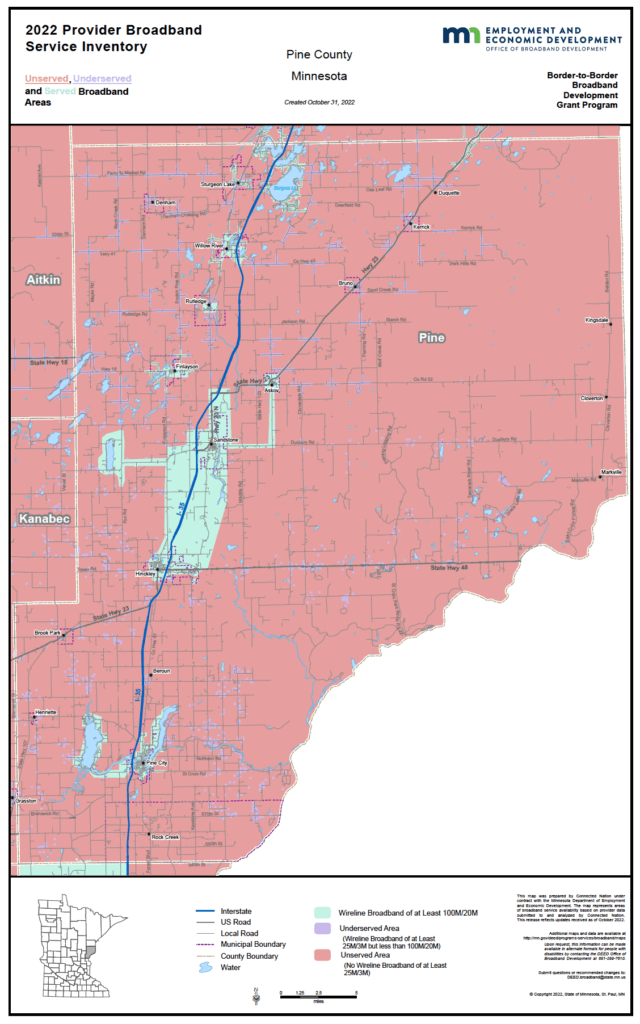 Rank: 86 (out of 87) for access to 100/20 megabits per second (Mbps)
Pine County ranks 86 for broadband access and 86 for digital equity out of 87 counties. They have hovered around 35-40 percent coverage to broadband of 100 Mbps down and 20 up since we have been tracking. There is a slight dip in access this year but it is within a margin of error and may simply reflect a more granular look at access. They have 10959 households without access to broadband at that speed. Estimates indicate that it will cost $102 million to get to ubiquitous broadband in the county.
Pine County will benefit from a border to border grant announced on December 2020:
East Central Energy, $4,750,000.00 (serving Pine and Kanabec) (Learn more)
Pine County has been actively seeking better broadband for years; they were part of a Blandin Broadband Communities cohort a few years ago. Unfortunately, much of Pine County is served by one large national provider. That may be a bottleneck to better access in those areas due to the lack of competition can impact the drive for improvement.
They are still code red, but that represents their barriers more than their hard work and perseverance.
Digital Equity:
Pine County ranks 86 out of 87 for digital equity. (See full Digital Equity Profile)
Pine County ranks 63 out of 87 for computer ownership. 88.8 percent of homes have a computer of device as compared to statewide ownership of 95.5 percent.
Households with Device Access
A Device
81.7%
95.5%
statewide
Desktop or Laptop
72.0%
83.2%
statewide
Smartphone
63.5%
90.1%
statewide
Tablet
46.9%
65.8%
statewide
Has Worked with Blandin Foundation
Yes
Has Received MN Grant(s)
Yes
2017 – SCI (Savage Communications Inc.) — Dell Grove Township Broadband Expansion – GRANT $118,248
Government Districts
U.S. Congress: CD 8
MN Senate: 11
MN House: 11A, 11B