Table of goal data by year

| Year | Rank | 100/20 Mbps |
| --- | --- | --- |
| 2022 | #42 of 87 | 80.7% |
| 2021 | #43 of 87 | 80.11% |
| 2020 | #38 of 87 | 79.73% |
| 2019 | #35 of 87 | 79.73% |
| 2018 | #22 of 87 | 79.73% |
| 2017 | #51 of 87 | 44.54% |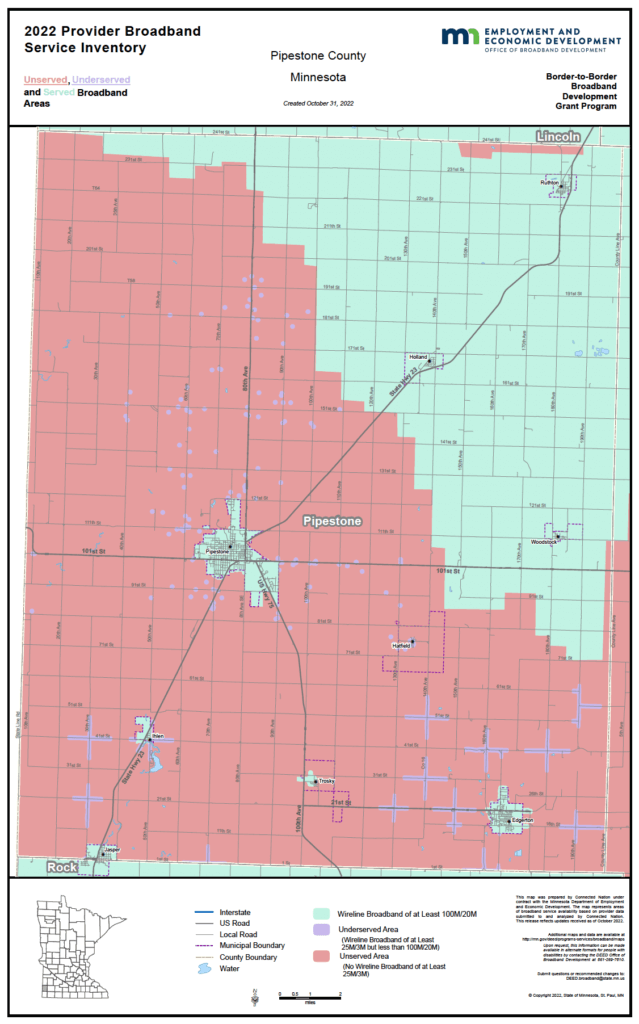 Rank: 42 (out of 87) for access to 100/20 megabits per second (Mbps)
Pipestone County ranks 42 for broadband access and 84 for digital equity out of 87 counties. They have hovered at 80 percent coverage to broadband of 100 Mbps down and 20 up since 2018. They have 837 households without access to broadband at that speed. Estimates indicate that it will cost $7.8 million to get to ubiquitous broadband in the county.
Pipestone County is working with Hometown Fiber on better broadband plan. Sounds as if they will use that broadband plan to apply for federal and state funding; a smart move considering the amount of funding being invested in the upcoming years. They still have a yellow rating but it feels like that would change quickly.
Digital Equity:
Pipestone County ranks 55 out of 87 for digital equity. (See full Digital Equity Profile)
Pipestone County ranks 56 out of 87 for computer ownership. 89.7 percent of homes have a computer of device as compared to statewide ownership of 95.5 percent.
Households with Device Access
A Device
83.3%
95.5%
statewide
Desktop or Laptop
71.1%
83.2%
statewide
Smartphone
66.5%
90.1%
statewide
Tablet
49.0%
65.8%
statewide
Has Worked with Blandin Foundation
No
Has Received MN Grant(s)
Yes
2017 – Woodstock Telephone Company – Pipestone County Wireless – GRANT $363,851
2015 – MVTV Wireless Middle Mile – Grant award: $808,080
Government Districts
U.S. Congress: CD 7
MN Senate: 21
MN House: 21A