Table of goal data by year
Year
25/3 Mbps
100/20 Mbps
2020
#53 of 87
82.97%
#38 of 87
79.73%
2019
#54 of 87
81.1%
#35 of 87
79.73%
2018
#45 of 87
79.73%
#22 of 87
79.73%
2017
#43 of 87
79.36%
#51 of 87
44.54%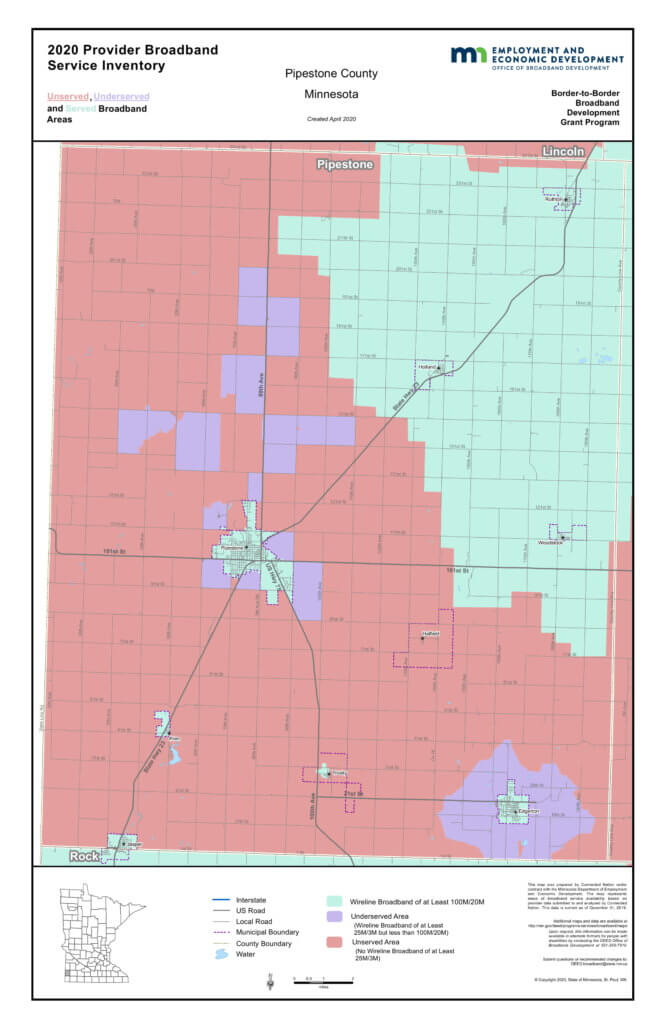 Rank: 37 (out of 87) for access to 100/20 megabits per second (Mbps)
Pipestone County has benefited from MN Border to Border grants in the past. CenturyLink made upgrades late last year, however the new speeds do not meet the 2026 speed goals. It is unfortunate that they didn't increase the upload speeds because it's unlikely that they will want to upgrade in the near future so soon after an upgrade. That will leave those customers in a precarious position as demand for upload speeds increases. With COVID restrictions, we are seeing that happen more quickly.
What we learned in the past:
Pipestone County has benefited from two grants:
2017 – Woodstock Telephone Company – Pipestone County Wireless – GRANT $363,851
2015 – MVTV Wireless Middle Mile
Grant award: $808,080
In April (2019), Vast Broadband launched Gigabit access in Marshall, Pipestone and Worthington Counties. In September 2019, Woodstock Telephone's grant-funded network was completed.
Update from 2020:
CenturyLink installed fiber around the city of Pipestone as part of a broadband upgrade that includes the installation of 25 fiber nodes throughout the community. With the upgrades, fiber-optic service will be offered at 100 Mbps downloading, 10 Mbps uploading. Unfortunately, that doesn't meet the 2026 speed goal requirements.
Find more articles on broadband in Pipestone County.
Households with Device Access
Computer
83.3%
90.3%
statewide
Desktop or Laptop
71.1%
81.1%
statewide
Smartphone
66.5%
76.5%
statewide
Tablet
49.0%
59.3%
statewide
Has Worked with Blandin Foundation
No
Has Received MN Grant(s)
Yes
Government Districts
U.S. Congress: CD 7
MN Senate: 22
MN House: 22A