Table of goal data by year

| Year | Rank | 100/20 Mbps |
| --- | --- | --- |
| 2022 | #16 of 87 | 95.24% |
| 2021 | #20 of 87 | 91.72% |
| 2020 | #17 of 87 | 91.76% |
| 2019 | #20 of 87 | 88.35% |
| 2018 | #16 of 87 | 85.39% |
| 2017 | #19 of 87 | 80.89% |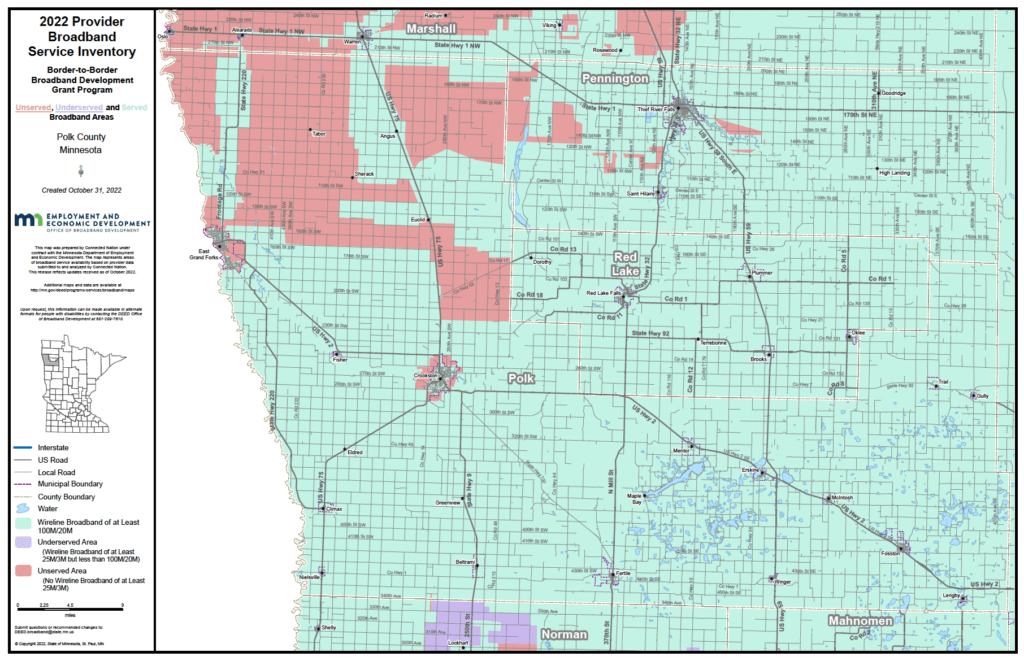 Rank: 16 (out of 87) for access to 100/20 megabits per second (Mbps)
Polk County ranks 16 for broadband access and 44 for digital equity out of 87 counties. They have had incremental improvement since we have been tracking, landing 95.24 percent coverage to broadband of 100 Mbps down and 20 up in 2021 to 60.36 percent coverage in 2022. They have 696 households without access to broadband at that speed. Estimates indicate that it will cost $6.5 million to get to ubiquitous broadband in the county.
Polk County has better than 95 percent broadband coverage. While we haven't heard much from them in the last year, they have engaged providers who serve the county and have a history of incremental but continuous improvement. That is why they retain their green code.
Digital Equity:
Polk County ranks 44 out of 87 for digital equity. (See full Digital Equity Profile)
Polk County ranks 51 out of 87 for computer ownership. 90.4 percent of homes have a computer of device as compared to statewide ownership of 95.5 percent.
Households with Device Access
A Device
84.3%
95.5%
statewide
Desktop or Laptop
74.1%
83.2%
statewide
Smartphone
69.5%
90.1%
statewide
Tablet
52.1%
65.8%
statewide
Has Worked with Blandin Foundation
No
Has Received MN Grant(s)
Yes
MN State Grants awarded in 2021: Garden Valley Technologies – Northwest Thief River Falls and Euclid – GRANT $1,640,722 This middle and last mile project will serve 104 unserved and 22 underserved locations in portions of Marshall and Polk counties.
Halstad Telephone Company – North Fisher Expansion – GRANT $619,000 This last mile project will upgrade approximately 57 unserved and seven underserved locations in portions of Huntsville, Nesbit and Fanny townships in Polk County.
Wikstrom Telephone Co. Inc. – Wiktel NW MN Broadband 2020 – GRANT $490,997 The last mile project will serve 153 unserved locations in sparsely populated areas in Kittson, Marshall and Polk counties.
2019 – Halstad Telephone Company – Rural East Grand Forks Expansion Project – GRANT $440,000
2016 – HALSTAD TELEPHONE COMPANY KERTSONVILLE AREA – GRANT: $296,665
2015 – Halstad Telephone Company – Gentilly Township – Grant award: $424,460
2014 – Halstad Telephone Co., Halstad Tract MN 11902500 FTTH Amount $1.65 million
Government Districts
U.S. Congress: CD 7
MN Senate: 01
MN House: 01B