Table of goal data by year
Year
25/3 Mbps
100/20 Mbps
2020
#22 of 87
93.09%
#17 of 87
91.76%
2019
#24 of 87
93.11%
#20 of 87
88.35%
2018
#23 of 87
93%
#16 of 87
85.39%
2017
#27 of 87
90.78%
#19 of 87
80.89%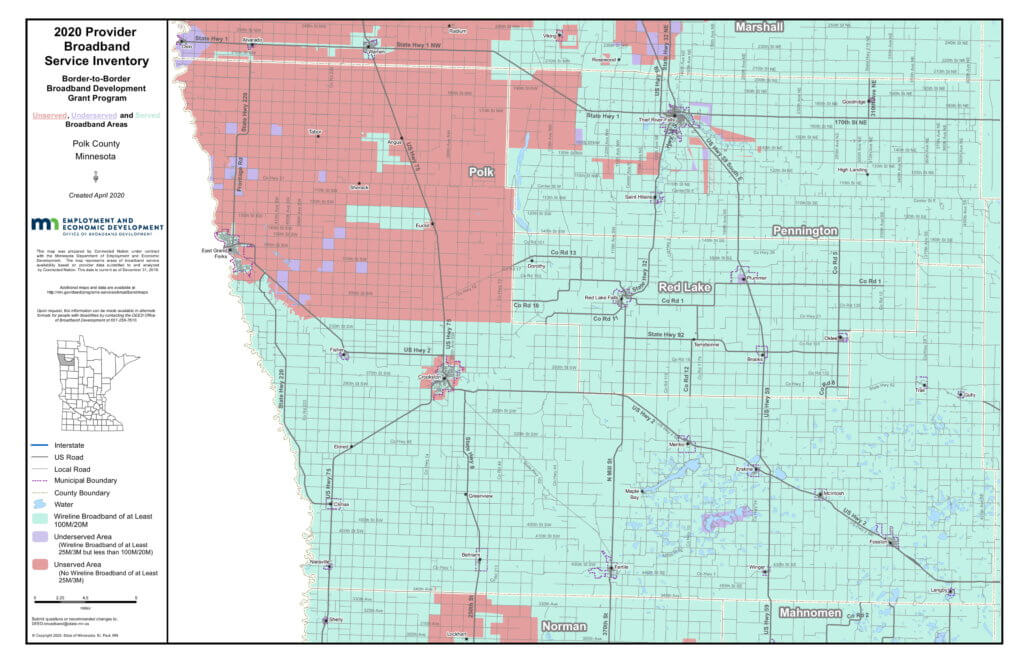 Rank: 17 (out of 87) for access to 100/20 megabits per second (Mbps)
Polk County has benefited from MN Border to Border grants in the past. And they will benefit from a project in the last funding round. Grants went to Halstad Telephone, a local cooperative. They also benefited from a federal grant to Garden Valley Telephone. They are fortunate to have engaged providers in their area. An engaged provider can make a big difference.
What we learned in the past:
Polk County has benefited from three state broadband grants:
2016 – HALSTAD TELEPHONE COMPANY KERTSONVILLE AREA – GRANT: $296,665
2015 – Halstad Telephone Company – Gentilly Township – Grant award: $424,460
2014 – Halstad Telephone Co., Halstad Tract MN 11902500 FTTH Amount $1.65 million
In 2018, Polk County also benefited when Garden Valley Telephone Company received a loan of $20,360,000 from the United States Department of Agriculture (USDA) and when Red River Valley Cooperative Power Association received a $8,000,000 USDA loan to improve infrastructure for a smart grid system. They also will receive almost $2 million in FCC funding over the next 10 years.
Update from 2020:
Polk County will benefit from a MN Border to Border broadband grant awarded in the last round of funding.
2019: Halstad Telephone Company – Rural East Grand Forks Expansion Project – GRANT $440,000
This last mile project will upgrade approximately 79 unserved and 22 underserved locations in areas of Rinehart, Huntsville, Sullivan, and Grand Forks Townships in Polk County. In a funding partnership with the State of Minnesota, Halstad Telephone Company will improve broadband service levels up to 1 Gbps download and 1 Gbps upload, exceeding the 2022 and 2026 state speed goals. Families living in the project area will improve their education and health with access to e-learning, e-medicine and other quality-of-life opportunities provided through a robust broadband connection. Farms wills be more efficient and reduce their impacts on the environment by utilizing precision farming techniques due to the increased ability to transfer large amounts of agricultural data to consultants in shorter periods of time. Businesses can increase productivity, allow remote working, and better compete on a worldwide scale as they use the improved broadband for operations, marketing, data analytics, and expanded e-commerce opportunities.
Total eligible cost is $1,067,362
Local match is $627,362
Find more articles on broadband in Polk County.
Households with Device Access
Computer
84.3%
90.3%
statewide
Desktop or Laptop
74.1%
81.1%
statewide
Smartphone
69.5%
76.5%
statewide
Tablet
52.1%
59.3%
statewide
Has Worked with Blandin Foundation
No
Has Received MN Grant(s)
Yes
Government Districts
U.S. Congress: CD 7
MN Senate: 01
MN House: 01B