Table of goal data by year

| Year | Rank | 100/20 Mbps |
| --- | --- | --- |
| 2022 | #46 of 87 | 79.15% |
| 2021 | #54 of 87 | 74.48% |
| 2020 | #52 of 87 | 73% |
| 2019 | #54 of 87 | 68.92% |
| 2018 | #78 of 87 | 23.67% |
| 2017 | #70 of 87 | 24.33% |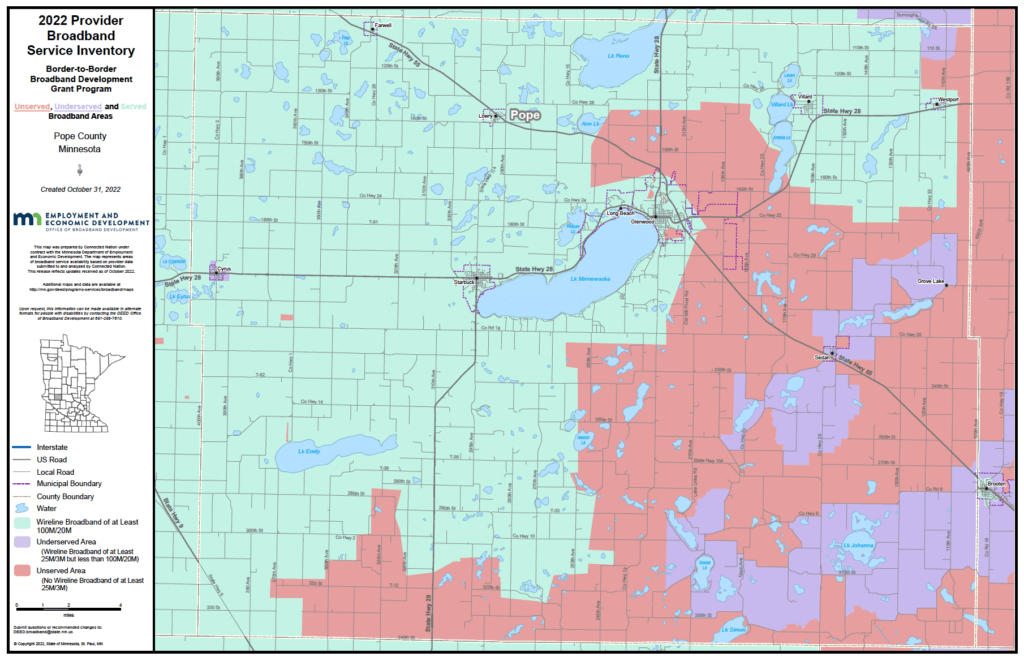 Rank: 46 (out of 87) for access to 100/20 megabits per second (Mbps)
Pope County ranks 46 for broadband access and 46 for digital equity out of 87 counties. They have had incremental improvement to broadband now landing at 79.15 53 percent coverage to broadband of 100 Mbps down and 20 up. They have 1328 households without access to broadband at that speed. Estimates indicate that it will cost $12.3 million to get to ubiquitous broadband in the county.
Pope County will benefit from a border to border grant announced in December 2022:
Hanson Communications, Inc., $4,248,796.00
In 2017, Pope County unveiled a feasibility study that found that installing fiber everywhere in the county would cost about $29.3 million.  Since that time their coverage has gone from 24 percent to almost 80 percent and the estimate to complete the coverage is estimated to be $12.5 million, which seems likely to be in line with their 2017 estimate.
The full budget for their recently awarded grant is $10.6 million, that will get them a lot closer to full coverage and is the reason they have moved from red to green code.
Digital Equity:
Pope County ranks 46 out of 87 for digital equity. (See full Digital Equity Profile)
Pope County ranks 55 out of 87 for computer ownership. 89.9 percent of homes have a computer of device as compared to statewide ownership of 95.5 percent.
Households with Device Access
A Device
84.8%
95.5%
statewide
Desktop or Laptop
75.6%
83.2%
statewide
Smartphone
67.2%
90.1%
statewide
Tablet
53.1%
65.8%
statewide
Has Worked with Blandin Foundation
Yes
Has Received MN Grant(s)
Yes
2017 – Hanson Communications – Minnewaska Area FTTP – GRANT $4,996,791
Government Districts
U.S. Congress: CD 7
MN Senate: 12
MN House: 12A, 12B