Table of goal data by year

| Year | Rank | 100/20 Mbps |
| --- | --- | --- |
| 2022 | #5 of 87 | 99.63% |
| 2021 | #2 of 87 | 99.84% |
| 2020 | #2 of 87 | 99.84% |
| 2019 | #2 of 87 | 99.84% |
| 2018 | #2 of 87 | 99.82% |
| 2017 | #1 of 87 | 99.39% |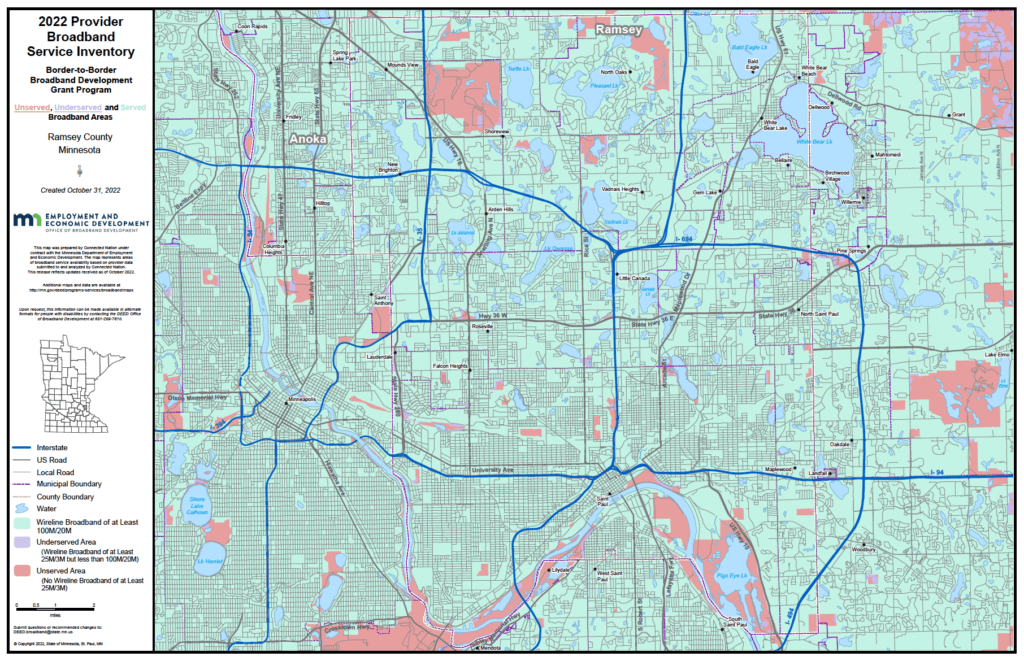 Rank: 5 (out of 87) for access to 100/20 megabits per second (Mbps)
Ramsey County ranks 5 for broadband access and 13 for digital equity out of 87 counties. They have had more than 99 percent coverage to broadband of 100 Mbps down and 20 up since we have been tracking. They have 846 households without access to broadband at that speed. Estimates indicate that it will cost $7.9 million to get to ubiquitous broadband in the county.
Ramsey County is a metro-based county where the market makes it feasible for broadband providers to serve broadband profitably. Ramsey County also focuses on digital equity and affordability as their digital equity ranking at 11. That extra effort gets them the green code.
They are one of five counties that has not yet received border to border funding.
Digital Equity:
Ramsey County ranks 13 out of 87 for digital equity. (See full Digital Equity Profile)
Ramsey County ranks 11 out of 87 for computer ownership. 95.6 percent of homes have a computer of device as compared to statewide ownership of 95.5 percent.
Households with Device Access
A Device
91.0%
95.5%
statewide
Desktop or Laptop
81.7%
83.2%
statewide
Smartphone
77.2%
90.1%
statewide
Tablet
59.2%
65.8%
statewide
Has Worked with Blandin Foundation
No
Has Received MN Grant(s)
No
Government Districts
U.S. Congress: CD 4, CD 5
MN Senate: 36, 39, 40, 44, 47, 64, 65, 66, 67
MN House: 36A, 36B, 39A, 39B, 40A, 40B, 44A, 44B, 47A, 64A, 64B, 65A, 65B, 66A, 66B, 67A, 67B