Table of goal data by year
Year
25/3 Mbps
100/20 Mbps
2020
#3 of 87
99.86%
#30 of 87
83.18%
2019
#1 of 87
99.99%
#26 of 87
83.17%
2018
#1 of 87
99.99%
#18 of 87
83.17%
2017
#1 of 87
99.99%
#46 of 87
48.01%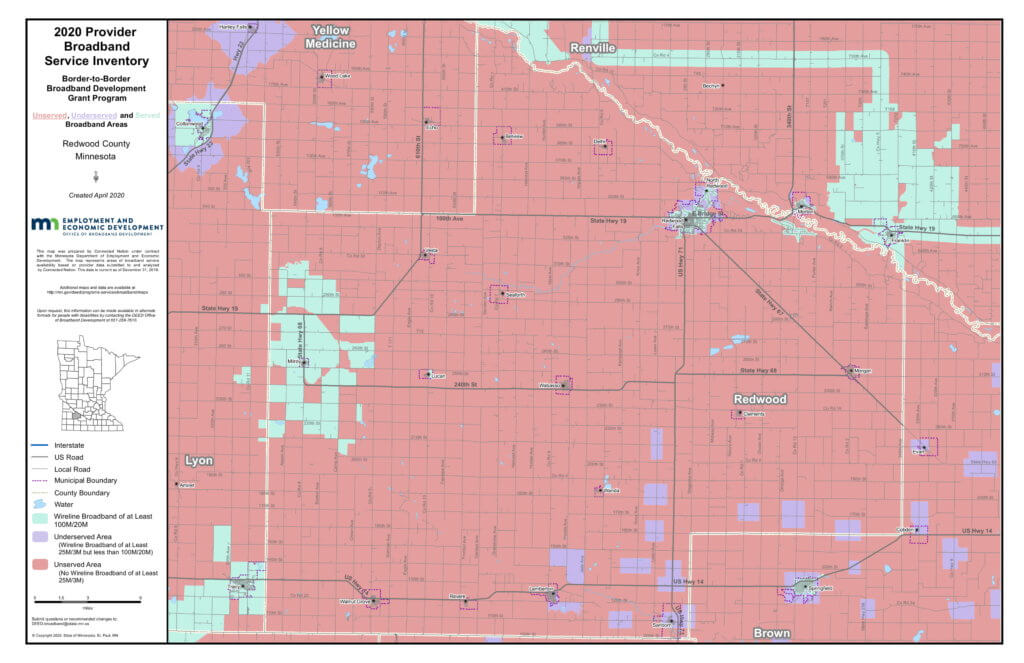 Rank: 30 (out of 87) for access to 100/20 megabits per second (Mbps)
Red Lake has been a top-ranking county for access to 25/3 since we have been tracking county ranking. In 2017, they saw an upgrade that lifted much of their access from 25/3 to 100/20 but nothing has happened since.
What we learned in the past:
For all practical purposes, Red Lake County has reached the state's broadband speed goals for 2022. But they need to work toward the 2026 goal. They have not had to think about broadband for many years, but their current speed of broadband is not futureproof.
Update from 2020:
Red Lake has two providers that offer service ar 100/20: Garden Valley Telephone and Sjoberg Inc. Midcontinent and Hughes Net (satellite) provide services at 25/3. To reach 2026 speed goals, Red Lake would need to work with Garden Valley and/or Sjoberg to extend their faster services and/or work with the other providers to improve their service. Satellite won't get to 100/20 but Midcontinent services would. They haven't received a OBD grant in the past, so they might be likely candidate if they tried. But with nearly ubiquitous access to 25/3, they may not have felt the punch, that may have changed due to COVID and increased need for broadband speeds at home.
Households with Device Access
Computer
74.8%
90.3%
statewide
Desktop or Laptop
72.4%
81.1%
statewide
Smartphone
62.6%
76.5%
statewide
Tablet
51%
59.3%
statewide
Has Worked with Blandin Foundation
No
Has Received MN Grant(s)
No
Government Districts
U.S. Congress: CD 7
MN Senate: 01
MN House: 01B