Table of goal data by year
Year
25/3 Mbps
100/20 Mbps
2020
#87 of 87
44.59%
#86 of 87
36.48%
2019
#75 of 87
70.94%
#83 of 87
33.56%
2018
#62 of 87
72.07%
#72 of 87
33.56%
2017
#81 of 87
41.51%
#60 of 87
34.37%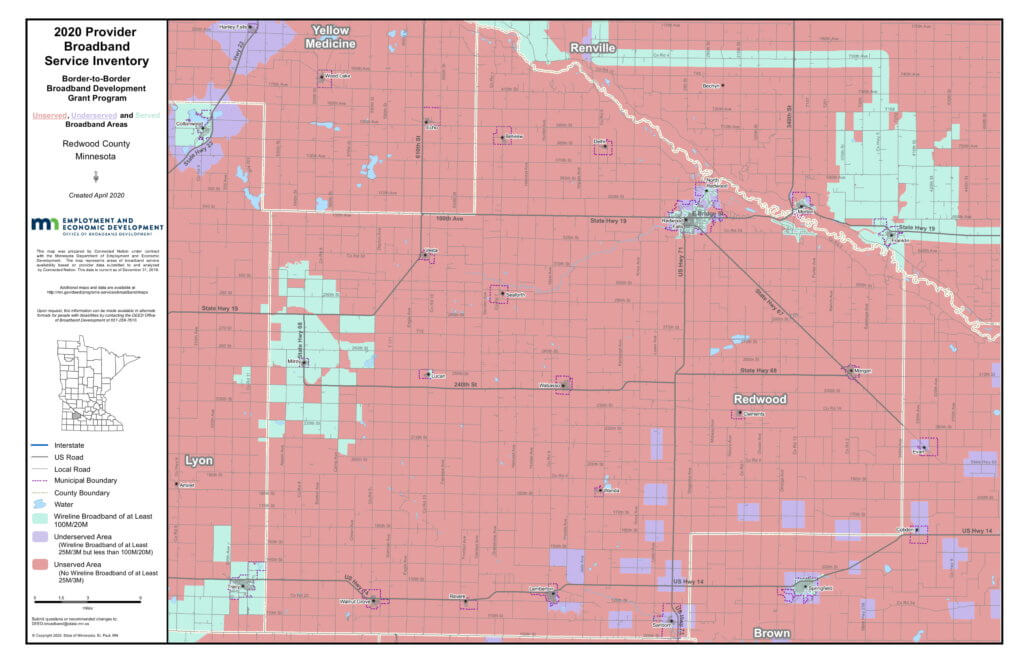 Rank: 86 (out of 87) for access to 100/20 megabits per second (Mbps)
Redwood County has been working on broadband for many years; they were a Blandin Broadband Community in 2013. They have benefited from a few broadband grants and they will benefit from a project awarded in the latest round too. They keep going, but have a long way to go.
What we learned in the past:
Redwood County was a Blandin Broadband Community in 2013. The released a feasibility study at that time.
Redwood County has benefited from MN broadband grants:
2017 – MVTC (Minnesota Valley Telephone Company, Inc.) – Milroy Broadband Project – GRANT $742,365
2016 – ARVIG – REDWOOD COUNTY TELEPHONE MIDDLE MILE FIBER EXTENSION – GRANT: $27,998
2015 – MVTV Wireless Middle Mile – Grant award: $808,080
Update from 2020:
Redwood County will benefit from a Border to Border grant awarded in the last round:
2019: MVTC (Minnesota Valley Telephone Company, Inc.) – Rural Lucan Fiber Project – GRANT $635,400
This middle and last mile project will upgrade approximately 23 unserved households, 99 unserved farms, and three unserved businesses in portions of Vesta, Granite Rock, Johnsonville, Waterbury, Westline, and Vail Townships in Redwood County. In a funding partnership with the State of Minnesota, MVTC will improve broadband service levels up to 1 Gbps download and 1 Gbps upload, exceeding the 2022 and 2026 state speed goals. Sustainable broadband adoption will transform these unserved areas into highly productive rural communities, including the ability to make full use of precision agriculture advancements. Education, health care, energy efficiency, and public safety will improve with high-speed internet access.
Total eligible cost is $1,412,000
Local match is $776,600
Read more articles about Redwood County.
Households with Device Access
Computer
83.9%
90.3%
statewide
Desktop or Laptop
74.4%
81.1%
statewide
Smartphone
66.9%
76.5%
statewide
Tablet
50.2%
59.3%
statewide
Has Worked with Blandin Foundation
Yes
Redwood County has worked with the Blandin Foundation.
Government Districts
U.S. Congress: CD 7
MN Senate: 16, 22
MN House: 16A, 16B, 22B
Overlapping MN Reservations