Table of goal data by year
Year
25/3 Mbps
100/20 Mbps
2020
#20 of 87
93.75%
#31 of 87
82.95%
2019
#28 of 87
92.36%
#28 of 87
82.47%
2018
#22 of 87
93.2%
#74 of 87
32.63%
2017
#16 of 87
97.93%
#45 of 87
48.85%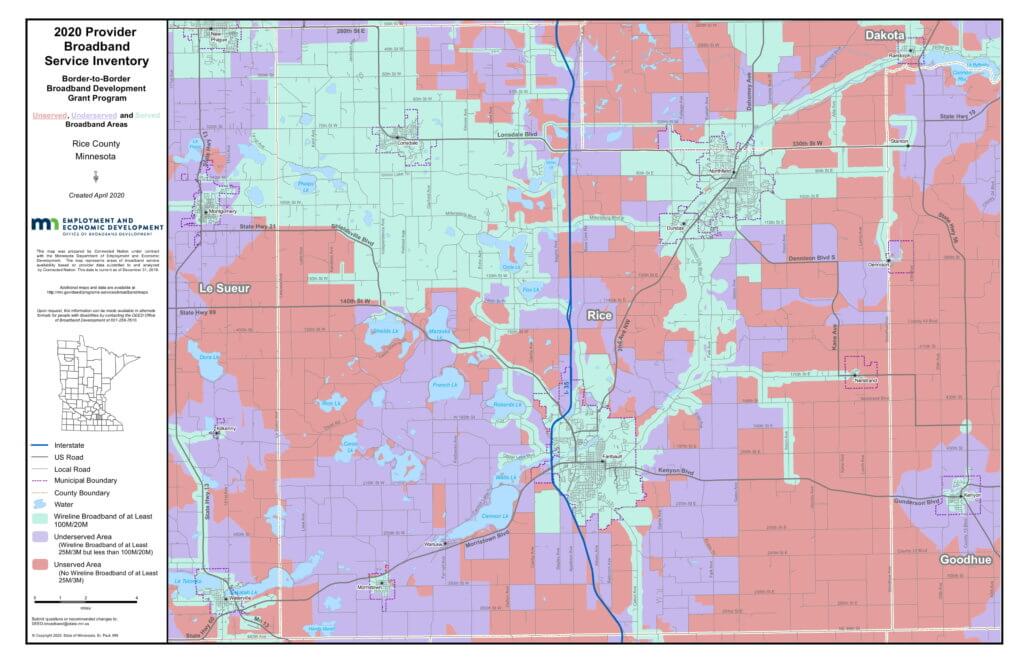 Rank: 31 (out of 87) for access to 100/20 megabits per second (Mbps)
Rice County policymakers recently talked about the importance of broadband in their area. They were joined by BEVCOMM, who explained that a current project is poised to boost broadband speeds in northwest Rice County, northeast Le Sueur County and southern Scott County, an area that includes 417 households, 88 farms, 59 businesses, and 4 "community anchor institutions."
That will help them get to ubiquitous broadband, but they will need more.
What we learned in the past:
Rice County saw an increase in broadband coverage in 2018.
Update from 2020:
The Faribault Daily News gathered views of broadband in Rice County from a variety of perspectives, including a local provider…
In western Rice County, Blue Earth-based BEVCOMM is working to expand and improve its services. CEO Bill Eckels said that the company recently completed an improved network for Morristown residents and is in the process of hooking them up to it.
BEVCOMM recently purchased Lonsdale Telephone Co., which serves Lonsdale and Morristown. In January, the governor announced that BEVCOMM has been awarded more than $2.5 million in grant funding for three separate broadband projects.
Roughly two thirds of that funding went to a project that will boost broadband speeds in northwest Rice County, northeast Le Sueur County and southern Scott County — an area which includes 417 households, 88 farms, 59 businesses, and 4 "community anchor institutions."
Find more articles on broadband in Rice County.
Households with Device Access
Computer
88.0%
90.3%
statewide
Desktop or Laptop
78.8%
81.1%
statewide
Smartphone
73.4%
76.5%
statewide
Tablet
57.2%
59.3%
statewide
Has Worked with Blandin Foundation
No
Has Received MN Grant(s)
No
Government Districts
U.S. Congress: CD 1
MN Senate: 20, 24
MN House: 20B, 24B