Table of goal data by year

| Year | Rank | 100/20 Mbps |
| --- | --- | --- |
| 2021 | #1 of 87 | 99.93% |
| 2020 | #1 of 87 | 99.93% |
| 2019 | #1 of 87 | 99.93% |
| 2018 | #1 of 87 | 99.93% |
| 2017 | #28 of 87 | 66.32% |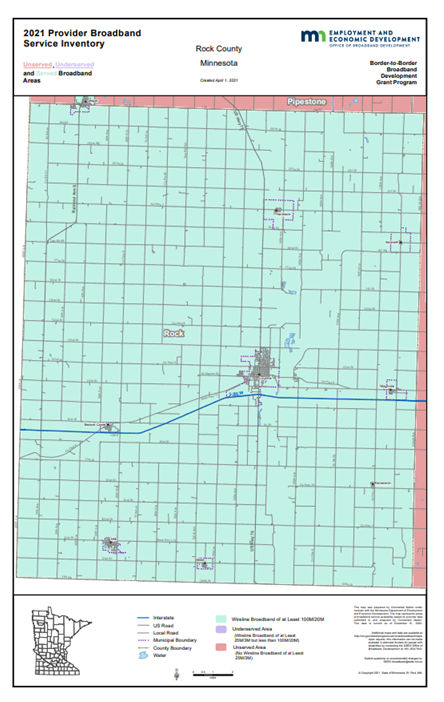 Rank: 1 (out of 87) for access to 100/20 megabits per second (Mbps)
In 2014, Rock County Broadband Alliance received a MN Border to Border grant to bring Fiber to the Home (FTTH) to almost all of Rock County. The community worked with the cooperative. They worked on deploying broadband. They became a Blandin Broadband Community and they worked on broadband adoption.
They continue to work on better use and adoption of broadband.
Never mind green code, Rock County is the gold standard.
Past grants:
2015 – MVTV Wireless Middle Mile – Grant award: $808,080
2014 – Rock County Broadband Alliance (RCBA), FTTP Project – Award: $5 million.
Find more articles on broadband in Rock County (http://tinyurl.com/jjeesst)
Households with Device Access
Computer
88.7%
%
statewide
Desktop or Laptop
75.9%
%
statewide
Smartphone
4.2%
%
statewide
Has Worked with Blandin Foundation
Yes
Has Received MN Grant(s)
Yes
Government Districts
U.S. Congress: CD 1
MN Senate: 22
MN House: 22A