Table of goal data by year

| Year | Rank | 100/20 Mbps |
| --- | --- | --- |
| 2022 | #3 of 87 | 99.9% |
| 2021 | #1 of 87 | 99.93% |
| 2020 | #1 of 87 | 99.93% |
| 2019 | #1 of 87 | 99.93% |
| 2018 | #1 of 87 | 99.93% |
| 2017 | #28 of 87 | 66.32% |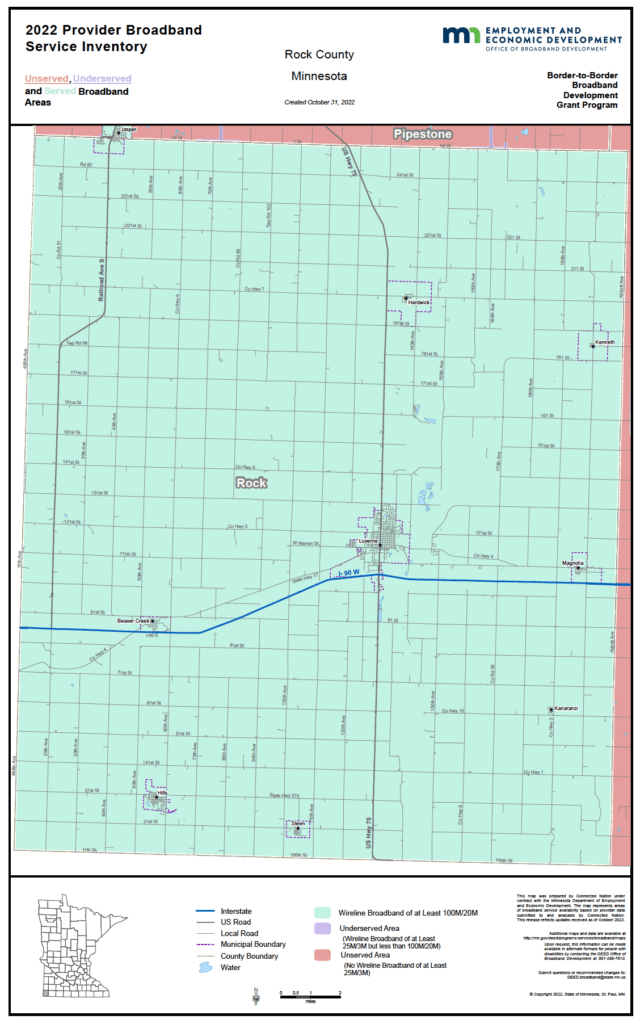 Rank: 3 (out of 87) for access to 100/20 megabits per second (Mbps)
Rock County ranks 3 for broadband access and 84 for digital equity out of 87 counties. They have hovered at 99 percent coverage to broadband of 100 Mbps down and 20 up since their major upgrade in 2018. They have 4 households without access to broadband at that speed. Estimates indicate that it will cost $39,000 to get to ubiquitous broadband in the county.
Rock County has been knocked out of first place but that's only because two other counties have done even better. But I feel like Rock County is going to find a way to get the estimated $39,000 to connect the last four homes in their community and that's why they get the code green.
Digital Equity:
Rock County ranks 21 out of 87 for digital equity. (See full Digital Equity Profile)
Rock County ranks 30 out of 87 for computer ownership. 92.2 percent of homes have a computer of device as compared to statewide ownership of 95.5 percent.
Households with Device Access
A Device
87.9%
95.5%
statewide
Desktop or Laptop
76.9%
83.2%
statewide
Smartphone
70.7%
90.1%
statewide
Tablet
54.0%
65.8%
statewide
Has Worked with Blandin Foundation
Yes
Has Received MN Grant(s)
Yes
2015 – MVTV Wireless Middle Mile – Grant award: $808,080
2014 – Rock County Broadband Alliance (RCBA), FTTP Project – Award: $5 million.
Government Districts
U.S. Congress: CD 1
MN Senate: 21
MN House: 21A