Table of goal data by year
Year
25/3 Mbps
100/20 Mbps
2020
#38 of 87
86.72%
#40 of 87
79.22%
2019
#43 of 87
86.23%
#39 of 87
78.2%
2018
#42 of 87
83.47%
#63 of 87
41.2%
2017
#39 of 87
82.72%
#56 of 87
38.78%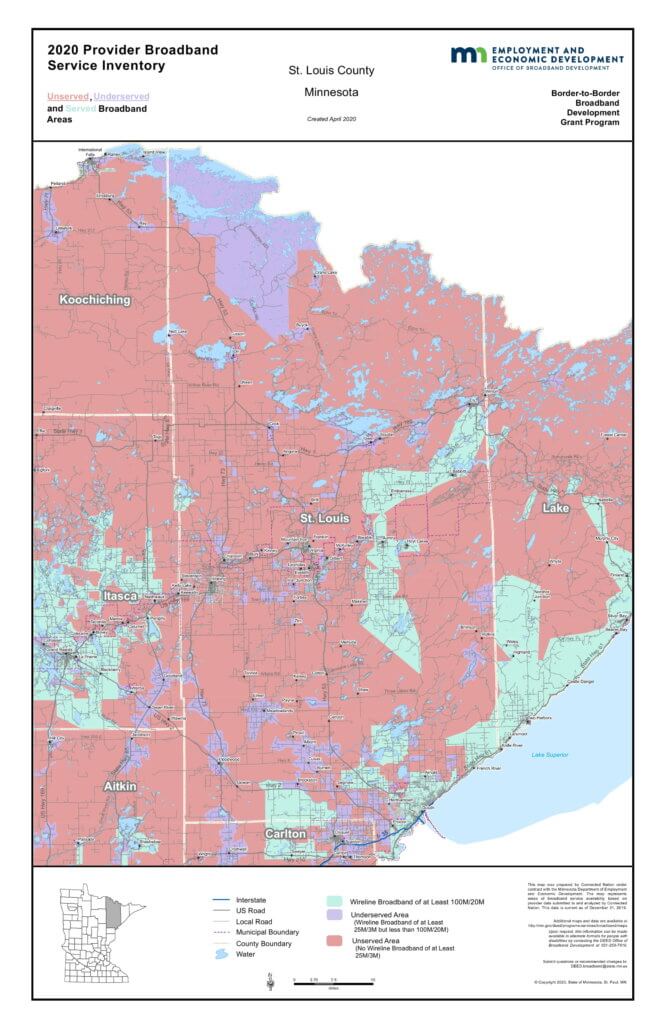 Rank: 39 (out of 87) for access to 100/20 megabits per second (Mbps)
Iron Range Resources & Rehabilitation (IRRR) has partnered with the Blandin Foundation over the past couple years to provide broadband adoption support to communities on the Iron Range, including many in St Louis County. The communities have benefited directly with coaching, meetings and programming. But we can see the excitement is spreading as communities outside of the cohort are also talking about broadband. Broadband providers are coming in to promote solutions to these small, remote communities.
St Louis has benefited from MN Border to Border grants in the past and they will benefit from a project awarded funds in the last round too. The momentum in the community is strong. They are very active in the statewide broadband speed test and mapping. These efforts and the raised awareness should help them continue to improve access in the area.
What we learned in the past:
In 2010, American Recovery and Reinvestment Act (ARRA) funding brought fiber to St Louis County's neighbor Cook County. And ARRA brought middle mile coverage to the Northeast Service Cooperative (NESC) which brings middle mile service to parts of St. Louis County. But large swaths of the county remain unserved and underserved. They have worked with the Blandin Foundation and last year hosted a local broadband summit to discuss their needs based on a feasibility study.
St Louis County has benefited from several grants that have helped bring last mile to the NESC middle mile:
2017 – CenturyLink – Fredenberg Township FTTH Project – GRANT $1,809,312
2017 – Paul Bunyan Communications – North Central Fiber – GRANT $802,620
2017 – MEDIACOM FAYAL TOWNSHIP – GRANT: $263,345
2014 – Mediacom, Pintar Road – Award: $137,848. Total project cost: $275,697.
2014 – Northeast Service Cooperative – Frontier Communications Corp., Border to Border Phase I – Award: $1.96 million.
Update from 2020:
St Louis County has been part of a team spearheading a statewide broadband speed test and mapping solution to help get an more accurate  look at what's happening with broadband.
The have providers looking at coming into the area, such as Treehouse Broadband, a fixed wireless provider. And communities, such as Greenwood Township, have been looking into solutions.
Towns in St Louis County have been participating in a special Iron Range cohort of the Blandin Broadband Communities, a broadband adoption program. Each of the following communities selected and deployed their own projects: Hibbing, Grizzlies (Bois Forte, Cook, Orr), Ely, Chisholm, Tower Economic Development Authority, Laurentian Chamber of Commerce, Iron Range Tourism Bureau, and East Range Joint Powers.
St Louis County will benefit from a Border to Border grant funded in the last round
2019: Paul Bunyan Communications – North Central Minnesota Fiber Project– GRANT $2,562,916
This last mile project will upgrade approximately 914 unserved and 439 underserved locations in parts of the Leech Lake Indian Reservation and rural portions of Cass, Itasca, Koochiching, and St. Louis counties. In a funding partnership with the State of Minnesota, Minnesota Iron Range Resource & Rehabilitation Board, Koochiching County, and Morcom Township, Paul Bunyan Communications will improve broadband service levels up to 1 Gbps download and 1 Gbps upload, exceeding the 2022 and 2026 state speed goals. A fiber-to-the premise project, the proposed project areas are a response to consumer demand and will provide relief in economically distressed communities that need new alternatives to diversify and strengthen.
Total eligible cost is $6,268,400
Local match is $3,705,484
Find more articles on broadband in St Louis County.
Households with Device Access
Computer
86.0%
90.3%
statewide
Desktop or Laptop
74.6%
81.1%
statewide
Smartphone
70.2%
76.5%
statewide
Tablet
52.6%
59.3%
statewide
Has Worked with Blandin Foundation
Yes
Has Received MN Grant(s)
Yes
Government Districts
U.S. Congress: CD 8
MN Senate: 03, 06, 07, 11
MN House: 03A, 03B, 06A, 06B, 07A, 07B, 11A