Table of goal data by year

| Year | Rank | 100/20 Mbps |
| --- | --- | --- |
| 2022 | #21 of 87 | 92.04% |
| 2021 | #22 of 87 | 91.02% |
| 2020 | #19 of 87 | 89.43% |
| 2019 | #19 of 87 | 89.15% |
| 2018 | #14 of 87 | 88.61% |
| 2017 | #15 of 87 | 88.38% |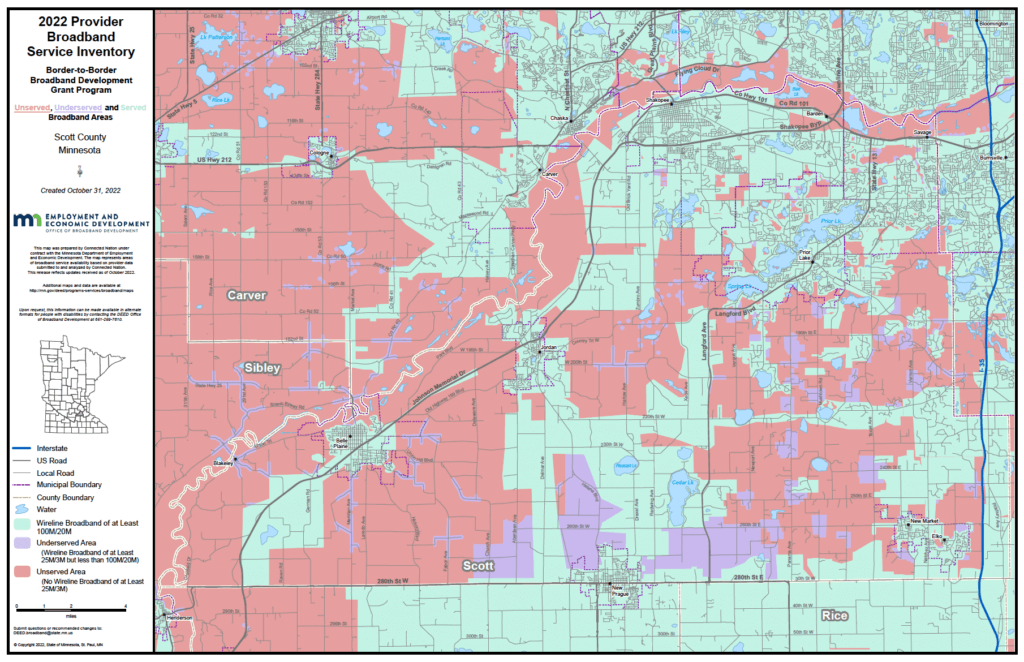 Rank: 21 (out of 87) for access to 100/20 megabits per second (Mbps)
Scott County ranks 21 for broadband access and 3 for digital equity out of 87 counties. They have hovered from 88-92 percent coverage to broadband of 100 Mbps down and 20 up since we started tracking. They have 4351 households without access to broadband at that speed. Estimates indicate that it will cost $40.5 million to get to ubiquitous broadband in the county.
Scott County will benefit from border to border grants announced in December 2022:
Nuvera Communications, Inc., $2,436,427.00
As part of the 7-county metro area, Scott County is a fairly metro county, so they have the advantage of proximity to the Twin Cities and some higher population density areas. Their digital equity ranking is high so residents are likely to demand better access when they need it. The are close to goal; improvement has been slow but steady. The newest grant will help get them closer and that's why they retain their green code.
Digital Equity:
Scott County ranks 3 out of 87 for digital equity. (See full Digital Equity Profile)
Scott County ranks 2 out of 87 for computer ownership. 98.3 percent of homes have a computer of device as compared to statewide ownership of 95.5 percent.
Households with Device Access
A Device
94.6%
95.5%
statewide
Desktop or Laptop
89.0%
83.2%
statewide
Smartphone
84.3%
90.1%
statewide
Tablet
67.9%
65.8%
statewide
Has Worked with Blandin Foundation
Yes
Has Received MN Grant(s)
Yes
MN State Grant awarded in 2021: Nuvera Communications, Inc. – Webster Rural FTTP – GRANT $431,260 This last mile project will serve 103 unserved and 178 underserved locations in Wheatland and Webster townships in Rice County, Euraka and Greenvale townships in Dakota County, and New Market and Cedar Lake townships in Scott County.
2019 – BEVCOMM (Eckles Telephone Company) – Le Sueur County Project – GRANT $1,857,376
2017 – Jaguar Communications – Sand Creek Township Area Broadband Project – GRANT $192,405
Government Districts
U.S. Congress: CD 2
MN Senate: 22, 54, 55, 57, 58
MN House: 22B, 54A, 54B, 55A, 57A, 58A
Overlapping MN Reservations