Table of goal data by year
Year
25/3 Mbps
100/20 Mbps
2020
#15 of 87
97.13%
#19 of 87
89.43%
2019
#19 of 87
96.43%
#19 of 87
89.15%
2018
#19 of 87
94.5%
#14 of 87
88.61%
2017
#20 of 87
96.1%
#15 of 87
88.38%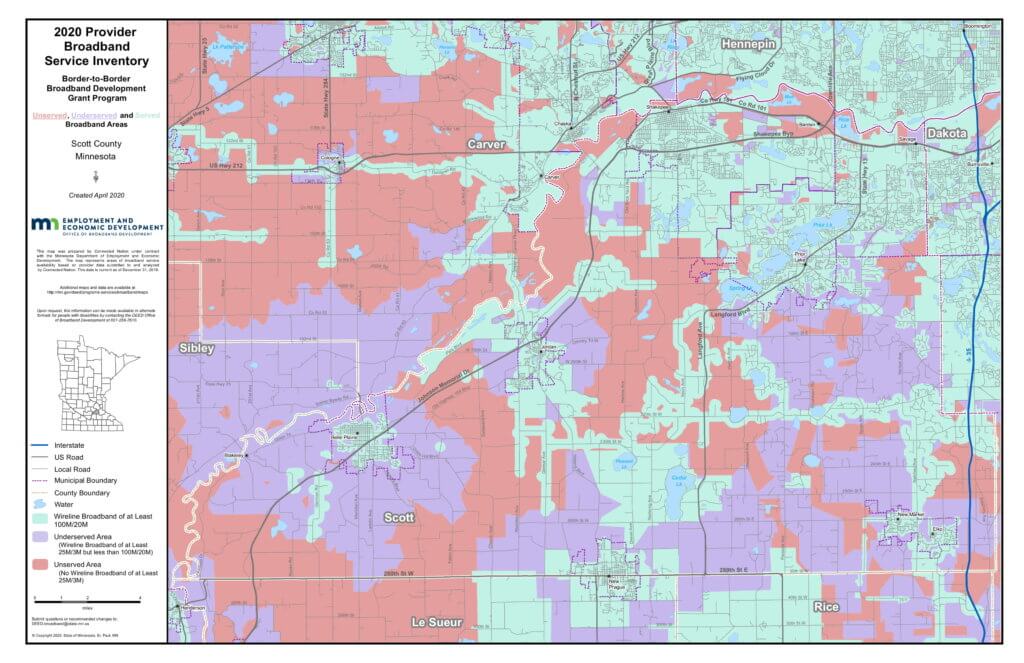 Rank: 19 (out of 87) for access to 100/20 megabits per second (Mbps)
As part of the 7-county metro area, Scott County is a fairly metro county, so they have the advantage of proximity to the Twin Cities and some higher population density areas. Their real advantage, however, is a government network built in 2007, that brought broadband to the area and spurred partnerships that have helped that broadband grow.
Their progress toward the 100/20 Mbps goal, however, has been stalled for as long as we have been keeping tracking. They need renewed motivation. Maybe that will come in the form of benefitting from a project that was awarded a grant in the last round of the MN Border to Border funding.
What we learned in the past:
Scott County started in 2007 with a 94-mile fiber-optic ring. At the time it was the largest government-owned, high-speed network in the state, and one of the largest in the nation. In 2014, county officials detailed the advantages of the network saying that Scott County Government paid $35,000/year less for better broadband than before they built their own network.
Scott County has benefited from one MN broadband grant:
2017 – Jaguar Communications – Sand Creek Township Area Broadband Project – GRANT $192,405
Update from 2020:
Broadband Properties Magazine featured Scott County's broadband story, highlighting their partnerships in March 2020. Here's a quick outline of events.
2002: works with school district and the county seat of Shakopee to build a hub-and-spoke network connecting public facilities.
2007: Minnesota Emergency Safety Board decided to upgrade the county 911 system – Scott goes fiber
2008: Using public-safety grant money in combination with tax-levy dollars, Scott County implemented a countywide fiber ring with Zayo
2009: expanded westward to join the Carver County network and swapped two fibers for two of Carver County's fibers And in other directions with other providers
2015: enters into a joint-build partnership with the Shakopee Mdewakanton Sioux Community that saved hundreds of thousands of dollars for both parties
Scott County will benefit from a project funded in the last round of Border to Border grants:
2019: BEVCOMM (Eckles Telephone Company) – Le Sueur County Project – GRANT $1,857,376
This last mile project will upgrade approximately 417 unserved households, 88 unserved farms, 59 unserved businesses, and 4 community anchor institutions in rural areas around the communities of Montgomery, Heidelberg, and New Prague in Le Sueur, Rice, and Scott Counties. In a funding partnership with the State of Minnesota and Le Sueur County, BEVCOMM will improve broadband service levels up to 1 Gbps download and 1 Gbps upload, exceeding the 2022 and 2026 state speed goals. Sustainable broadband adoption will transform these unserved areas into highly-productive rural communities. This use and development of broadband will provide various home-based business options, stimulate economic growth, and stimulate innovation and investment. Education, health care, agriculture, energy efficiency, and public safety will improve with high-speed Internet access.
Total eligible project cost is $3,714,752
Local match is $1,857,376
Find more articles on broadband in Scott County.
Households with Device Access
Computer
94.6%
90.3%
statewide
Desktop or Laptop
89.0%
81.1%
statewide
Smartphone
84.3%
76.5%
statewide
Tablet
67.9%
59.3%
statewide
Has Worked with Blandin Foundation
No
Has Received MN Grant(s)
No
Government Districts
U.S. Congress: CD 2
MN Senate: 20, 55, 56
MN House: 20A, 55A, 55B, 56A
Overlapping MN Reservations