Table of goal data by year

| Year | Rank | 100/20 Mbps |
| --- | --- | --- |
| 2021 | #22 of 87 | 91.02% |
| 2020 | #19 of 87 | 89.43% |
| 2019 | #19 of 87 | 89.15% |
| 2018 | #14 of 87 | 88.61% |
| 2017 | #15 of 87 | 88.38% |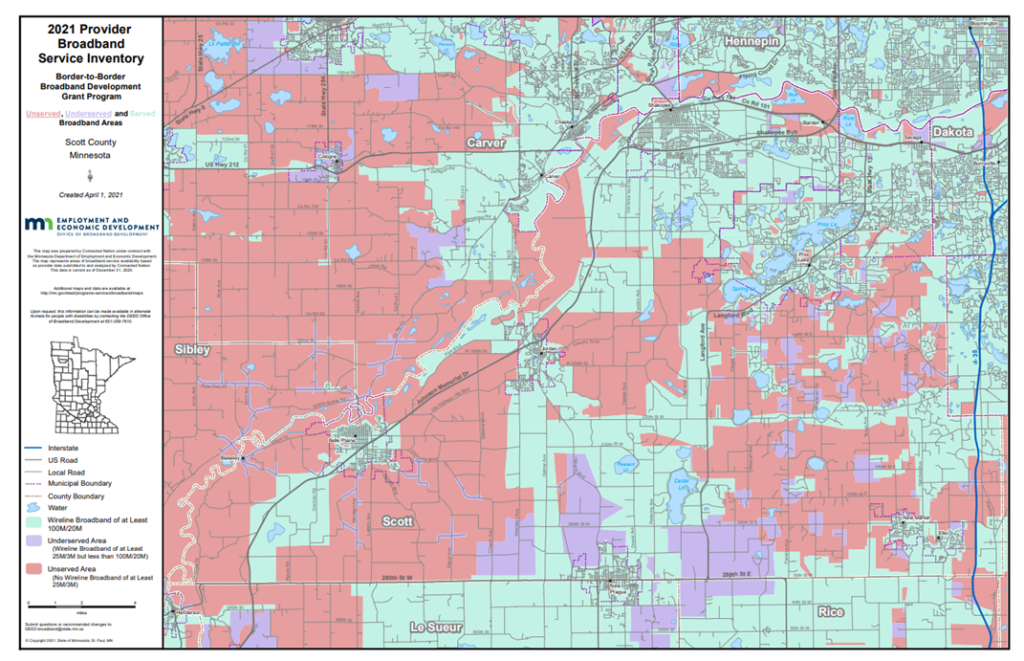 Rank: 19 (out of 87) for access to 100/20 megabits per second (Mbps)
As part of the 7-county metro area, Scott County is a fairly metro county, so they have the advantage of proximity to the Twin Cities and some higher population density areas. A report from the Institute for Local Self Reliance outlines at a high level their situation: they built a fiber backbone to save government spending, it has lured business to the area, and they have partners with providers to meet resident needs, especially during the pandemic.
Scott County will benefit from a MN State Grant awarded in 2021:
Nuvera Communications, Inc. – Webster Rural FTTP – GRANT $431,260
This last mile project will serve 103 unserved and 178 underserved locations in Wheatland and Webster townships in Rice County, Euraka and Greenvale townships in Dakota County, and New Market and Cedar Lake townships in Scott County.
Projected allocation of American Recovery Project ARP funds in Scott is $28,900,154; broadband is one possible use.
Scott County has the opportunity to invest in broadband with federal funding. That would help them reach ubiquitous broadband and it sounds like they are already in conversations to collaborate to meet resident needs. Their renewed interest in residential need contributes to their code green status.
Find more articles on broadband in Scott County (http://tinyurl.com/gt4afcy)
Households with Device Access
Computer
95.2%
93.6%
statewide
Desktop or Laptop
89.1%
80.6%
statewide
Smartphone
3.1%
7.7%
statewide
Tablet
70.5%
63.8%
statewide
Has Worked with Blandin Foundation
No
Has Received MN Grant(s)
Yes
2017 – Jaguar Communications – Sand Creek Township Area Broadband Project – GRANT $192,405
2019: BEVCOMM (Eckles Telephone Company) – Le Sueur County Project – GRANT $1,857,376
Government Districts
U.S. Congress: CD 2
MN Senate: 20, 55, 56
MN House: 20A, 55A, 55B, 56A
Overlapping MN Reservations