Table of goal data by year

| Year | Rank | 100/20 Mbps |
| --- | --- | --- |
| 2022 | #40 of 87 | 82.82% |
| 2021 | #23 of 87 | 90.69% |
| 2020 | #50 of 87 | 73.66% |
| 2019 | #50 of 87 | 72.36% |
| 2018 | #36 of 87 | 67.11% |
| 2017 | #67 of 87 | 28.02% |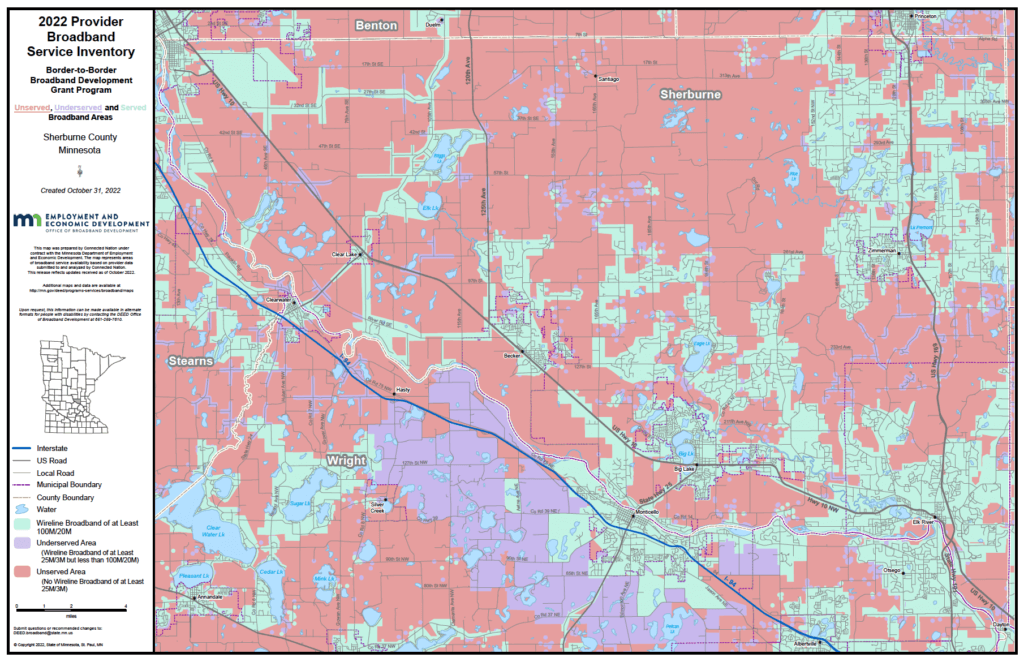 Rank: 40 (out of 87) for access to 100/20 megabits per second (Mbps)
Sherburne County ranks 40 for broadband access and 8 for digital equity out of 87 counties. They have gone from almost 90 percent coverage to broadband of 100 Mbps down and 20 up in 2021 to 82 percent coverage in 2022. There is a slight dip in access this year but it is within a margin of error and may simply reflect a more granular look at access. They have 6169 households without access to broadband at that speed. Estimates indicate that it will cost $57.4 million to get to ubiquitous broadband in the county.
Sherburne County will benefit from a border to border grant announced in December 2022:
Tekstar Communications, Inc. dba Arvig, $1,075,943.50 (Learn more)
Sherburne County will be spending $1.5 million on a grant program in the county. They have already invested $600,000 on three projects.
Sherburne County has worked with the Blandin Foundation. They have renewed their interest in broadband since COVID. They saw the one of greatest drops in broadband ranking – down 17 spots. They are focusing investment on broadband and that helps them keep their green code.
Digital Equity:
Sherburne County ranks 8 out of 87 for digital equity. (See full Digital Equity Profile)
Sherburne County ranks 14 out of 87 for computer ownership. 94.7 percent of homes have a computer of device as compared to statewide ownership of 95.5 percent.
Households with Device Access
A Device
93.6%
95.5%
statewide
Desktop or Laptop
85.7%
83.2%
statewide
Smartphone
82.2%
90.1%
statewide
Tablet
64.3%
65.8%
statewide
Has Worked with Blandin Foundation
Yes
Has Received MN Grant(s)
Yes
2017 – Palmer Wireless – Sherburne County Road 3 – GRANT $110,661
2016 – PALMER WIRELESS BIG LAKE INDUSTRIAL PARK – GRANT: $ 90,988
2016 – PALMER WIRELESS DEL TONE ROAD AND ST. CLOUD AIRPORT – GRANT: $ 179,400
2014 – Palmer Wireless, Becker Industrial Park – Award: $151,934.
Government Districts
U.S. Congress: CD 6
MN Senate: 14, 27, 30
MN House: 14B, 27A, 27B, 30B