Table of goal data by year
Year
25/3 Mbps
100/20 Mbps
2020
#71 of 87
74.29%
#68 of 87
62.86%
2019
#69 of 87
73.59%
#61 of 87
62.87%
2018
#75 of 87
63.47%
#42 of 87
62.84%
2017
#56 of 87
71.27%
#41 of 87
51.01%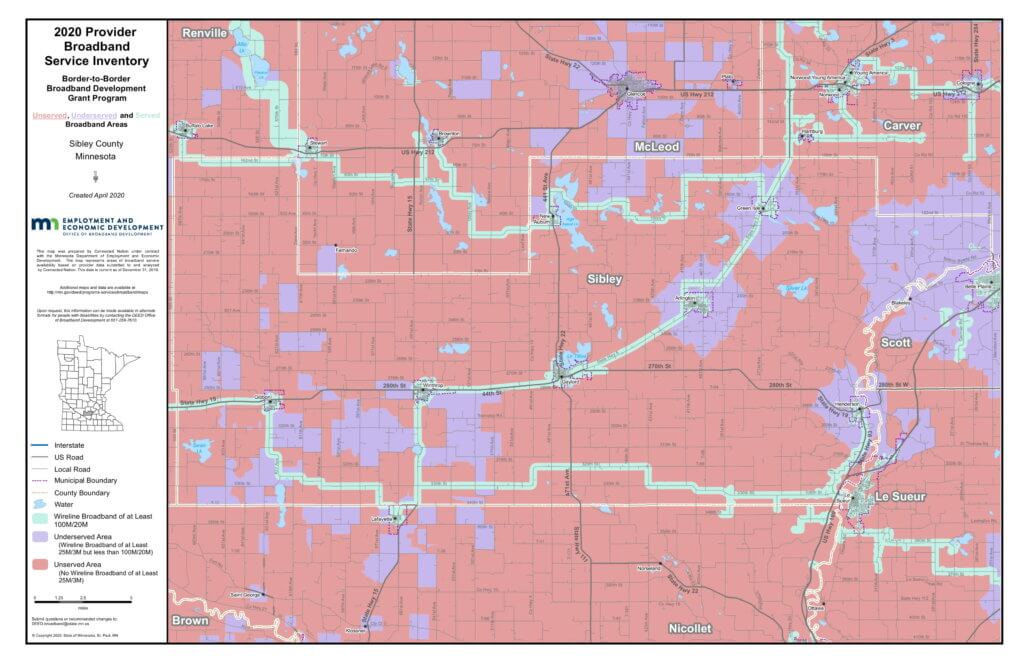 Rank: 49 (out of 87) for access to 100/20 megabits per second (Mbps)
Sibley County has been working on better broadband for more than 10 years. They are a part of the original RS Fiber team. They have been a Blandin Broadband Community. They have benefited from a number of MN Border to Border grants in the past and they will benefit from two more projects that were awarded funds in the last round.
They are focused on broadband deployment and adoption, but they need a plan to get the test of the county covered.
What we learned in the past:
Sibley County and Renville County are original members of RS Fiber. Ten years ago, residents were getting fed up with poor connectivity. To address the issue a Joint Powers Board was formed that ultimately included all seven cities in Sibley county as well as the city of Fairfax in Renville County. In the fall of 2012, concerned about the project's plan for how to structure the project's debt service reserve fund, the Sibley Board of Commissioners, in a 3-2 vote, passed a resolution to withdraw from the JPB. Undaunted, immediately following this vote, a group of farmers walked across the street and in an impromptu meeting, vowed to continue the effort by "going back to their roots" as one of them said, and form a coop.
Sibley County has benefited from three state grants:
2017 – Winthrop Telephone Company, Inc. – Cornish Township FTTP Project – GRANT $365,895
2015 – MVTV Wireless Middle Mile – Grant award: $808,080
2014 – R-S Fiber Cooperative, FTTH Project – Award: $1 million.
Update from 2020:
Sibley County is part of a consortium (Region 9) that using broadband for better telehealth, especially for better mental telehealth.
Find more articles on broadband in Sibley County.
Households with Device Access
Computer
85.2%
90.3%
statewide
Desktop or Laptop
72.1%
81.1%
statewide
Smartphone
69.2%
76.5%
statewide
Tablet
51.5%
59.3%
statewide
Has Worked with Blandin Foundation
Yes
Has Received MN Grant(s)
Yes
Government Districts
U.S. Congress: CD 7
MN Senate: 18
MN House: 18B