Table of goal data by year

| Year | Rank | 100/20 Mbps |
| --- | --- | --- |
| 2022 | #74 of 87 | 65.63% |
| 2021 | #70 of 87 | 65.29% |
| 2020 | #68 of 87 | 62.86% |
| 2019 | #61 of 87 | 62.87% |
| 2018 | #42 of 87 | 62.84% |
| 2017 | #41 of 87 | 51.01% |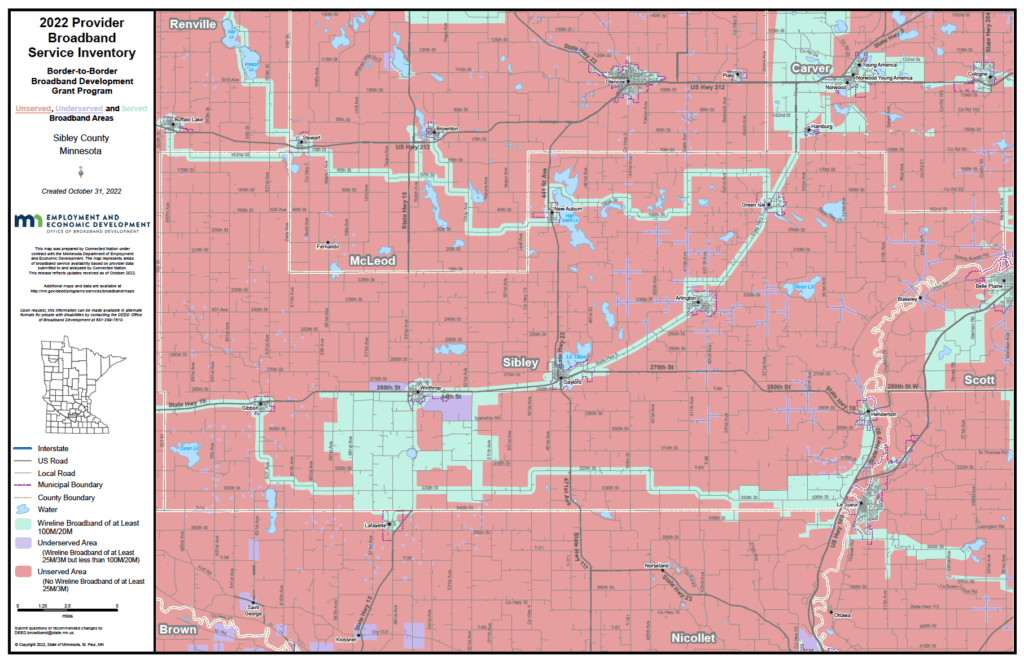 Rank: 74 (out of 87) for access to 100/20 megabits per second (Mbps)
Sibley County ranks 74 for broadband access and 52 for digital equity out of 87 counties. They have hovered from 62-65 percent coverage to broadband of 100 Mbps down and 20 up since 2018. They have 2218 households without access to broadband at that speed. Estimates indicate that it will cost $20.6 million to get to ubiquitous broadband in the county.
Sibley County has been working on better broadband for more than 10 years. They have been a Blandin Broadband Community. But their connectivity has been stagnant since 2018. There hasn't been a demonstration of recent engagement with broadband, which is why their code has gone from yellow to red.
Digital Equity:
Sibley County ranks 53 out of 87 for digital equity. (See full Digital Equity Profile)
Sibley County ranks 60 out of 87 for computer ownership. 89.2 percent of homes have a computer of device as compared to statewide ownership of 95.5 percent.
Households with Device Access
A Device
85.2%
95.5%
statewide
Desktop or Laptop
72.1%
83.2%
statewide
Smartphone
69.2%
90.1%
statewide
Tablet
51.5%
65.8%
statewide
Has Worked with Blandin Foundation
Yes
Has Received MN Grant(s)
Yes
MN State Grant awarded in 2021: Winthrop Telephone Company, Inc. – Bismarck & Transit Township FTTP Project – GRANT $716,000 This last mile project will serve 148 unserved and six underserved locations, including homes, businesses and farms, in Bismarck, Transit and Round Grove townships in Sibley and McLeod counties.
2017 – Winthrop Telephone Company, Inc. – Cornish Township FTTP Project – GRANT $365,895
2015 – MVTV Wireless Middle Mile – Grant award: $808,080
2014 – R-S Fiber Cooperative, FTTH Project – Award: $1 million.
Government Districts
U.S. Congress: CD 7
MN Senate: 17
MN House: 17A, 17B