Table of goal data by year
Year
25/3 Mbps
100/20 Mbps
2019
#29 of 87
91.72%
#32 of 87
81.07%
2018
#30 of 87
88.96%
#64 of 87
40.17%
2017
#33 of 87
87.58%
#58 of 87
38.01%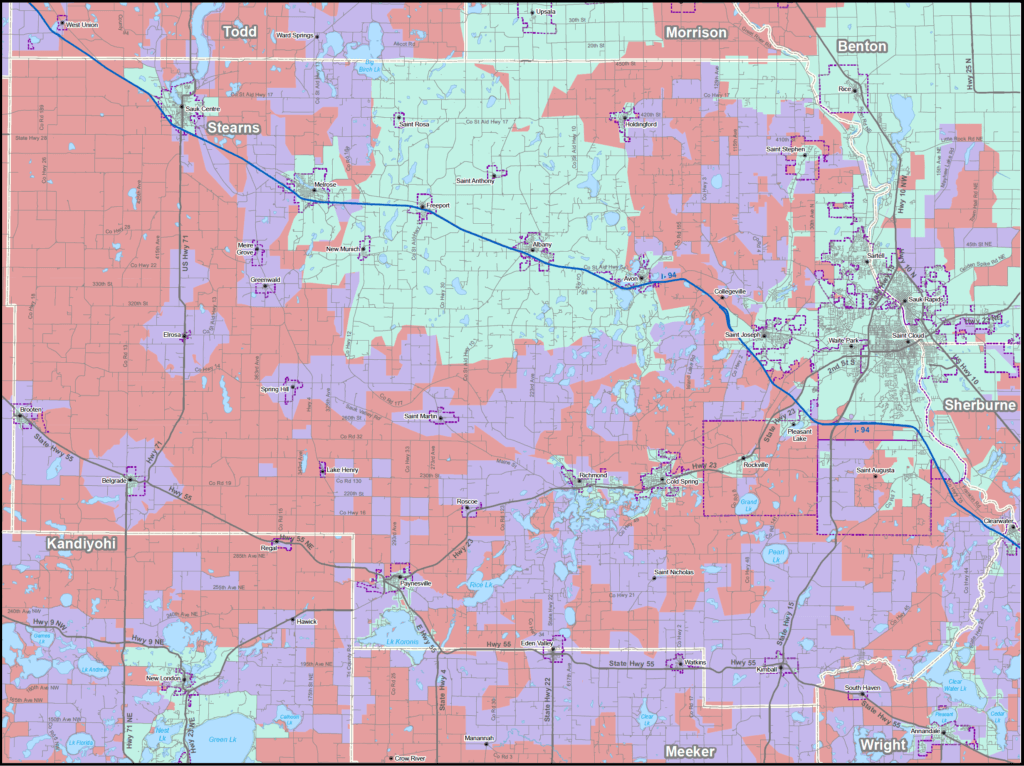 Rank: 32 (out of 87) for broadband speeds of 100/20 megabits per second (Mbps)
Stearns County could reach the Minnesota speed goals for both 2022 and 2026 with a concerted effort. They have  recent momentum happening in the area; that will help.
Stearns County has benefited from two state broadband grants:
2017 – Albany Mutual Telephone Association – Two Rivers Area – GRANT $616,743
Serving serve 121 unserved households and home-based businesses in an area northeast of Albany in Stearns County with service levels to exceed the 2022 state goal of 25 Mbps download and 3 Mbps upload.
2016 – ALBANY MUTUAL TELEPHONE ASSOCIATION BIG WATAB LAKE – GRANT: $726,185
Serving 242 unserved households near and around Big Watab Lake in Stearns County with service levels to 1 Gbps.
Stearns County also is in line to  benefit from FCC funding because Midcontinent Communications will receive $719,916 over ten years to expand services in Stearns County. Also, in June 2019, Stearns County Board met to hear the conclusions of  a Blandin Foundation-supported feasibility study.
The future of the county's progress toward the MN broadband speeds goals relies, to a great degree, on how that study is received.
Stearns County could benefit from future grants. In 2019, Albany Telephone, Meeker Coop and Arvig  applied to upgrade service in Stearns (That doesn't mean they will get the grant; they have only applied.)
Find more articles on broadband in Stearns County.
Has Worked with Blandin Foundation
Yes
Has Received MN Grant(s)
No
Government Districts
U.S. Congress: CD 6
MN Senate: 12, 13, 14
MN House: 12B, 13A, 13B, 14A, 14B