Table of goal data by year

| Year | Rank | 100/20 Mbps |
| --- | --- | --- |
| 2022 | #33 of 87 | 84.69% |
| 2021 | #36 of 87 | 84.71% |
| 2020 | #34 of 87 | 82.41% |
| 2019 | #32 of 87 | 81.07% |
| 2018 | #64 of 87 | 40.17% |
| 2017 | #58 of 87 | 38.01% |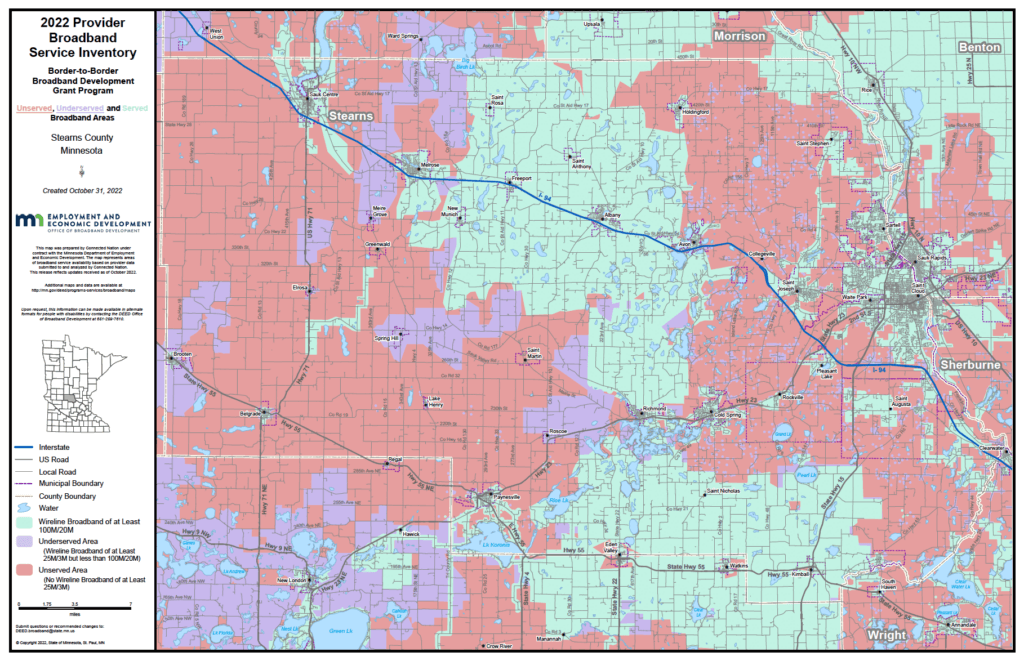 Rank: 33 (out of 87) for access to 100/20 megabits per second (Mbps)
Stearns County ranks 33 for broadband access and 31 for digital equity out of 87 counties. They have hovered from 81-84 percent coverage to broadband of 100 Mbps down and 20 up since 2019. They have 10056 households without access to broadband at that speed. Estimates indicate that it will cost $93.5 million to get to ubiquitous broadband in the county.
Stearns County will benefit from two border to border grants announced in December 2022:
Albany Mutual Telephone, $746,964.00
Melrose Telephone Co. dba Arvig, $4,974,570.00 (Learn more)
Stearns County will benefit from ReConnect funding through Upsala Cooperative Telephone Association in Morrison, Stearns and Todd counties.
The influx of funding to the county helped push Stearns from yellow to green code.
Digital Equity:
Stearns County ranks 31 out of 87 for digital equity. (See full Digital Equity Profile)
Stearns County ranks 13 out of 87 for computer ownership. 95.1 percent of homes have a computer of device as compared to statewide ownership of 95.5 percent.
Households with Device Access
A Device
90.4%
95.5%
statewide
Desktop or Laptop
79.6%
83.2%
statewide
Smartphone
76.0%
90.1%
statewide
Tablet
57.5%
65.8%
statewide
Has Worked with Blandin Foundation
Yes
Has Received MN Grant(s)
Yes
MN State Grant awarded in 2021: Sytek Communications – Morrison/Todd/Stearns County FTTP Project – GRANT $1,048,668 This last mile project will bring service to 130 locations in Southwest Morrison, Southeastern Todd and Northeastern Stearns counties.
2017 – Albany Mutual Telephone Association – Two Rivers Area – GRANT $616,743
2016 – ALBANY MUTUAL TELEPHONE ASSOCIATION BIG WATAB LAKE – GRANT: $726,185
Arvig (Melrose Telephone Company) – Eden Valley & Melrose Area Project – GRANT $393,890
Government Districts
U.S. Congress: CD 6, CD 7
MN Senate: 12, 13, 14
MN House: 12A, 12B, 13A, 13B, 14A, 14B