Table of goal data by year
Year
25/3 Mbps
100/20 Mbps
2020
#33 of 87
88.04%
#34 of 87
82.41%
2019
#29 of 87
91.72%
#32 of 87
81.07%
2018
#30 of 87
88.96%
#64 of 87
40.17%
2017
#33 of 87
87.58%
#58 of 87
38.01%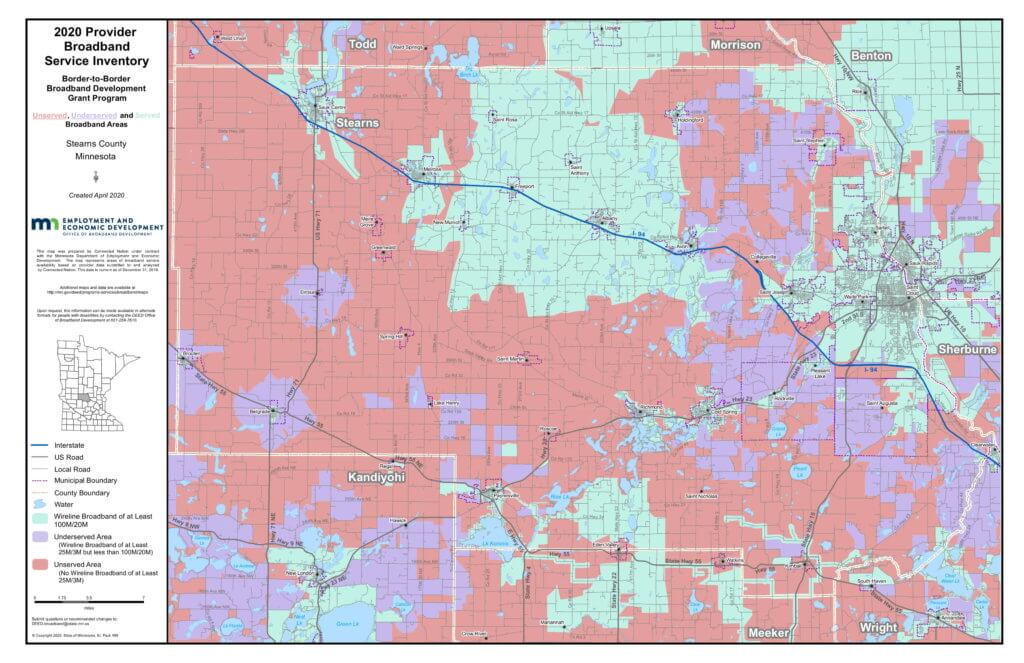 Rank: 33 (out of 87) for access to 100/20 megabits per second (Mbps)
Stearns County has benefited from MN Border to Border grants in the past, which is likely how they saw great coverage increase between 2018 and 2019. They will benefit again this year, as a project in their area received funding in the last round of MN Border to Border grants. In fact, the Governor visited the Stearns County to announce the grants, which is a nice way to build excitement in that area. Stearns has also heard from other providers who are interested in serving the area. They just need to make sure that those providers serve broadband to 100/20 Mbps if they want to make the 2026 speed goal.
What we learned in the past:
Stearns County has benefited from two MN broadband grants:
2017 – Albany Mutual Telephone Association – Two Rivers Area – GRANT $616,743
2016 – ALBANY MUTUAL TELEPHONE ASSOCIATION BIG WATAB LAKE – GRANT: $726,185
Stearns County also is in line to  benefit from FCC funding because Midcontinent Communications will receive $719,916 over  ten years to expand services in Stearns County.
Update from 2020:
Stearns County hosted Governor Walz for the announcement of the Border to Border grant awards. Midco announced news service in the area last fall (Oct 2019); $2.1 million technology and facility investment that opens the way for the gigabit internet service. From Midco's St. Joseph facility, the gigabit service branches out to 15 other Central Minnesota cities. About the same time Meeker Cooperative announced a change in its service area, which includes Meeker County, when it announced in November that it had begun installing a fiber optic backbone, connecting its 14 substations throughout the county to provide Vibrant Broadband. Unfortunately, the service does not get to the 100/20 Mbps speed goal: In a test it conducted earlier this year, Meeker Cooperative found download speed with Vibrant Broadband is approximately 50/8.
Stearns County will benefit from a Border to Border grant awarded in the last round:
Arvig (Melrose Telephone Company) – Eden Valley & Melrose Area Project – GRANT $393,890
This middle and last mile project will upgrade approximately 84 unserved and 336 underserved locations in the Rice Lake and Brown Lake areas in rural Stearns County, and part of the Melrose industrial park near Interstate 94. In a funding partnership with the State of Minnesota and the City of Melrose, Arvig will improve broadband service levels up to 1 Gbps download and 1 Gbps upload, exceeding the 2022 and 2026 state speed goals. Having this advanced access to the Melrose industrial park will address the needs of existing businesses and attract additional businesses. The rural Eden Valley portion of the project will see improved quality of life, including opportunities for business, education, health care, and telecommuting options.
Total eligible project cost is $1,125,400
Local match is $731,510
Find more articles on broadband in Stearns County.
Households with Device Access
Computer
90.4%
90.3%
statewide
Desktop or Laptop
79.6%
81.1%
statewide
Smartphone
76.0%
76.5%
statewide
Tablet
57.5%
59.3%
statewide
Has Worked with Blandin Foundation
Yes
Has Received MN Grant(s)
No
Government Districts
U.S. Congress: CD 6
MN Senate: 12, 13, 14
MN House: 12B, 13A, 13B, 14A, 14B