Table of goal data by year

| Year | Rank | 100/20 Mbps |
| --- | --- | --- |
| 2021 | #27 of 87 | 88.95% |
| 2020 | #25 of 87 | 87.05% |
| 2019 | #23 of 87 | 86.86% |
| 2018 | #46 of 87 | 56.16% |
| 2017 | #8 of 87 | 95.64% |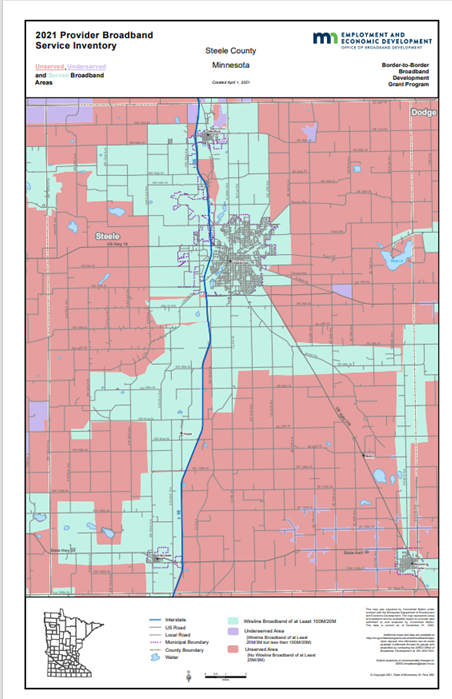 Rank: 27 (out of 87) for access to 100/20 megabits per second (Mbps)
Steele County has not worked with the Blandin Foundation. They have never received a MN Border to Border grant. There were home to a local provider (Jaguar), which was acquired last year. There is activity happening in their area.
The good news is that Midco has extended gig access to parts of Le Sueur, Steele, Blue Earth, Freeborn, Waseca and Dodge Counties. The difficult news is that Steele County is centered in area that is in line for federal funding but whose potential recipient has stirred controversy.
LTD Broadband was awarded the opportunity to submit a long form to get federal funding (RDOF) to deploy Fiber-to-the-Home throughout much of Minnesota, including parts of Steele County. So they are in a sticky situation where they don't know if LTD will get the funding, they don't know if LTD will succeed if they do and they don't know if they will qualify for federal or start funding because of the potential RDOF award.
Projected allocation of American Recovery Project ARP funds in Steele is $7,107,848; broadband is one possible use.
Steele County has the opportunity to invest in broadband with federal funding. That would help them reach ubiquitous broadband. They may have providers that might help make that happen. They are a yellow code community.
Past grants: none
Find more articles on broadband in Steele County (http://tinyurl.com/zd4qhbu)
Households with Device Access
Computer
89%
93.6%
statewide
Desktop or Laptop
76.8%
80.6%
statewide
Smartphone
4.7%
7.7%
statewide
Tablet
59.3%
63.8%
statewide
Has Worked with Blandin Foundation
No
Has Received MN Grant(s)
No
Government Districts
U.S. Congress: CD 1
MN Senate: 24, 27
MN House: 24A, 24B, 27A