Table of goal data by year

| Year | Rank | 100/20 Mbps |
| --- | --- | --- |
| 2021 | #14 of 87 | 96.79% |
| 2020 | #11 of 87 | 96.79% |
| 2019 | #10 of 87 | 96.74% |
| 2018 | #7 of 87 | 96.74% |
| 2017 | #5 of 87 | 96.73% |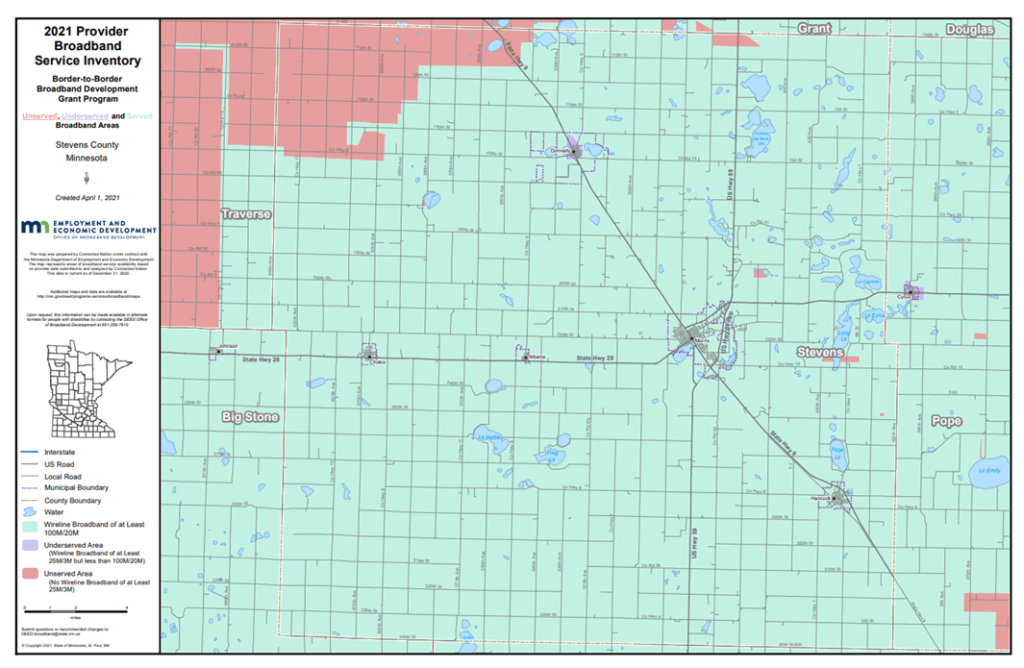 Rank: 14 (out of 87) for access to 100/20 megabits per second (Mbps)
Stevens County has been involved with broadband for years – going back to working with Blandin Foundation-led, Minnesota Intelligent Rural Communities (2009-2012) effort.
They have been stalled at 97 percent, which is quite good, unless you like in the underserved 3 percent. A little push might help them get to ubiquitous broadband.
Projected allocation of American Recovery Project ARP funds in Stevens is $1,901,619; broadband is one possible use.
Stevens County has the opportunity to invest in broadband with federal funding. That would help them reach ubiquitous broadband. They are a code green community.
Past grants:
2017 – Advantenon – Rural Grant, Stevens and Wilkin Counties – Grant $316,554
2014 – Otter Tail Telcom, Swan Lake West – Award: $438,937.
Find more articles on broadband in Stevens County (http://tinyurl.com/joutu2h)
Households with Device Access
Computer
87.8%
%
statewide
Desktop or Laptop
78.4%
%
statewide
Smartphone
5.2%
%
statewide
Has Worked with Blandin Foundation
Yes
Has Received MN Grant(s)
Yes
Government Districts
U.S. Congress: CD 7
MN Senate: 12
MN House: 12A