Table of goal data by year

| Year | Rank | 100/20 Mbps |
| --- | --- | --- |
| 2022 | #13 of 87 | 97.08% |
| 2021 | #14 of 87 | 96.79% |
| 2020 | #11 of 87 | 96.79% |
| 2019 | #10 of 87 | 96.74% |
| 2018 | #7 of 87 | 96.74% |
| 2017 | #5 of 87 | 96.73% |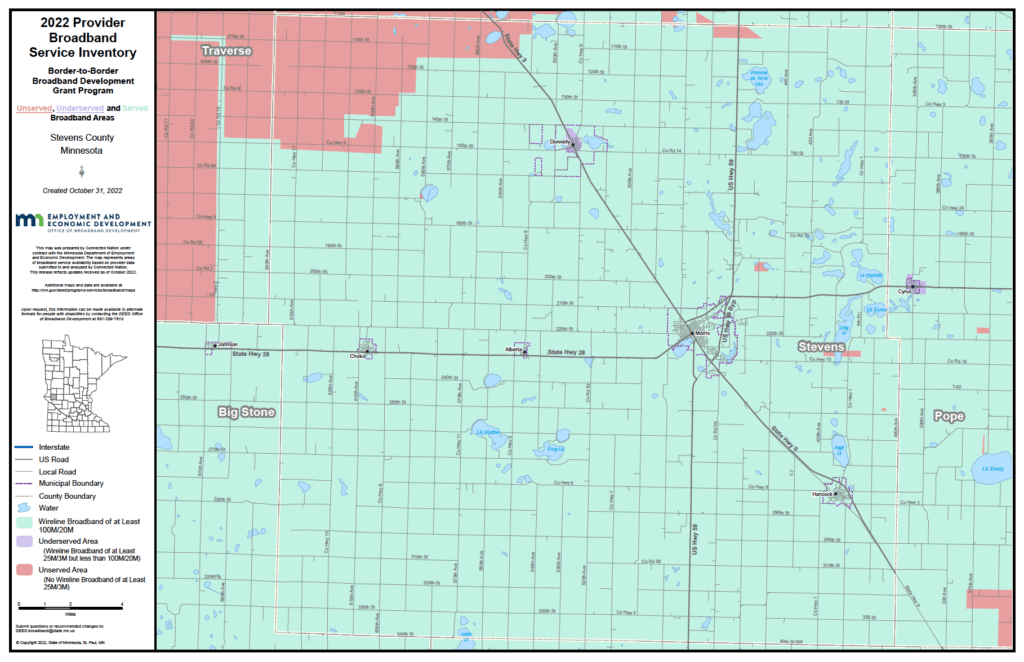 Rank: 13 (out of 87) for access to 100/20 megabits per second (Mbps)
Stevens County ranks 13 for broadband access and 25 for digital equity out of 87 counties. They have hovered around 96-97 percent coverage to broadband of 100 Mbps down and 20 up since we started tracking. They have 123 households without access to broadband at that speed. Estimates indicate that it will cost $1.1 million to get to ubiquitous broadband in the county.
Stevens County has been involved with broadband for years – going back to working with Blandin Foundation-led, Minnesota Intelligent Rural Communities (2009-2012) effort.
They have been stalled at 97 percent. Stalling isn't good but the percentage is so high, they have to rank a green code. But to get to goal they need a final push.
Digital Equity:
Stevens County ranks 25 out of 87 for digital equity. (See full Digital Equity Profile)
Stevens County ranks 23 out of 87 for computer ownership. 93.2percent of homes have a computer of device as compared to statewide ownership of 95.5 percent.
Households with Device Access
A Device
87.1%
95.5%
statewide
Desktop or Laptop
79.3%
83.2%
statewide
Smartphone
71.3%
90.1%
statewide
Tablet
54.2%
65.8%
statewide
Has Worked with Blandin Foundation
Yes
Has Received MN Grant(s)
Yes
2017 – Advantenon – Rural Grant, Stevens and Wilkin Counties – Grant $316,554
2014 – Otter Tail Telcom, Swan Lake West – Award: $438,937.
Government Districts
U.S. Congress: CD 7
MN Senate: 12
MN House: 12A