Table of goal data by year
Year
25/3 Mbps
100/20 Mbps
2020
#76 of 87
67.25%
#79 of 87
50.97%
2019
#78 of 87
67.25%
#71 of 87
49.39%
2018
#74 of 87
66.14%
#56 of 87
45.62%
2017
#80 of 87
45.37%
#50 of 87
45.37%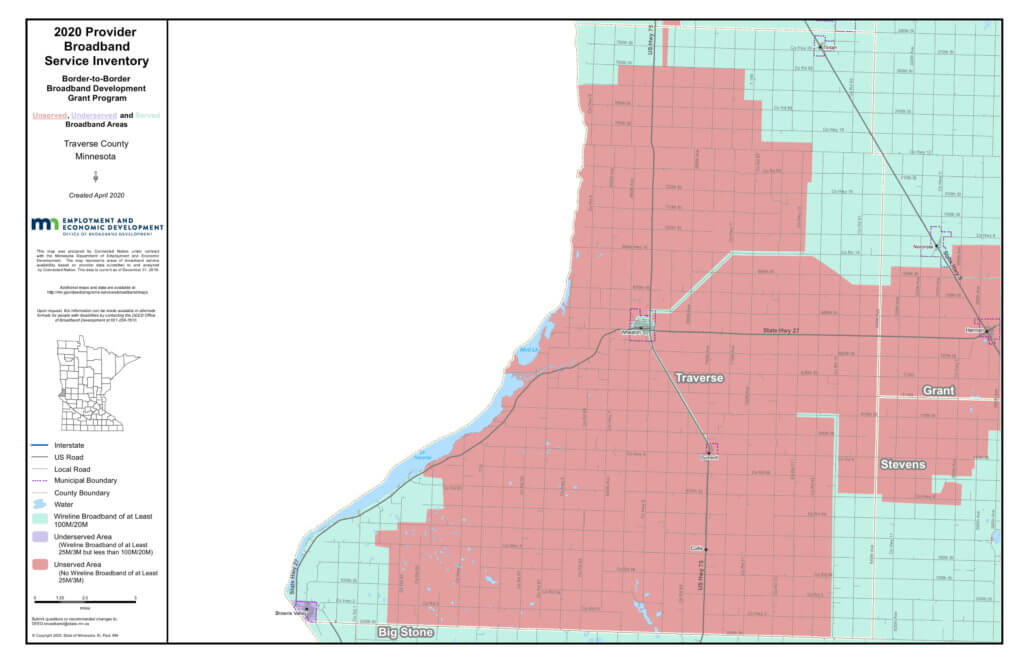 Rank: 78 (out of 87) for access to 100/20 megabits per second (Mbps)
Traverse County made a deal with a wireless provider in 2018; the county helped them to get started and setup. The provider has been successful but the connections available do not meet the 100/20 Mbps or 25/3 Mbps speed goals. But as someone from the county pointed out at the time, it was better than what they had.
With a population density of 2.6, Traverse is unlikely to get better service until they mobilize to get it.
What we learned in the past:
In 2017, Mediacom has announced upgrades to Gig service in parts of Traverse County, specifically Wheaton. Traverse is also getting almost $2 million in FCC funding but that is over the next 10 years. In 2018, they shared that they cut a deal where the county lent a fixed wireless company money and provided some easier access to towers. It was successful. It's wireless. It's maybe not 25/3 Mbps but it's better than what people had before.
Update from 2020:
No broadband news has been reported from Traverse County since the last profile was posted.
Find more articles on broadband in Traverse County.
Households with Device Access
Computer
84.7%
90.3%
statewide
Desktop or Laptop
73.3%
81.1%
statewide
Smartphone
63.6%
76.5%
statewide
Tablet
52.8%
59.3%
statewide
Has Worked with Blandin Foundation
Yes
Has Received MN Grant(s)
No
Government Districts
U.S. Congress: CD 7
MN Senate: 12
MN House: 12A