Table of goal data by year
Year
25/3 Mbps
100/20 Mbps
2020
#66 of 87
77.96%
#64 of 87
66.31%
2019
#63 of 87
77.61%
#60 of 87
66.31%
2018
#56 of 87
74.35%
#39 of 87
66.17%
2017
#37 of 87
83.59%
#33 of 87
61.7%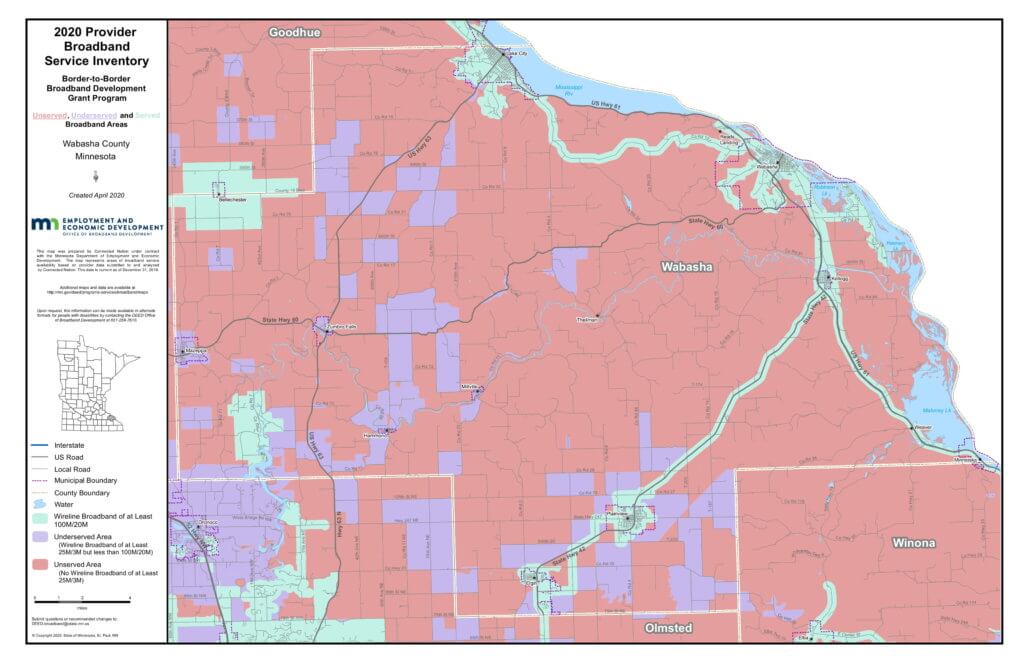 Rank: 63 (out of 87) for access to 100/20 megabits per second (Mbps)
Wabasha County benefited from a state grant a few years ago. There hasn't been much activity since then.
What we learned in the past:
Wabasha has benefited from a state broadband grant:
2016 – NEW ULM TELECOM, INC. MAZEPPA – GRANT: $ 317,761
Update from 2020:
No broadband news has been reported from Wabasha County since the last profile was posted.
Find more articles on broadband in Wabasha County.
Households with Device Access
Computer
87.2%
90.3%
statewide
Desktop or Laptop
77.8%
81.1%
statewide
Smartphone
70.3%
76.5%
statewide
Tablet
54.3%
59.3%
statewide
Has Worked with Blandin Foundation
No
Has Received MN Grant(s)
Yes
Government Districts
U.S. Congress: CD 2
MN Senate: 21
MN House: 21A, 21B