Table of goal data by year

| Year | Rank | 100/20 Mbps |
| --- | --- | --- |
| 2022 | #64 of 87 | 71.24% |
| 2021 | #69 of 87 | 66.67% |
| 2020 | #64 of 87 | 66.31% |
| 2019 | #60 of 87 | 66.31% |
| 2018 | #39 of 87 | 66.17% |
| 2017 | #33 of 87 | 61.7% |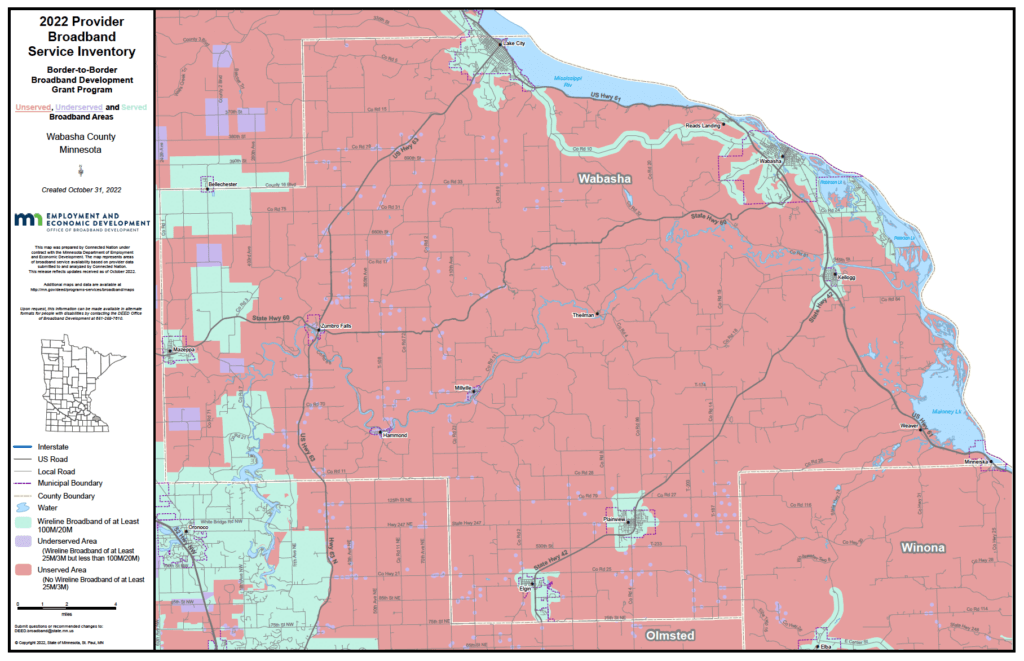 Rank: 64 (out of 87) for access to 100/20 megabits per second (Mbps)
Wabasha County ranks 64 for broadband access and 24 for digital equity out of 87 counties. After hovering at 66 percent coverage to broadband of 100 Mbps down and 20 up since 2017, they saw an increase to 71.24 percent coverage in 2022. They have 2921 households without access to broadband at that speed. Estimates indicate that it will cost $27.2 million to get to ubiquitous broadband in the county.
Wabasha County saw an increase in broadband coverage for the first time since we've been tracking in the last year. In September 2021, the county decided to invest $1 million in their ARPA funding on broadband. It is a nice gesture but is a far cry from the estimates $27 million they need and because of that they retain their red code.
Digital Equity:
Wabasha County ranks 24 out of 87 for digital equity. (See full Digital Equity Profile)
Wabasha County ranks 52 out of 87 for computer ownership. 90.4 percent of homes have a computer of device as compared to statewide ownership of 95.5 percent.
Households with Device Access
A Device
87.2%
95.5%
statewide
Desktop or Laptop
77.8%
83.2%
statewide
Smartphone
70.3%
90.1%
statewide
Tablet
54.3%
65.8%
statewide
Has Worked with Blandin Foundation
No
Has Received MN Grant(s)
Yes
MN State Grant awarded in 2021: Nuvera Communications, Inc. – Goodhue West FTTP – GRANT $532,232 This last mile project will serve 148 unserved and two underserved locations in Goodhue, Zumbrota, Minneola, and Belle Creek townships in Goodhue County and Chester Township in Wabasha County.
2016 – NEW ULM TELECOM, INC. MAZEPPA – GRANT: $ 317,761
Government Districts
U.S. Congress: CD 1
MN Senate: 20
MN House: 20A, 20B