Table of goal data by year

| Year | Rank | 100/20 Mbps |
| --- | --- | --- |
| 2022 | #7 of 87 | 98.88% |
| 2021 | #13 of 87 | 97.29% |
| 2020 | #13 of 87 | 95.53% |
| 2019 | #17 of 87 | 91.07% |
| 2018 | #53 of 87 | 49.91% |
| 2017 | #49 of 87 | 45.69% |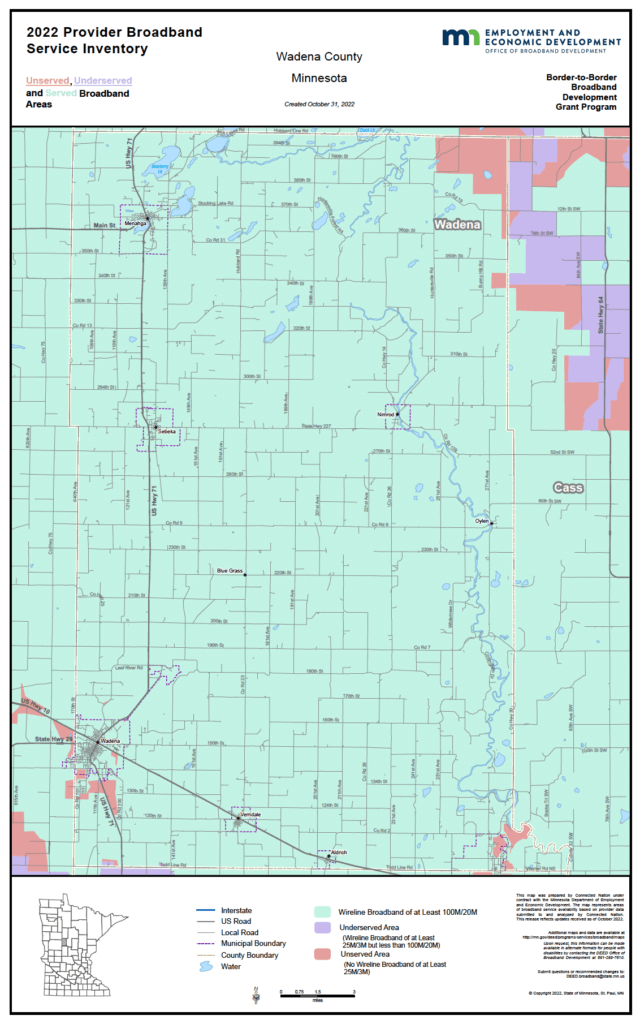 Rank: 7 (out of 87) for access to 100/20 megabits per second (Mbps)
Wadena County ranks 7 for broadband access and 77 for digital equity out of 87 counties. They have been hovering between 95-98 percent coverage to broadband of 100 Mbps down and 20 up since 2020, landing at 98.88 percent this year. They have 78 households without access to broadband at that speed. Estimates indicate that it will cost $722,766 to get to ubiquitous broadband in the county.
Wadena County broke into the top 10 counties, which lands an easy code green. They cohosted a broadband summit with Todd County last spring (2022).
Digital Equity:
Wadena County ranks 77 out of 87 for digital equity. (See full Digital Equity Profile)
Wadena County ranks 65 out of 87 for computer ownership. 88.8 percent of homes have a computer of device as compared to statewide ownership of 95.5 percent.
Households with Device Access
A Device
80.1%
95.5%
statewide
Desktop or Laptop
68.0%
83.2%
statewide
Smartphone
59.9%
90.1%
statewide
Tablet
45.0%
65.8%
statewide
Has Worked with Blandin Foundation
Yes
Has Received MN Grant(s)
Yes
2015 – West Central Telephone Association Hwy 71 Wadena NORTH Expansion Project – Grant Award: $193,515
WCTA (West Central Telephone Association) – Rural Staples Phase I Project – GRANT $555,355
Government Districts
U.S. Congress: CD 7
MN Senate: 05
MN House: 05A, 05B