Table of goal data by year
Year
25/3 Mbps
100/20 Mbps
2019
#25 of 87
93.01%
#17 of 87
91.07%
2018
#24 of 87
92.37%
#53 of 87
49.91%
2017
#30 of 87
88.23%
#49 of 87
45.69%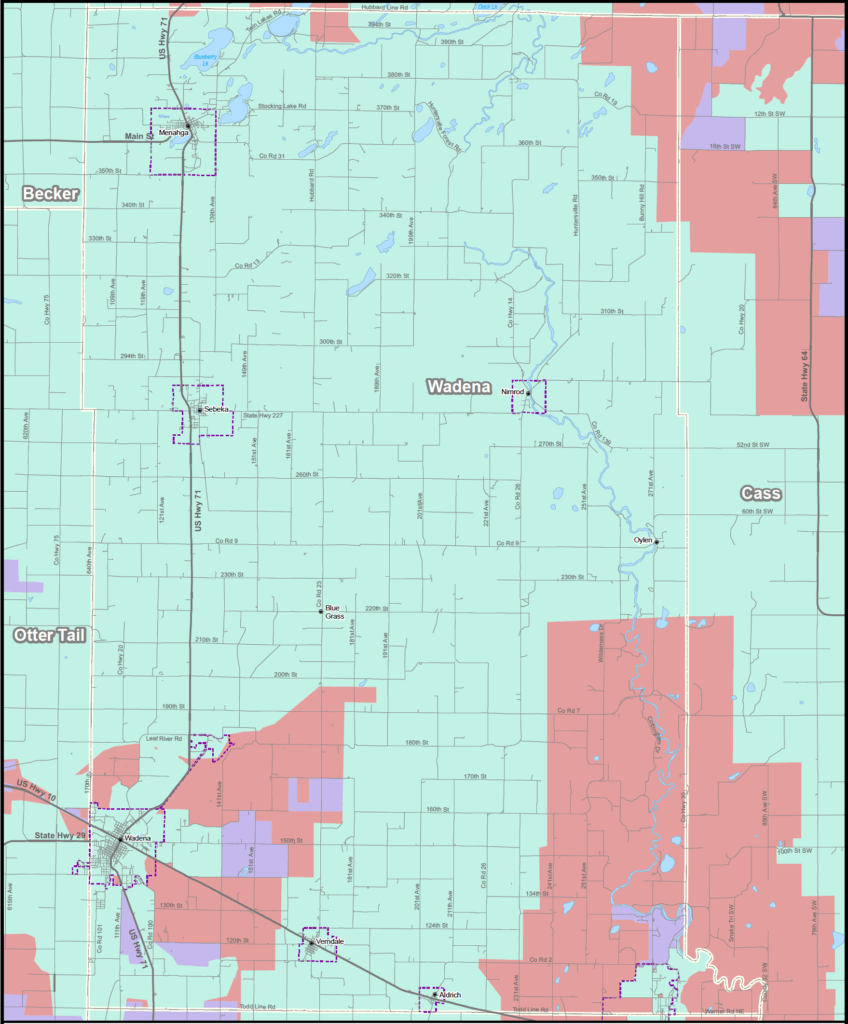 Wadena County is in good shape for meeting the state speed goals for both 2022 and 2026. Their numbers are pretty good, they made great strides in the last year, but they will need to build on that momentum to meet the goals.
Wadena has benefited from a state broadband grant:
2015 – West Central Telephone Association Hwy 71 Wadena NORTH Expansion Project
Grant Award: $193,515
Serving 162 households, 43 businesses, and 3 community anchor institutions in the Wadena area and Highway 71 corridor north of Wadena.
Wadena, as part of the Resilient Region, was part of the Blandin Broadband Communities (BBC). That has brought broadband activities to the area and spurred conversation.
In September 2019, Senator Klobuchar's staff held a listening session in Wadena County. While Wadena is largely served, we heard from the folks who aren't. They can't get online; they can't even get cell services. It was a reminder that even in counties that are well served, most have some families that are not.
Wadena County could benefit from future grants. In 2019, WCTA applied to upgrade service in Wadena. (That doesn't mean they will get the grant; they have only applied.)
Find more articles on broadband in Wadena County.
Has Worked with Blandin Foundation
Yes
Has Received MN Grant(s)
Yes
Government Districts
U.S. Congress: CD 8
MN Senate: 02, 09
MN House: 02B, 09A