Table of goal data by year

| Year | Rank | 100/20 Mbps |
| --- | --- | --- |
| 2022 | #55 of 87 | 75.12% |
| 2021 | #52 of 87 | 75.02% |
| 2020 | #46 of 87 | 75.34% |
| 2019 | #43 of 87 | 75.2% |
| 2018 | #25 of 87 | 75.06% |
| 2017 | #3 of 87 | 98.75% |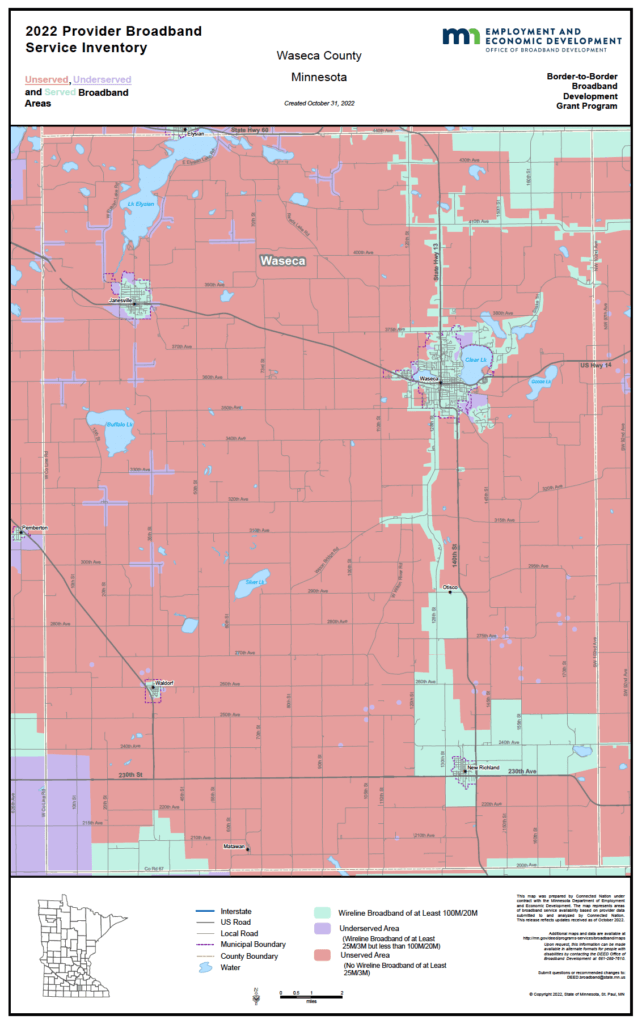 Rank: 55 (out of 87) for access to 100/20 megabits per second (Mbps)
Waseca County ranks 55 for broadband access and 23 for digital equity out of 87 counties. They have been hovering around 75 percent coverage to broadband of 100 Mbps down and 20 up since 2018 They have 1964 households without access to broadband at that speed. Estimates indicate that it will cost $18.3 million to get to ubiquitous broadband in the county.
Waseca County has been stalled at 75 percent access for several years. One setback, LTD Broadband was awarded the opportunity to submit a long form to get federal funding (RDOF) to deploy FTTH throughout much of Minnesota, including parts of Waseca County. LTD's application for RDOF has since been rejected. And the Minnesota PUC (Public Utilities Commission) are looking at revoking the ETC designation that LTD needed to qualify for RDOF money. But until the application was denied, Steele County was left in a position where is was hard to make plans around LTD.
Waseca County retains their code red status in part because there hasn't been a demonstration of recent engagement in making improvements from the community or incumbent providers.
Digital Equity:
Waseca County ranks 23 out of 87 for digital equity. (See full Digital Equity Profile)
Waseca County ranks 76 out of 87 for computer ownership. 87.8 percent of homes have a computer of device as compared to statewide ownership of 95.5 percent.
Households with Device Access
A Device
87.8%
95.5%
statewide
Desktop or Laptop
76.9%
83.2%
statewide
Smartphone
69.5%
90.1%
statewide
Tablet
55.0%
65.8%
statewide
Has Worked with Blandin Foundation
Yes
Has Received MN Grant(s)
Yes
MN State Grants awarded in 2021: BEVCOMM (Cannon Valley Telecom, Inc.) – Rural Morristown Fiber Expansion Project – GRANT $210,692 This last mile project will serve approximately 14 unserved and 94 underserved locations in portions of Rice, Waseca, and Steele counties.
Government Districts
U.S. Congress: CD 1
MN Senate: 19, 23
MN House: 19A, 19B, 23A