Table of goal data by year

| Year | Rank | 100/20 Mbps |
| --- | --- | --- |
| 2022 | #18 of 87 | 93.59% |
| 2021 | #15 of 87 | 96.02% |
| 2020 | #12 of 87 | 95.8% |
| 2019 | #12 of 87 | 95.8% |
| 2018 | #9 of 87 | 96.1% |
| 2017 | #9 of 87 | 94.97% |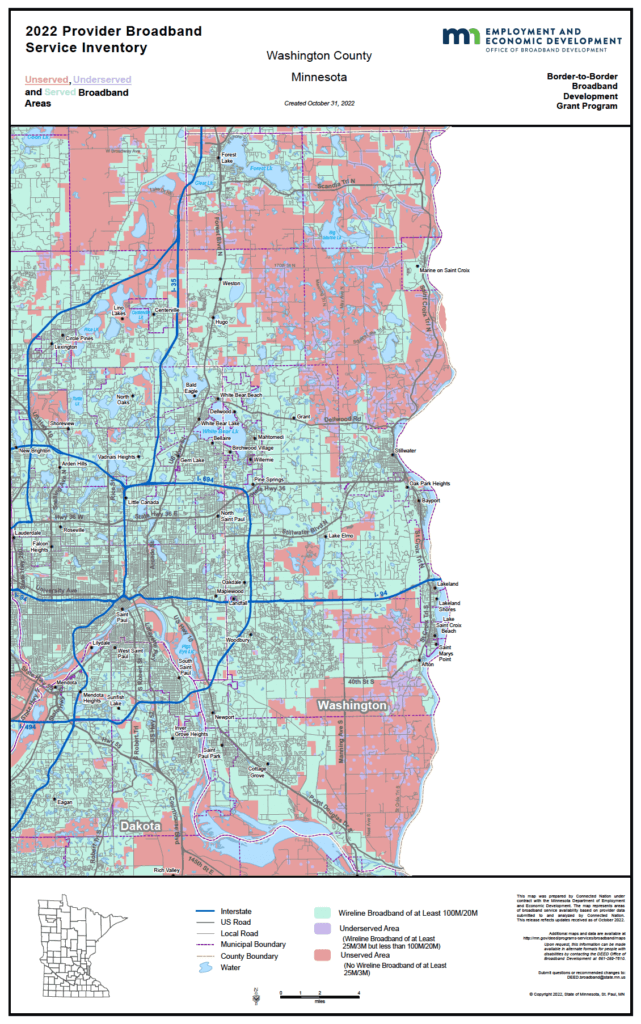 Rank: 18 (out of 87) for access to 100/20 megabits per second (Mbps)
Washington County ranks 18 for broadband access and 4 for digital equity out of 87 counties. They have hovered from 93-96 percent coverage to broadband of 100 Mbps down and 20 up since we have been tracking. There is a slight dip in access this year but it is within a margin of error and may simply reflect a more granular look at access. They have 6667 households without access to broadband at that speed. Estimates indicate that it will cost $62 million to get to ubiquitous broadband in the county.
Washington County will benefit from a border to border grant announced in December 2022:
Midcontinent Communications, $975,131.00
The City of Scandia and MidCo has been working on program to add an average of 200 homes per year for the next five years (2020-2024); the county has awarded money in 2022 to expedite the roll out.
Washington County has some suburban areas and some rural areas. So, some areas attract providers while other areas need incentive. They have been stalled for many years now and there seems to be little engagement outside of Scandia and that is how their code has been escalated from green to yellow.
Digital Equity:
Washington County ranks 4 out of 87 for digital equity. (See full Digital Equity Profile)
Washington County ranks 3 out of 87 for computer ownership. 97.9 percent of homes have a computer of device as compared to statewide ownership of 95.5 percent.
Households with Device Access
A Device
94.3%
95.5%
statewide
Desktop or Laptop
88.4%
83.2%
statewide
Smartphone
82.5%
90.1%
statewide
Tablet
67.1%
65.8%
statewide
Has Worked with Blandin Foundation
Yes
Has Received MN Grant(s)
Yes
MN State Grant awarded in 2021: Midco (Midcontinent Communications) – Scandia – GRANT $78,824 This last mile project will serve 78 underserved households and one underserved business in remote neighborhoods of Scandia in Washington County.
2019 – Midco (Midcontinent Communications) – Scandia Project – GRANT $510,358
Government Districts
U.S. Congress: CD 2, CD 4, CD 8
MN Senate: 33, 36, 41, 44, 47, 53
MN House: 33A, 33B, 36B, 41A, 41B, 44B, 47A, 47B, 53B