Table of goal data by year
Year
25/3 Mbps
100/20 Mbps
2020
#64 of 87
79.32%
#61 of 87
68.5%
2019
#60 of 87
79.21%
#58 of 87
67.75%
2018
#67 of 87
70.7%
#34 of 87
68.42%
2017
#64 of 87
65.26%
#31 of 87
64.58%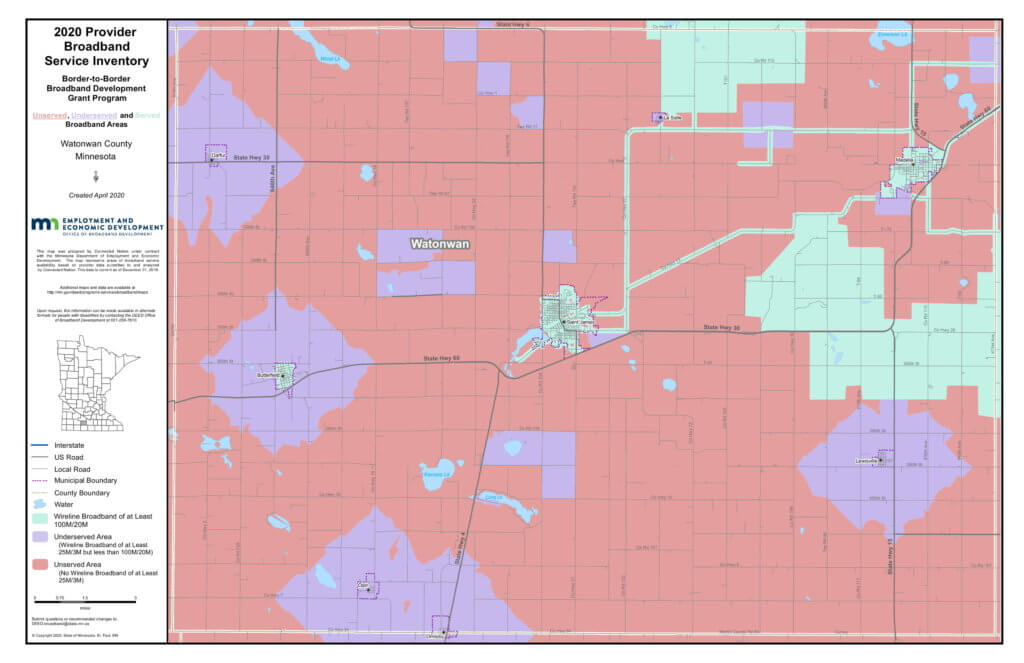 Rank: 60 (out of 87) for access to 100/20 megabits per second (Mbps)
They have been hovering around 68 percent covered since we began tracking. They have benefited from grants in the past. There isn't much broadband news coming from the county. They seem unlikely to make the 2026 speed goals without community intervention.
What we learned in the past:
Watonwan County has benefited from several state grants:
2017 – New Ulm Telecom, Inc. – Hanska A&D FTTP – GRANT $324,894
2016 – NEW ULM TELECOM, INC. HANSKA – GRANT: $ 200,397
2015 – MVTV Wireless Middle Mile – Grant award: $808,080
Update from 2020:
Watonwan County is part of a consortium (Region 9) that using broadband for better telehealth, especially for better mental telehealth.
Find more articles on broadband in Watonwan County.
Households with Device Access
Computer
80.7%
90.3%
statewide
Desktop or Laptop
68.8%
81.1%
statewide
Smartphone
63.3%
76.5%
statewide
Tablet
44.9%
59.3%
statewide
Has Worked with Blandin Foundation
Yes
Has Received MN Grant(s)
Yes
Government Districts
U.S. Congress: CD 1
MN Senate: 23
MN House: 23A, 23B