Table of goal data by year

| Year | Rank | 100/20 Mbps |
| --- | --- | --- |
| 2022 | #52 of 87 | 77.48% |
| 2021 | #47 of 87 | 77.06% |
| 2020 | #45 of 87 | 77.06% |
| 2019 | #34 of 87 | 80.84% |
| 2018 | #20 of 87 | 82.08% |
| 2017 | #20 of 87 | 80.84% |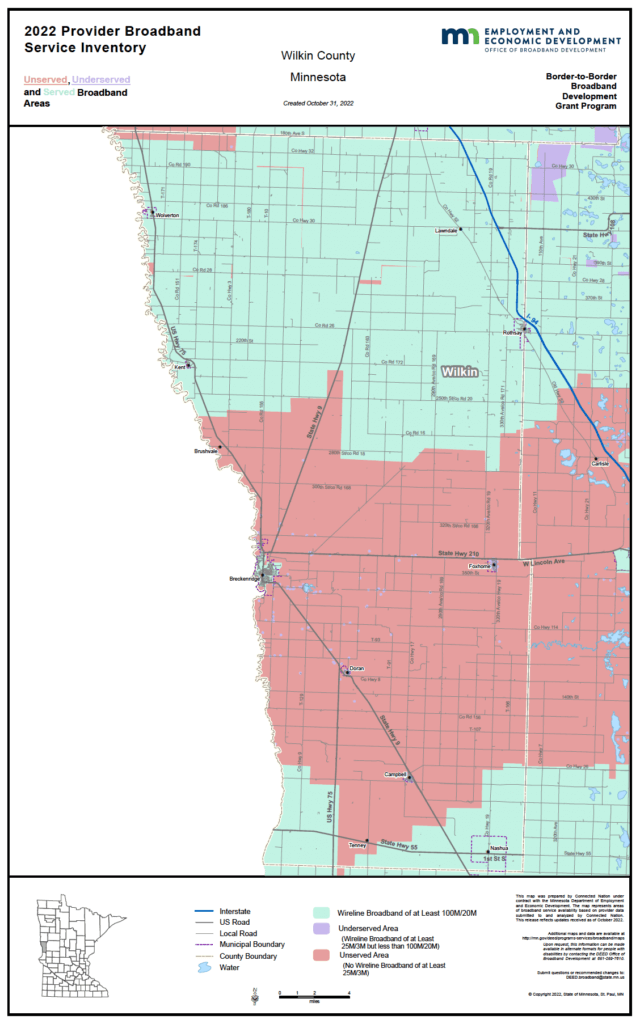 Rank: 52 (out of 87) for access to 100/20 megabits per second (Mbps)
Wilkin County ranks 52 for broadband access and 42 for digital equity out of 87 counties. They have hovered around 77 percent coverage to broadband of 100 Mbps down and 20 up since 2020. Before that time they saw a slight dip in access this year but it is within a margin of error and may simply reflect a more granular look at access. They have 669 households without access to broadband at that speed. Estimates indicate that it will cost $6.2 million to get to ubiquitous broadband in the county.
Wilkin County will benefit from a border to border grant announced in December 2022:
Red River Rural Telephone Association, $2,157,663.00
Broadband access in Wilkin County has actually decreased over the years. The access and ranking is decreasing. The recent grant should help pick up traction but they still earn a code red community.
Digital Equity:
Wilkin County ranks 42 out of 87 for digital equity. (See full Digital Equity Profile)
Wilkin County ranks 85 out of 87 for computer ownership. 84.4 percent of homes have a computer of device as compared to statewide ownership of 95.5 percent.
Households with Device Access
A Device
84.0%
95.5%
statewide
Desktop or Laptop
75.5%
83.2%
statewide
Smartphone
65.5%
90.1%
statewide
Tablet
54.1%
65.8%
statewide
Has Worked with Blandin Foundation
No
Has Received MN Grant(s)
Yes
2017 – Advantenon – Rural Grant, Stevens and Wilkin Counties – Grant $316,554
Government Districts
U.S. Congress: CD 7
MN Senate: 09
MN House: 09A