Table of goal data by year
Year
25/3 Mbps
100/20 Mbps
2020
#52 of 87
83.1%
#45 of 87
77.06%
2019
#38 of 87
88.01%
#34 of 87
80.84%
2018
#36 of 87
86.53%
#20 of 87
82.08%
2017
#42 of 87
80.84%
#20 of 87
80.84%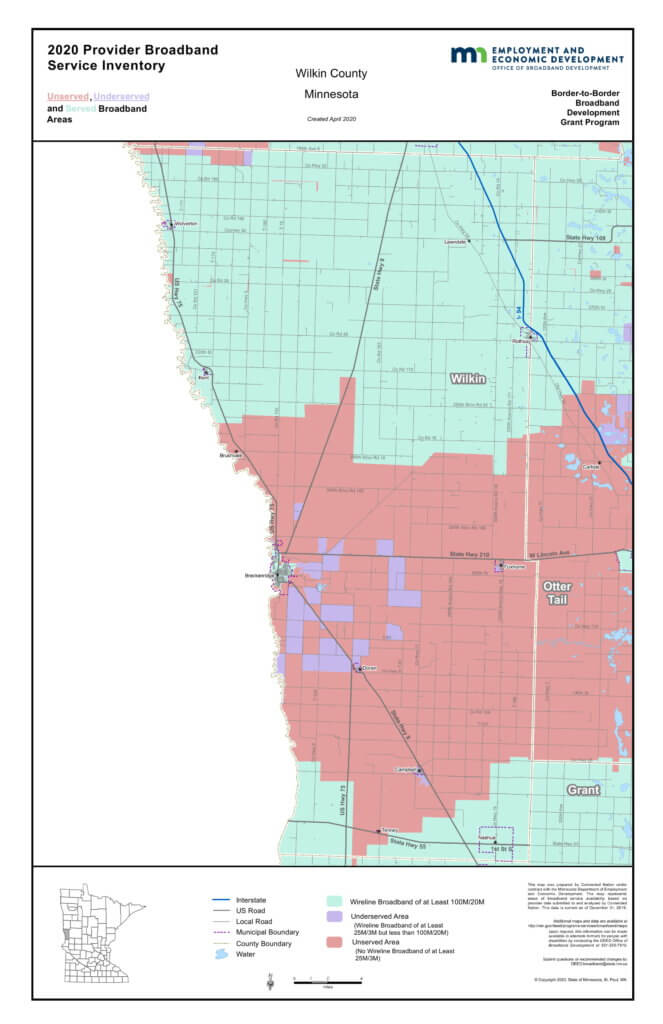 Rank: 34 (out of 87) for access to 100/20 megabits per second (Mbps)
Policymakers in Wilkin seem to recognize the need for broadband. They have benefited from a MN Border to Border grant in the past. Unusually, their broadband coverage has actually slipped over the year, which may speak to the need for better mapping more than an actual change in coverage. To get better broadband, the community would need to organize and engage.
What we learned in the past:
Wilkin has benefited from a state broadband grant:
2017 – Advantenon – Rural Grant, Stevens and Wilkin Counties – Grant $316,554
Update from 2020:
Policymakers, including Wilkin County Commissioner Chairperson Dennis Larson, discuss the exacerbated need for broadband during a pandemic.
Find more articles on broadband in Wilkin County.
Households with Device Access
Computer
84.0%
90.3%
statewide
Desktop or Laptop
75.5%
81.1%
statewide
Smartphone
65.5%
76.5%
statewide
Tablet
54.1%
59.3%
statewide
Has Worked with Blandin Foundation
No
Has Received MN Grant(s)
Yes
Government Districts
U.S. Congress: CD 7
MN Senate: 12
MN House: 12A