Table of goal data by year

| Year | Rank | 100/20 Mbps |
| --- | --- | --- |
| 2022 | #49 of 87 | 78.02% |
| 2021 | #31 of 87 | 86.15% |
| 2020 | #33 of 87 | 82.51% |
| 2019 | #33 of 87 | 81.02% |
| 2018 | #21 of 87 | 80.61% |
| 2017 | #65 of 87 | 29.26% |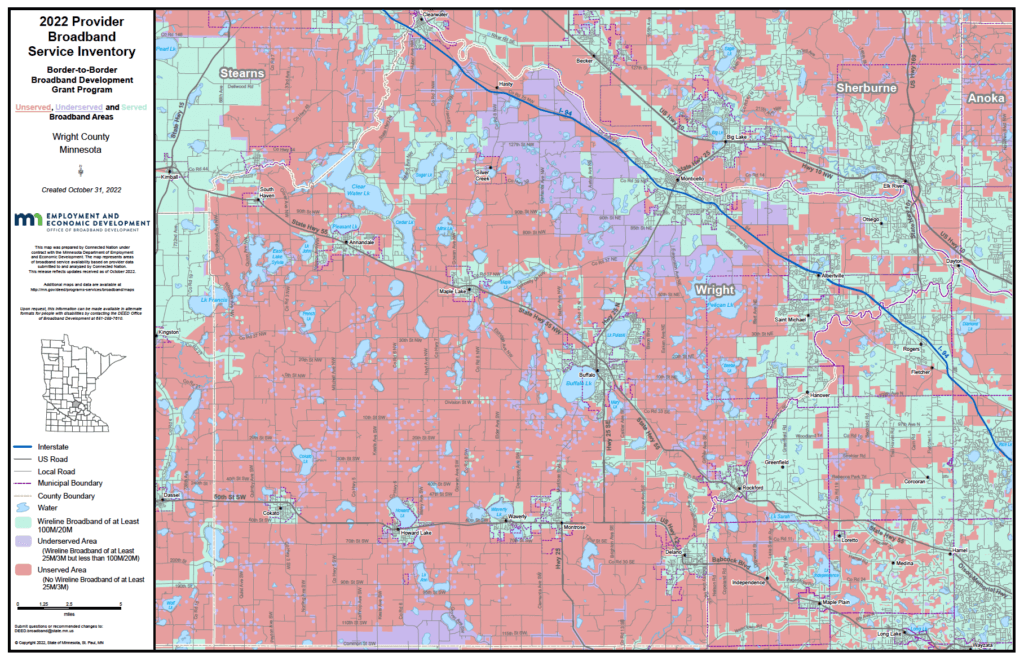 Rank: 49 (out of 87) for access to 100/20 megabits per second (Mbps)
Wright County ranks 49 for broadband access and 10 for digital equity out of 87 counties. Their broadband coverage has hovered from 78-86 percent coverage to broadband of 100 Mbps down and 20 up since 2018. There reporting is so inconsistent that it makes me wonder how the local providers are mapping access. They have 5527 households without access to broadband at that speed. Estimates indicate that it will cost $51.4 million to get to ubiquitous broadband in the county.
Wright County will benefit from a border to border grant announced in December 2022:
Spectrum Mid-America, LLC managed by Charter Communications Inc., $2,832,155.00 (Learn more)
A recent report from the Institute for Local Self Reliance looked at broadband in Monticello and Buffalo in Wright County. Monticello was an early municipal network that overcame many challenges but still provides services while Buffalo has been slowly expanding municipally owned fiber.
Wright County is a code yellow community in part because their percentage of access has been stalled and the reporting is inconsistent. They saw the greatest drop in broadband ranking – down 18 spots. The hope is that the latest award to spur greater engagement.
Digital Equity:
Wright County ranks 10 out of 87 for digital equity. (See full Digital Equity Profile)
Wright County ranks 4 out of 87 for computer ownership. 91.5 percent of homes have a computer of device as compared to statewide ownership of 95.5 percent.
Households with Device Access
A Device
91.7%
95.5%
statewide
Desktop or Laptop
83.8%
83.2%
statewide
Smartphone
79.6%
90.1%
statewide
Tablet
62.4%
65.8%
statewide
Has Worked with Blandin Foundation
Yes
Has Received MN Grant(s)
Yes
2017 – Midco (Midcontinent Communications) – Annandale East – GRANT $537,050
Meeker Coop. Light & Power Assoc. (Vibrant Broadband) – Lake Louisa/Lake Marie Project – GRANT $297,940
There is a matrix of Minnesota broadband adoption projects.
Government Districts
U.S. Congress: CD 6
MN Senate: 17, 29, 30, 34
MN House: 17A, 29A, 29B, 30A, 30B, 34A