Table of goal data by year

| Year | Rank | 100/20 Mbps |
| --- | --- | --- |
| 2021 | #83 of 87 | 48.81% |
| 2020 | #32 of 87 | 82.51% |
| 2019 | #78 of 87 | 38.86% |
| 2018 | #69 of 87 | 37.72% |
| 2017 | #72 of 87 | 19.28% |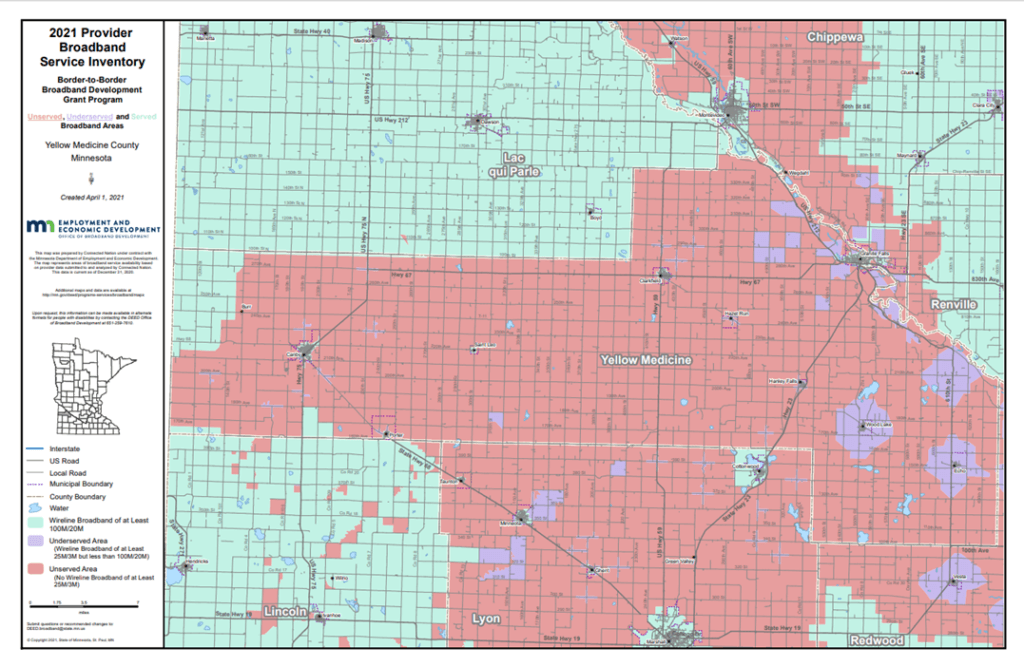 Rank: 83 (out of 87) for access to 100/20 megabits per second (Mbps)
Yellow Medicine actually increased broadband by 11 percent, which boosts their ranking to 83; unfortunately that still leaves them in the bottom 10 ranking. But there may be some opportunities for improvement.
Yellow Medicine County is getting more FTTH fall 2021 from Arvig; it will serve 170 locations in the Wood Lake exchange and 162 in Echo exchange.
Also federal funding may be available. Projected allocation of American Recovery Project ARP funds in Yellow Medicine is $1,883,001; broadband is one possible use.
Yellow Medicine may benefit from intervention, such as the Blandin Accelerate program, a process to spur community acquisition and deployment of federal and state broadband funds, to find an alternative solution. They are a code red community.
Households with Device Access
Computer
87.2%
93.6%
statewide
Desktop or Laptop
76%
80.6%
statewide
Smartphone
5.6%
7.7%
statewide
Tablet
54.9%
63.8%
statewide
Has Worked with Blandin Foundation
Yes
Has Received MN Grant(s)
Yes
2016 – MIDCO CANBY TO MARSHALL MIDDLE MILE AND LAST MILE – GRANT AMOUNT: $623,000
2015 – MVTV Wireless Middle Mile – Grant award: $808,080
Government Districts
U.S. Congress: CD 7
MN Senate: 16
MN House: 16A
Overlapping MN Reservations