Table of goal data by year
Year
25/3 Mbps
100/20 Mbps
2020
#28 of 87
89.69%
#32 of 87
82.51%
2019
#77 of 87
68.31%
#78 of 87
38.86%
2018
#84 of 87
46.91%
#69 of 87
37.72%
2017
#87 of 87
20.42%
#72 of 87
19.28%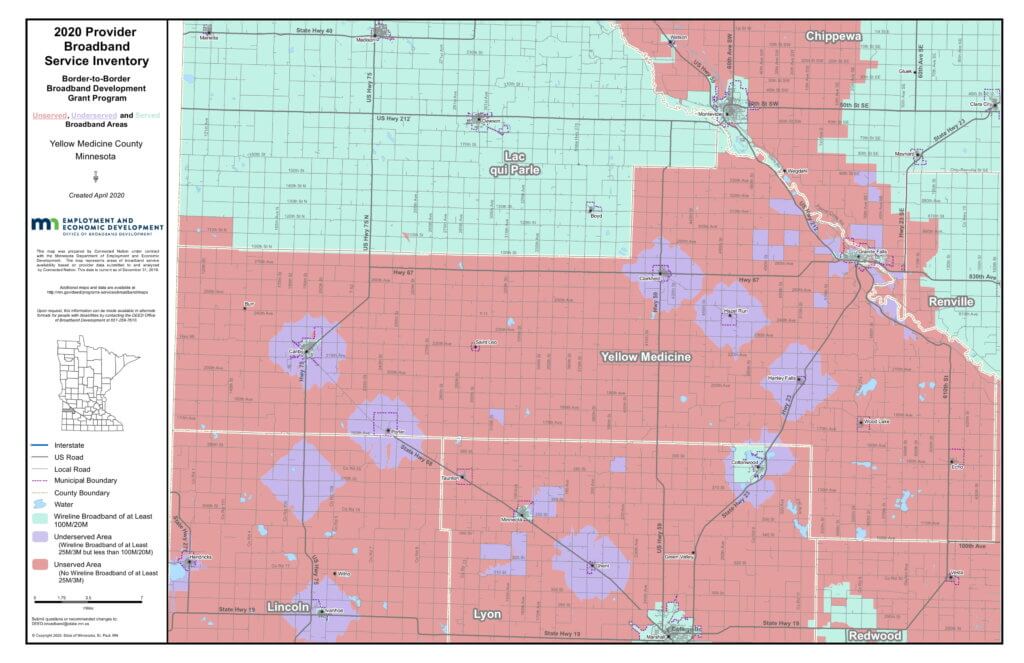 Rank: 85 (out of 87) for access to 100/20 megabits per second (Mbps)
In 2018, Yellow Medicine unveiled a feasibility study and potential plans to work with Farmers on better broadband. Farmers has worked with neighboring counties that are now well served. It doesn't look like that network has been deployed, however. Another option has been proposed by Midco to build out fixed wireless. That was proposed in March (2020), the next mapping should show whether that happened and met the speed goals of 100/20 Mbps.
The good news is that they are having the right conversations; the bad news is that they aren't always panning out for them.
What we learned in the past:
In 2018, Yellow Medicine released a Blandin Foundation-supported feasibility study that indicates that it was not economically feasible to immediately build fiber everywhere without significant grant funding. However, at the time the county announced a tentative agreement with Farmers Mutual Cooperative to bring fiber to a significant portion of the county. The county has agreed to provide $4 million in funding subject to the Cooperative being able to find grants and other funding needed to build the project. If completed this project would cover a little less than half of the parts of the county that don't have broadband today. Clearly that didn't happen; but it's a good indicator of what could help them.
Yellow Medicine County has benefited from broadband grants:
2016 – MIDCO CANBY TO MARSHALL MIDDLE MILE AND LAST MILE – GRANT AMOUNT: $623,000
2015 – MVTV Wireless Middle Mile – Grant award: $808,080
Update from 2020:
We heard from Yellow Medicine in March (2020) that Midco has Connect America Fund (CAF) funding to help build out fixed wireless – in fact they have $2.3 million for Yellow Medicine. They are proposing 10 vertical assets from which to provide fixed wireless: 5 assets in the county and 5 outside the county that will serve the county. The mapping at the Office of Broadband Development was done in April, so any improvements since March would not be tracked.
Find more articles on broadband in Yellow Medicine County.
Households with Device Access
Computer
91.7%
90.3%
statewide
Desktop or Laptop
83.8%
81.1%
statewide
Smartphone
79.6%
76.5%
statewide
Tablet
62.4%
59.3%
statewide
Has Worked with Blandin Foundation
Yes
Has Received MN Grant(s)
Yes
Government Districts
U.S. Congress: CD 7
MN Senate: 16
MN House: 16A
Overlapping MN Reservations