Image: Building On Broadband for web 120
Building on Broadband: Inspiring Progress
Event Details
October 12 - 14, 2021
Time: 9:00 am - 12:00 pm
Location: Online - Zoom
This year, we've all lived through a shared, but unique, experience. What was yours like? How did broadband help or hinder – or motivate – you, or your community?
We know rural Minnesotans keenly felt how important a strong, reliable broadband connection is. When kids can't go to school, adults can't work, and families can't access needed resources, our communities suffer. By working together, though, our communities can forge solutions. Countless rural Minnesota communities have shown the way. Your community can too!
This October, join us and fellow broadband champions in your region and across the state for the a virtual conference Building on Broadband: Inspiring Progress, hosted by Blandin Foundation with support from the Minnesota Office of Broadband Development.
Our focus for the conference this year is YOU.
First, attend a meeting in your region (online or in-person) to share your broadband story, to learn about the state of broadband, and plans around Federal funding opportunities in your neck-of-the-woods (see below for a list of gatherings.) Then, join us online for a 3-day, statewide event to hear what's happening around the state — what is being accomplished, what is still needed, and how we can inspire each other to keep at it!
Registration is open!
If you are new to the conference, register here: https://blandinfoundation.tfaforms.net/104
Previous invitees/attendees have been emailed a personal link to register. Using your personal link will be easier for you and the organizers! Contact Mary if you need your personal link re-sent.
If you have any questions about the October conference, contact Mary Magnuson at memagnuson@blandinfoundation.org.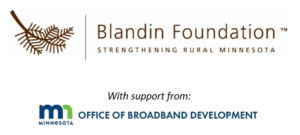 Regional Gatherings
Regional Gatherings are being hosted independently from Blandin Foundation by local planners. Additional information and links will be added as they become available.
Region
Date/Time
For More Information
Northwest & Headwaters
Regions 1, 2
September 29, 9:30-11am, virtual
Register Here

Email Antonio Franklin with questions

North Central

Region 5

September 30, 7-8:30pm, virtual (in-person option available)
Register Here
East Central
Region 7E plus Aitkin County
October 6, 3-4:30pm, virtual
More Information and Registration
Arrowhead
Region 3 minus Aitkin County
September 22, 9-11am, virtual
Meeting Notes and Video
West Central

Region 4

September 16, 11am-noon, virtual
Meeting Notes and Video
Upper MN Valley, Mid-Minnesota, and Southwest

Regions 6W, 6E, 8

September 16, 1-2:30pm, virtual
Meeting Notes and Video
Central
Region 7W
September 23, 10:30-noon, virtual
Meeting Notes and Video
Southeast & South Central
Regions 9, 10
September 16, 10am-12:30pm, virtual
Meeting Notes and Video
Not sure which region? Click here for a map and list of MN's economic development regions.
Help spread the word
Logos and more for you to use if you're mentioning the conference in your newsletter or social spaces.