Image: Building On Broadband for web 120
Annual Broadband Conference
Event Details
October 12 - 14, 2021
Time: 9:00 am - 12:00 pm
Location: Online - Zoom
This year, we've all lived through a shared, but unique, experience. What was yours like? How did broadband help or hinder – or motivate – you, or your community?
We know rural Minnesotans keenly felt how important a strong, reliable broadband connection is. When kids can't go to school, adults can't work, and families can't access needed resources, our communities suffer. By working together, though, our communities can forge solutions. Countless rural Minnesota communities have shown the way. Your community can too!
This October, join us and fellow broadband champions in your region and across the state for the second annual virtual conference Building on Broadband: Inspiring Progress, hosted by Blandin Foundation with support from the Minnesota Office of Broadband Development.
Our focus for the conference this year is YOU.
First, attend a meeting in your region (online or in-person) to share your broadband story, to learn about the state of broadband, and plans around Federal funding opportunities in your neck-of-the-woods. Then, join us online for a 3-day, statewide event to hear what's happening around the state — what is being accomplished, what is still needed, and how we can inspire each other to keep at it!
Check back for more information
Information on the regional meetings available soon
Registration opens in August!
If you have any questions, contact Mary Magnuson at memagnuson@blandinfoundation.org.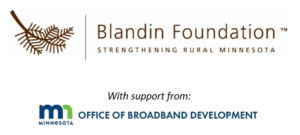 Call for Sessions
Why attend yet another virtual conference? We've all consumed so much online content this year (see ours here). We want this conference to be your chance to be heard. What's the best thing you've experienced/learned around broadband or technology this year? What have you been working on? What has inspired you? If presenting isn't your thing, don't worry – suggest a TED talk we can discuss, pose an open space question, or better yet make your own short video. The sky's the limit!
Help spread the word
Logos and more for you to use if you're mentioning the conference in your newsletter or social spaces.