Image: IRBC map
Four Iron Range communities selected for Blandin Foundation Broadband Communities Program
GRAND RAPIDS, Minn. (November 15, 2018) – Blandin Foundation announced today that it has selected four Iron Range entities for intensive, two-year partnerships with the Foundation to advance local broadband initiatives.
East Range Joint Powers Board, Iron Range Tourism Bureau, Laurentian Chamber of Commerce and Tower Economic Development Authority all were successful in their bids to become Blandin Broadband Communities (BBC).
Made possible with funding support from the Minnesota Department of Iron Range Resources & Rehabilitation and St. Louis County, this selection is unique in that all organizations are located in Iron Range Resources and Rehabilitation's northeastern Minnesota service area.
"We're pleased that our agency can play a role in helping these northeastern Minnesota communities receive assistance in how to develop and use broadband," said Commissioner Mark Phillips. "Developing high-speed broadband is critical to economic development, education, healthcare, and quality of life."
"We are thankful for the leadership and support from Blandin Foundation and Iron Range Resources & Rehabilitation, and are happy to partner in the Broadband Communities Program in St. Louis County," said Barbara Hayden, St. Louis County Planning and Economic Development Director. "With so many rural areas in our county, there's a great need for improved broadband options, certainly for our citizens, but also to boost economic development to attract and grow businesses."
Communities were selected based on demonstrated commitment to work together across sectors to set and meet information technology goals and bridge digital divides.
Blandin Foundation staff and consultants will work with the four communities to provide planning, technical and financial support as diverse, local leadership teams design and drive digital technology initiatives that position their communities and every resident for greater success.
"High-speed Internet access – and the skills to use it – is fundamental to vibrant rural communities," said Bernadine Joselyn, director of public policy and engagement at Blandin Foundation. "We're excited to partner with Iron Range communities to imagine new possibilities that come with enhanced Internet access and use."
This Iron Range cohort joins 36 rural Minnesota communities that have gone through the BBC program.
"Our experience tells us that, especially in broadband work, leadership matters," said Dr. Kathy Annette, Blandin Foundation president and CEO. "To have commitment both at the local level and from IRRRB says something about the Iron Range. We look forward to standing with leaders in these four communities as they design and claim vibrant, connected futures."
Next steps for each community include assessing the community's current broadband access and use and, in early 2019, holding a series of public planning meetings.
— END —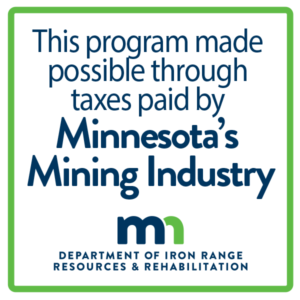 Additional background available on the Blandin Broadband Communities program.