>
>
>
Blandin Reservation Community Leadership Program (BRCLP)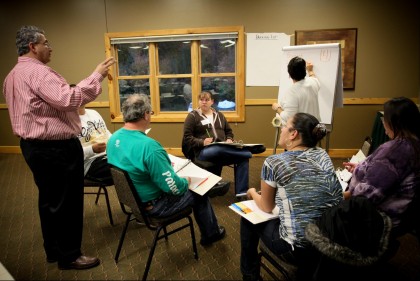 Blandin Reservation Community Leadership Program (BRCLP)
Since 2001, BRCLP has provided leadership training to more than 500 leaders in 11 Minnesota Indian Reservations.
BRCLP is a residential retreat that follows a model similar to our Blandin Community Leadership Program (BCLP), but with culturally specific topics and training.
BRCLP: Seven Days of Training
Living and working in a retreat environment fosters healthy relationships among participants that enable them to go home and work together more effectively. The action-oriented curriculum covers a full range of topics, including these and others:
Acknowledging Gifts and Resilience
Community strengths analysis
Building Social Capital across Personality Preferences
Mobilizing the Power and Resources to get things done
Working effectively in small groups.
Residential Retreat — (5 days)
The residential retreat is not a workshop or seminar. It is a "break in the action" – a time to step back and look forward – to learn, reflect and talk candidly in a comfortable, confidential environment about what is happening, or not happening, in community life. All BRCLP retreats are held at Sugar Lake Lodge in Grand Rapids, MN.
Workshop — (2 days)
In the Workshop, participants get an opportunity to look at peacemaking as a community leadership tool and to reflect on the gifts and skills covered in the residential retreat. This second day ends with a commencement ceremony to celebrate participants involvement in BRCLP.
To learn more about the program contact Becky Adams.