>
>
>
>
Academy for Community Engagement (ACE)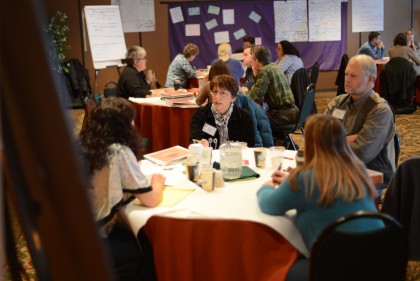 Academy for Community Engagement (ACE)
ACE is a program designed to bring Blandin Community Leadership Program (BCLP) and Blandin Reservation Community Leadership Program (BRCLP) alumni back together as community cohorts to broaden and strengthen relationships, deepen conversations and share in a learning process with Blandin Leadership Program alumni from around Minnesota.
The ACE program is grounded in the belief that individual leaders can enhance and develop skills needed to work effectively within a cohort and with diverse groups of people to help their communities address complex issues.
Starting with a Community Meeting, your group will select 12 alumni to take part in a two-day residential training. A Community Facilitator will work closely with your group both to recruit a cohort and throughout the ACE program.


Prior to attending the retreat, your group will select a broadly defined economic issue to explore. You will then join other cohorts from around Minnesota at the retreat.


At retreat you will build on the foundation of your BCLP or BRCLP training with skills, tools and strategies designed to address complexity and shift the conversation in your community around your issue.


Once you've completed the residential retreat your group will have the opportunity to work with others in your community to further the work you have begun on your issue. Your Community Facilitator will be available to you as you move forward.
What this means for a community interested in ACE is that you will be taking part in a program that provides the opportunity to grow as a leader and community for a time period of over a year. The first few months will be spent working closely with a Community Facilitator and in formal training. After the retreat, how you work with your facilitator will be largely driven by your group and its' needs moving your issue forward as a team.

For more information on the ACE program, contact Becky Adams.