>
>
>
>
Leaders Partnering to End Poverty (LPEP)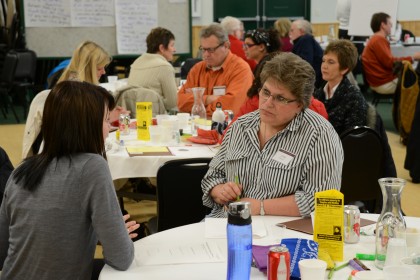 Leaders Partnering to End Poverty (LPEP)
LPEP is designed for community members of all income levels, who are engaged in their community, and who are passionate and committed to ending poverty.
It works to develop an understanding of poverty as a community issue by identifying its causes, and approaches to deal with these issues.


It provides the opportunity to learn from each other's experiences.


It builds personal and working relationships among participants across economic disparities.


It strengthens their leadership skills, and provides the tools to organize a focused community effort to move people out of poverty.


LPEP currently consists of seven leadership capacity building sessions spread out over a year with community events planned by program participants in your own community. The seven capacity building sessions are formal trainings that take place over one day at the first session and half days for the remaining six.
As mentioned, the community events are for your group to decide and plan - with assistance from our trainers and staff as needed. This combination of formal training and participant planned events offers an opportunity to build strong relationships and leadership skills for building social capital and mobilizing that capital to bring awareness to the issue of poverty.
Blandin Foundation covers the cost of the program (tuition, meals, and training materials). The cost to participants is their time and travel to and from the sessions. If attendance at the program creates a financial hardship, enabling funds are available through the Grand Rapids Area Community Foundation. To learn more about the program contact Becky Adams.