Jennifer Bevis
Senior Rural Advocacy Associate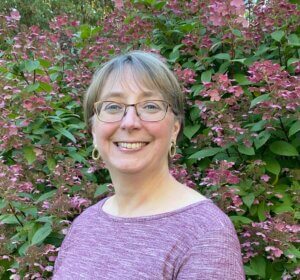 I was a "country kid" growing up. My mom was raised on a farm, and wanted her family to know the joys of living in a rural place. My folks bought an old farmstead, and while my dad, a plant pathologist and agronomist, worked with crops and farmers up and down the Red River Valley in western Minnesota, my mom gardened and my sisters and I dabbled in caring for animals. I loved my flock of chickens, the flaming prairie sunsets, and the many retired farm couples who considered me their adopted grandchild. They would drop by for coffee, ask about my track meets, and come to every school concert.
Rather than head to the city for college, my rural roots grew stronger. I attended Gustavus Adolphus College; its perch atop the Minnesota River Valley offered spectacular sunrises and sunsets, and small-town life in St. Peter was a lovely counterpoint to the broad worldviews I gained as a college student.
I took my first job in a new rural place – the deep woods and rugged rocks of northern Minnesota's Iron Range. It was the best work, at a small company – I got to share stories of people building up their businesses, schools and towns. Hearing their passion and commitment to the many ways they were making a living and building life – did you know Minnesota's Northwoods is the perfect place for particle physics research? – I knew I'd made the right choice by choosing rural life. Iron Rangers' ingenuity and grit in pulling together for their communities in hard times, and celebrating the good times, inspires me!
Each of these communities, plus the Grand Rapids area along the Mississippi River where my family and I live today, has gifted me with special people and places who nurtured a sense that I belonged there.
That sense of belonging to so many rural places fuels my work now. Using information and stories to share the full scope of the rural places that matter to me – diversity and creativity, alongside the toll of decades of stretching dollars and time to get good community work done — so they matter to people making decisions about resources, is good work, for today's times.