Image: Ed Grants_JamaalB_forweb
Scholarship voice: Jamaal Baird
Blazing toward success in college
A standout athlete at Deer River High School, Jamaal Baird was looking for a career that offered physical and mental challenge – and an edge of excitement. In his first year at Itasca Community College, he's well on his way to reaching that goal. He also is the student featured in our 2020-2021 Education Grants communications materials.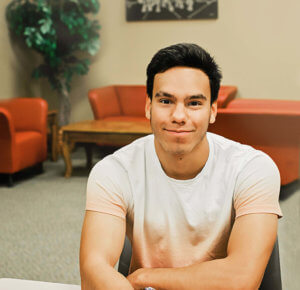 I graduated from Deer River High School in 2018. I was a wrestler and played football. Throughout school, I would go to my football coach when I had questions about things. He was the one who first talked to me about college. He'd ask me what I wanted to do when I got done with high school…and I didn't know at first. He started telling me about college, like going on campus visits, who to talk to about classes, how to register. I had no idea how the whole system worked, he talked to me a lot!
I first went to a college in the Cities, but as I took classes, I realized that what I wanted was a job where I could be outdoors. Also about that time, I saw the news about wildfires in California, and the smoke jumpers fighting those fires. I thought it would be exciting to be on the front lines of a fire. So I checked out what ICC offered, and their Wildland Fire program looked cool, so I thought: why not?
It's been a great change for me. Some classes are a lot of hands-on, others are more regular learning. This past summer I worked at the North Dakota Forest Service out of Bismarck on their fire crews. It was great, and I loved the work.
I also worked in spring 2019 as a scholarship counselor at Deer River. I'd go around the lunchroom and talk to the seniors, ask them what they planned to do after high school – just like my coach asked me. Then I would give them information about scholarships that applied to their area of study. I'd tell them, fill out as many scholarship applications as you can. If you don't, your chance of getting one is zero. Just even filling out the form increases your chances!
Besides filling out scholarship forms, there's three main rules I've used for being successful in college:
Show up to class on time.
Pay attention.
Do the work.
It sounds easy, but it's not always.
Outside of classes, college is really fun. People at college are all in the same boat: they're in a new place, away from family and friends. It's important to get in with a good group, because it's not all studying and classes and staying up late doing homework. I'd also tell kids thinking about college to join a sport – I wrestle for ICC. It's the best way to get to know other people, to get in with a good group and make connections.
On the fire line