Image: Wendy Nyhus header image 2
Scholarship voice: Wendy Nyhus
A boost when it was needed most
Wendy Harrington wanted a career she could be proud of. Persistence and focus, augmented by a Blandin Foundation scholarship award, delivered exactly that for the Nashwauk-Keewatin graduate.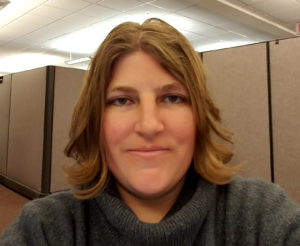 I grew up in Nashwauk with an older brother and my parents. Coming from a working class background, I always knew I wanted to go to college and have a career, something I could be proud of.
My father, a Vietnam veteran, started working in the mines directly from high school. After returning home from serving, he started right back to work in the mines and didn't attend college. My mother graduated high school, but after marrying my dad and starting a family, her primary focus was raising children and working part-time as needed.
As you can imagine, life on the Range was sometimes a struggle, not only for our family, but for many families. We endured shut-downs and strikes, like many others during the '80s and '90s. I knew I would need financial aid to go to college, and honestly I didn't even know that much about the overall cost at the time. I remember my dad saying "apply for scholarships, anything you can find, apply for, there is free money out there. You just have to find it."
I graduated high school in 1999, and I applied to several scholarships, including the Blandin Foundation scholarship, which I received. I enrolled at Hibbing Community College (HCC), because I knew it was a good school, and also it was cheap. I lived at home and worked part-time around my class schedule. I didn't want to burden my parents, or myself for that matter, with huge debt right from the get-go. Although I did receive financial aid, it did not cover everything. I was grateful to receive the Blandin Foundation scholarship initially, but to my biggest surprise, I could keep re-applying for it year after year.
I completed my two-year degree at HCC debt-free. I then enrolled in Bemidji State University's social work program. I graduated from BSU with my bachelor's degree in social work in 2003, also debt-free. I was the first person in my family to attend college full-time and graduate.
I took and passed my social work licensing exam and have been working in the field of social work ever since. I've worked at a major hospital, with seniors as they navigated Medicare and other topics, and with a county social services agency. I love working with all ages of people, and it brings me joy to know I am making a difference in my community in my field of work.
The Blandin Foundation scholarship gave me that little extra boost I needed, when I needed it most. Today, I have a successful career, and I am forever grateful to receive the funds that helped me get there. I also want to recognize that the cost of college can be a road block for many, so my advice to those that think it's not an option, it truly can be. It may take some researching and time, but with a little effort it can be achievable.
My family still has deep roots on the Range. Our trips "Up North" give us a chance to regroup away from our hectic daily schedules.  I'm glad to know that the Blandin Foundation scholarship program continues, and that my success story is just one of many that this program made a difference for.
Sincerely,
Wendy (Harrington) Nyhus, LSW