Table of goal data by year

| Year | Rank | 100/20 Mbps |
| --- | --- | --- |
| 2022 | #8 of 87 | 98.86% |
| 2021 | #6 of 87 | 99.25% |
| 2020 | #5 of 87 | 99.25% |
| 2019 | #6 of 87 | 98.79% |
| 2018 | #8 of 87 | 96.3% |
| 2017 | #6 of 87 | 96.35% |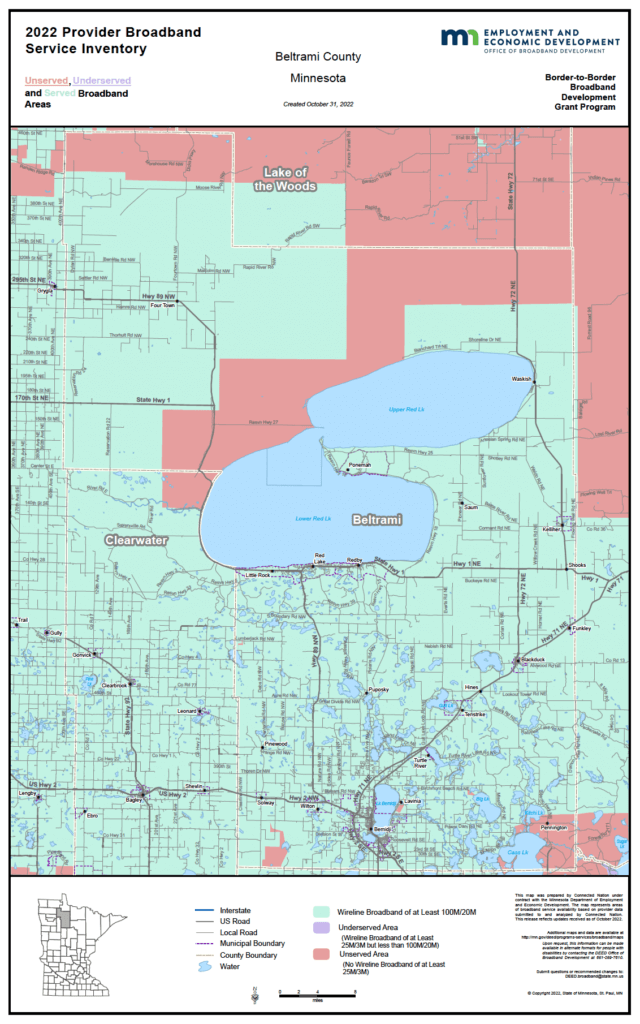 Rank: 8 (out of 87) for access to 100/20 megabits per second (Mbps)
Beltrami County ranks 8 for broadband access and 42 for digital equity out of 87 counties. The have hovered around 99 percent access to broadband of 100 Mbps down and 20 up since 2019. There is a slight dip in access this year but it is within a margin of error and may simply reflect a more granular look at access.
They have 242 households without access to broadband at that speed. Estimates indicate that it will cost $2.2 million to get ubiquitous broadband in the county.
Beltrami County will benefit from a border to border grant through Wikstrom Telephone
Wikstrom Telephone Co. Inc, $665,699.00 (will also benefit Kittson, Lake of the Woods and Marshall)
Beltrami is the home county to Paul Bunyan Telephone, a cooperative that is focused on Gigabit service to their customers/stakeholders. They are lucky, having an engaged provider is the easiest way a community can improve broadband access.
Beltrami has a green ranking because they are so close to ubiquitous broadband and have engaged providers. The charts below indicate that Beltrami ranks much higher for access than digital equity. Future efforts might pivot to digital use as well as access.
Digital Equity:
Beltrami County ranks 40 out of 87 for digital equity. (See full Digital Equity Profile)
Beltrami County ranks 42 out of 87 for computer ownership. 91 percent of homes have a computer of device as compared to statewide ownership of 95.5 percent.
Households with Device Access
A Device
86.6%
95.5%
statewide
Desktop or Laptop
76.2%
83.2%
statewide
Smartphone
70.7%
90.1%
statewide
Tablet
54.1%
65.8%
statewide
Has Worked with Blandin Foundation
No
Has Received MN Grant(s)
Yes
2016 – PAUL BUNYAN COMMUNICATIONS HUBBARD, BECKER & ITASCA COUNTIES – GRANT: $1,742,232
Arvig (Loretel Systems, Inc.) – Cormorant Lakes Area Project – GRANT $430,780
2020: Paul Bunyan received a MN Border to Border grant to bring fiber to the Leach Lake Indian Reservation and the southeast Beltrami.
Government Districts
U.S. Congress: CD 8
MN Senate: 02
MN House: 02A, 02B
Overlapping MN Reservations