Table of goal data by year

| Year | Rank | 100/20 Mbps |
| --- | --- | --- |
| 2021 | #6 of 87 | 99.25% |
| 2020 | #5 of 87 | 99.25% |
| 2019 | #6 of 87 | 98.79% |
| 2018 | #8 of 87 | 96.3% |
| 2017 | #6 of 87 | 96.35% |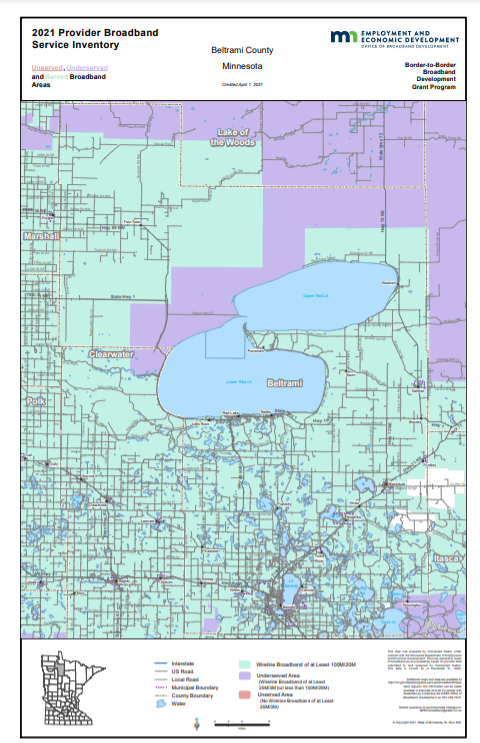 Rank: 6 (out of 87) for access to 100/20 megabits per second (Mbps)
Beltrami has seen no improvement in service in the last year, but they were already better than 99 percent covered. Beltrami is the home county to Paul Bunyan Telephone, a cooperative that is focused on Gigabit service to their customers/stakeholders. They are lucky, having an engaged provider is the easiest way a community can improve broadband access.
FirstNet, a public safety network, has come to Beltrami. That might help extend cell coverage or create opportunities for redundancy.
Beltrami has a green ranking because they are more than 99 percent served. They might now focus on use. Beltrami was found to be one of the top 10 MN counties for highest digital equity needs, based on access to broadband, digital training and accommodations to increase access during COVID. And the computer numbers below indicate that they are below average for access to devices.
Find more articles on broadband in Beltrami County. (http://tinyurl.com/z5yvec6)
Households with Device Access
Computer
87.4%
93.6%
statewide
Desktop or Laptop
75.8%
80.6%
statewide
Smartphone
5.8%
7.7%
statewide
Tablet
56.6%
63.8%
statewide
Has Worked with Blandin Foundation
No
Government Districts
U.S. Congress: CD 7, CD 8
MN Senate: 02, 05
MN House: 02A, 05A
Overlapping MN Reservations