Table of goal data by year
Year
25/3 Mbps
100/20 Mbps
2020
#7 of 87
99.49%
#5 of 87
99.25%
2019
#7 of 87
99.41%
#6 of 87
98.79%
2018
#6 of 87
99.4%
#8 of 87
96.3%
2017
#8 of 87
99.36%
#6 of 87
96.35%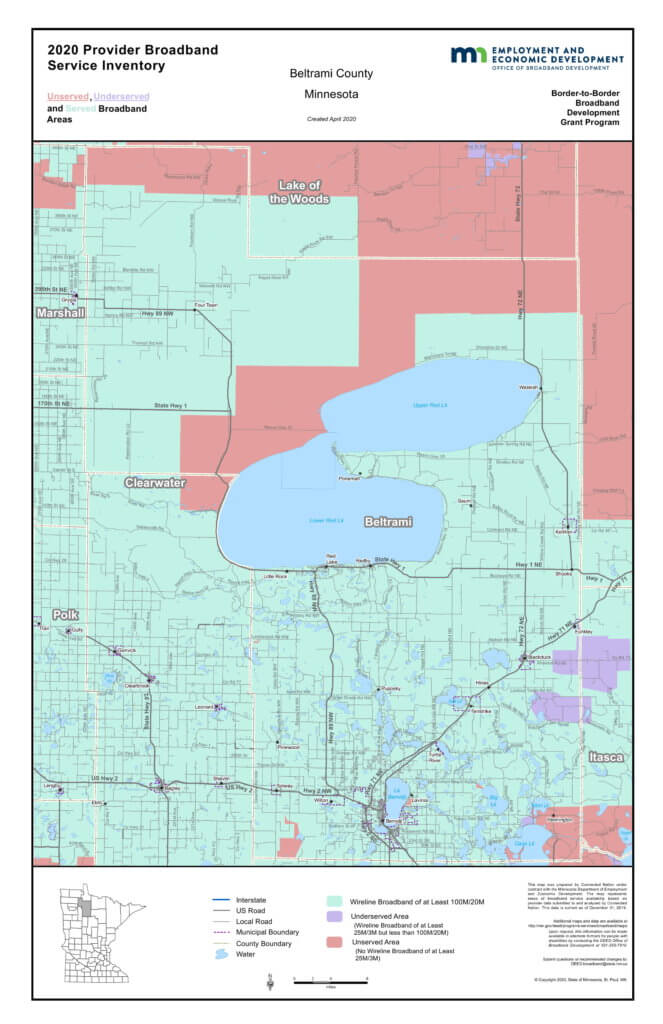 Rank: 5 (out of 87) for access to 100/20 megabits per second (Mbps)
Beltrami is the home county to Paul Bunyan Telephone, a cooperative that is focused on Gigabit service to their customers/stakeholders. The provider is also invested and engaged in promoting use of the network with things such as their annual Gigazone Gaming competition. In the last year, the community has become a Telecommuter Forward community, which will further promote broadband use, especially as residents (maybe recruits) look for ways to work from home amid COVID concerns.
It's worth noting that Beltrami County has top ranking in Minnesota for counties with Gigabit access.
What we learned in the past:
Beltrami County is lucky enough to be home to Paul Bunyan Communications, a local cooperative that has chosen to upgrade their area to Gigabit speeds. Paul Bunyan also is active in the community, including by sponsoring tech-intensive events such as an annual Gigazone Gaming competition. Beltrami has not benefited from MN state grants; they have not received grants from the Blandin Foundation. They are an example of a community that benefits from fully-invested provider.
A couple years ago, Beltrami was part of a Blandin Foundation report on the Community Return on Public Investment in broadband, which found (using formulas) that with these investments Beltrami County has the potential to realize:
A combined household economic benefit of broadband of $38,631,700 annually
A combined increase in residential real estate value of $102,593,266
Update from 2020:
Beltrami County was named one of 23 Telecommuter Forward communities by the State in August 2020. How this will manifest during COVID is yet to be seen but it shows an interest in broadband adoption. Also Paul Bunyan received a MN Border to Border grant to bring fiber to the Leach Lake Indian Reservation and the southeast Beltrami. That work might not be done until 2021, but it might be the nudge the county needs to get top ranking. It will obviously benefit the county but improving service around the county will help expand a culture of broadband use too.
It may be worth noting that Beltrami has lower-than-average access to computers and devices, which seems unusual given the hotbed of broadband access and activity.
Find more articles on broadband in Beltrami County.
Households with Device Access
Computer
86.6%
90.3%
statewide
Desktop or Laptop
76.2%
81.1%
statewide
Smartphone
70.7%
76.5%
statewide
Tablet
54.1%
59.3%
statewide
Has Worked with Blandin Foundation
No
Has Received MN Grant(s)
No
Government Districts
U.S. Congress: CD 7, CD 8
MN Senate: 02, 05
MN House: 02A, 05A
Overlapping MN Reservations