Table of goal data by year
Year
25/3 Mbps
100/20 Mbps
2020
#24 of 87
91.47%
#18 of 87
91.39%
2019
#16 of 87
97.97%
#46 of 87
74.21%
2018
#16 of 87
95.65%
#55 of 87
46.61%
2017
#35 of 87
87.42%
#48 of 87
46.43%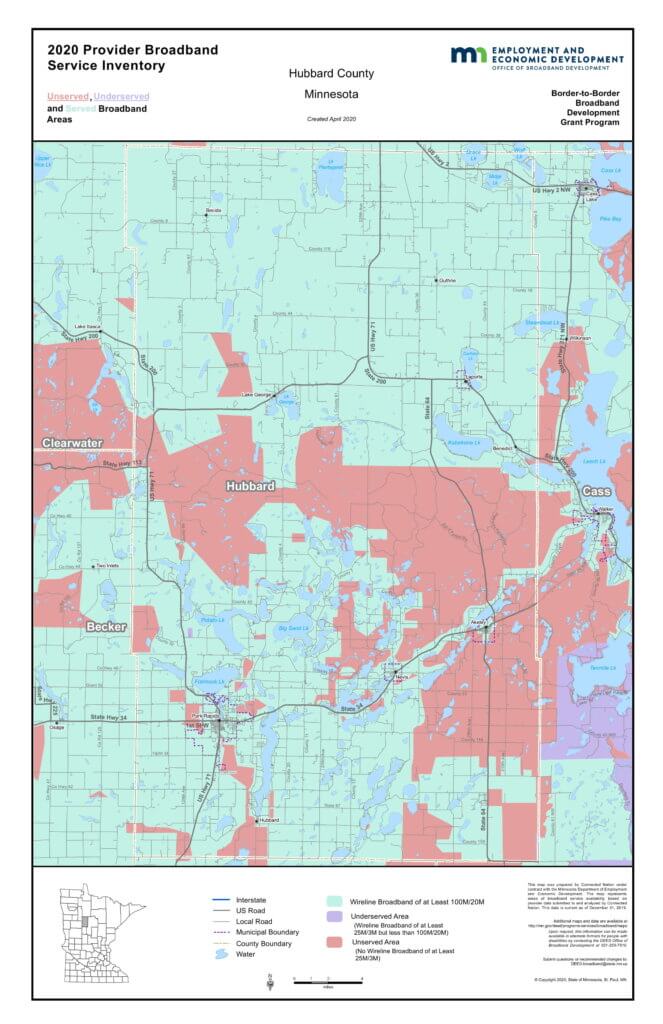 Rank: 18 (out of 87) for access to 100/20 megabits per second (Mbps)
Hubbard County had a great leap in access in the last year. It would be nice to see them keep up the momentum. They received nice recognition for use of broadband in providing services to veterans, but no reports on deployment efforts.
What we learned in the past:
Hubbard County has benefited from two MN state grants:
2017 – Paul Bunyan Communications – North Central Fiber – GRANT $802,620
2016 – PAUL BUNYAN COMMUNICATIONS HUBBARD, BECKER & ITASCA COUNTIES – GRANT: $1,742,232
Update from 2020:
The Hubbard County Veteran Services Office (VSO) is only the second in Minnesota to offer telehealth appointments to local veterans, which is a good indicator that the county is focused on use as well as deployment.
Find more articles on broadband in Hubbard County.
Households with Device Access
Computer
87.8%
90.3%
statewide
Desktop or Laptop
77.2%
81.1%
statewide
Smartphone
68.1%
76.5%
statewide
Tablet
53.6%
59.3%
statewide
Has Worked with Blandin Foundation
No
Has Received MN Grant(s)
Yes
Government Districts
U.S. Congress: CD 8
MN Senate: 02, 05
MN House: 02B, 05A
Overlapping MN Reservations