Table of goal data by year
Year
25/3 Mbps
100/20 Mbps
2019
#16 of 87
97.97%
#46 of 87
74.21%
2018
#16 of 87
95.65%
#55 of 87
46.61%
2017
#35 of 87
87.42%
#48 of 87
46.43%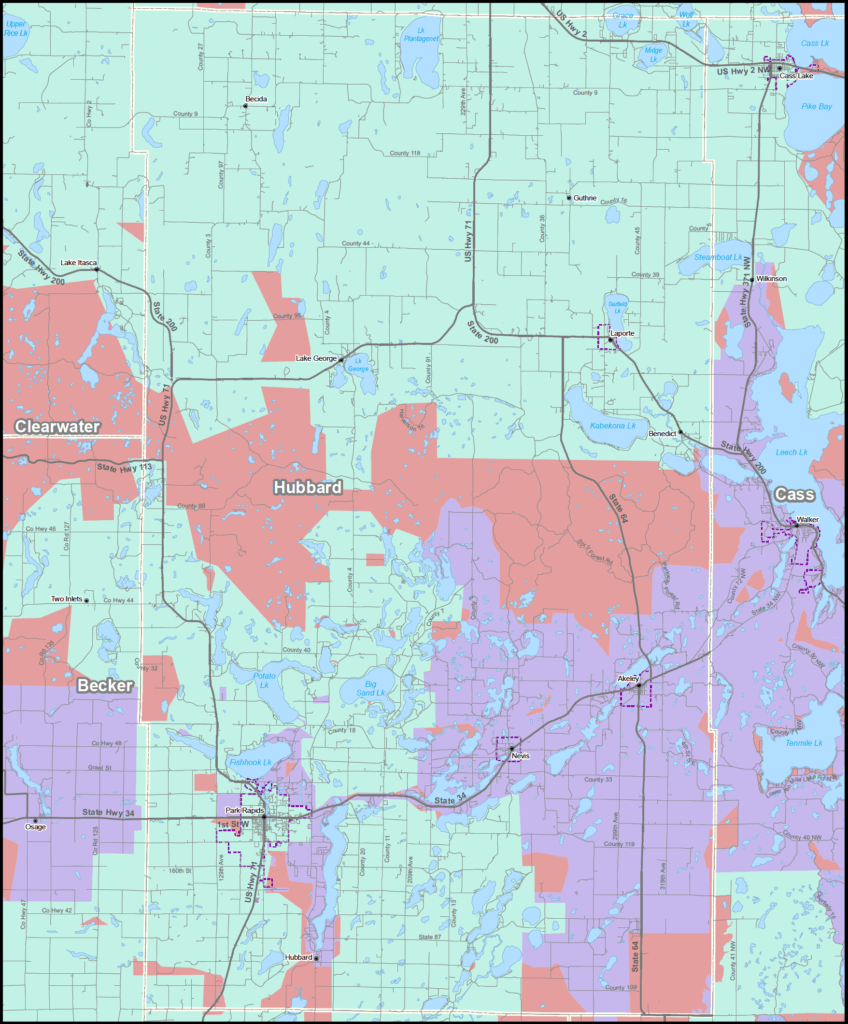 Rank: 45 (out of 87) for access to broadband at 100/20 megabits per second (Mbps)
Hubbard County looks likely to meet the 2022 goals and less likely to meet the 2026 goals. They are caught in a situation where they may appear to be in good shape because access to 25/3 is good but they are not on track for the 2026 goal. That said, they have made good strides in the last year moving from 46 percent to 74 percent access to 100/20 Mbps. They could do it again.
Hubbard County has benefited from two state grants:
2017 – Paul Bunyan Communications – North Central Fiber – GRANT $802,620
Serving includes 657 unserved households, 29 unserved businesses, and 5 unserved community institutions, and 130 underserved households, 13 underserved businesses, and 1 underserved community institution near the communities of Park Rapids, Bigfork, and Side Lake, MN, to locations in St. Louis, Itasca, and Hubbard Counties in northern Minnesota with service exceeding the 2026 state and current federal speed goals.
2016 – PAUL BUNYAN COMMUNICATIONS HUBBARD, BECKER & ITASCA COUNTIES – GRANT: $1,742,232
Serving 785 unserved households, 26 unserved businesses, 2 unserved community anchor institutions and 143 underserved households and 2 underserved businesses in a multi-county region in north central Minnesota with service exceeding the 2026 state speed goal of 100 Mbps by 20 Mbps.
Find more articles on broadband in Hubbard County.
Has Worked with Blandin Foundation
No
Has Received MN Grant(s)
Yes
Government Districts
U.S. Congress: CD 8
MN Senate: 02, 05
MN House: 02B, 05A