Table of goal data by year

| Year | Rank | 100/20 Mbps |
| --- | --- | --- |
| 2022 | #24 of 87 | 90.07% |
| 2021 | #21 of 87 | 91.71% |
| 2020 | #18 of 87 | 91.39% |
| 2019 | #46 of 87 | 74.21% |
| 2018 | #55 of 87 | 46.61% |
| 2017 | #48 of 87 | 46.43% |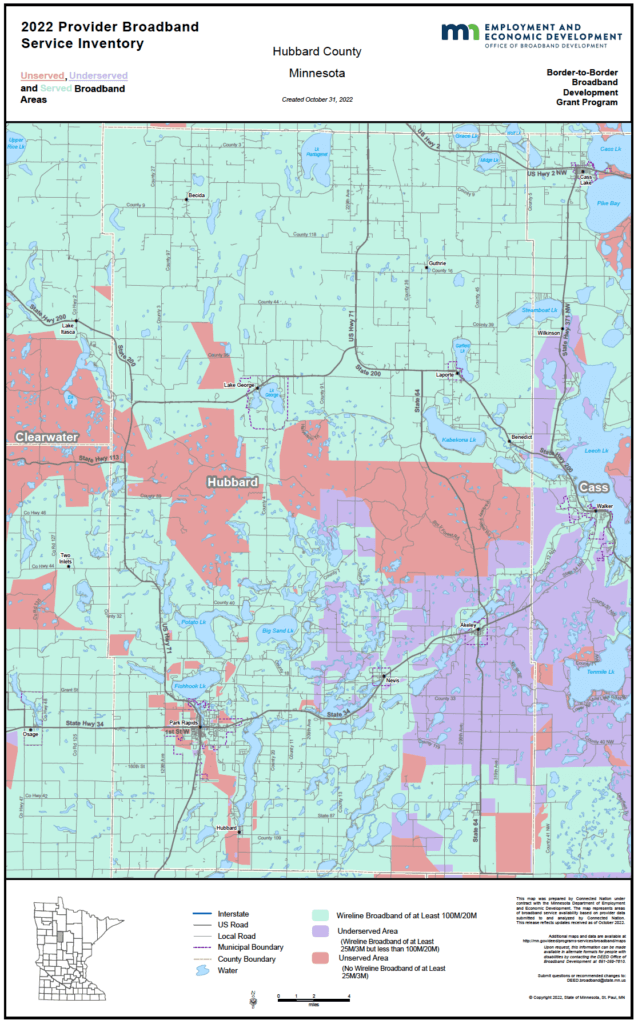 Rank: 24 (out of 87) for access to 100/20 megabits per second (Mbps)
Hubbard County ranks 24 for broadband access and 39 for digital equity out of 87 counties. They have hovered account 90 percent coverage to broadband of 100 Mbps down and 20 up since 2020. There is a decrease this year, but likely down to an increase in granularity of reporting and margin of error. They have 1460 households without access to broadband at that speed. Estimates indicate that it will cost $13.6 million to get to ubiquitous broadband in the county.
Hubbard County had a great leap in access in 2020. They have stayed stagnant since then. And I don't hear much from them. And that's why they have gone from code yellow to red. They need a second wind to get back into the game.
Digital Equity:
Hubbard County ranks 39 out of 87 for digital equity. (See full Digital Equity Profile)
Hubbard County ranks 47 out of 87 for computer ownership. 90.6 percent of homes have a computer of device as compared to statewide ownership of 95.5 percent.
Households with Device Access
A Device
87.8%
95.5%
statewide
Desktop or Laptop
77.2%
83.2%
statewide
Smartphone
68.1%
90.1%
statewide
Tablet
53.6%
65.8%
statewide
Has Worked with Blandin Foundation
No
Has Received MN Grant(s)
Yes
2017 – Paul Bunyan Communications – North Central Fiber – GRANT $802,620
2016 – PAUL BUNYAN COMMUNICATIONS HUBBARD, BECKER & ITASCA COUNTIES – GRANT: $1,742,232
Government Districts
U.S. Congress: CD 7, CD 8
MN Senate: 02, 05
MN House: 02B, 05A
Overlapping MN Reservations