Table of goal data by year

| Year | Rank | 100/20 Mbps |
| --- | --- | --- |
| 2022 | #31 of 87 | 85.5% |
| 2021 | #29 of 87 | 86.65% |
| 2020 | #28 of 87 | 84.14% |
| 2019 | #27 of 87 | 83.06% |
| 2018 | #23 of 87 | 79.44% |
| 2017 | #21 of 87 | 76.35% |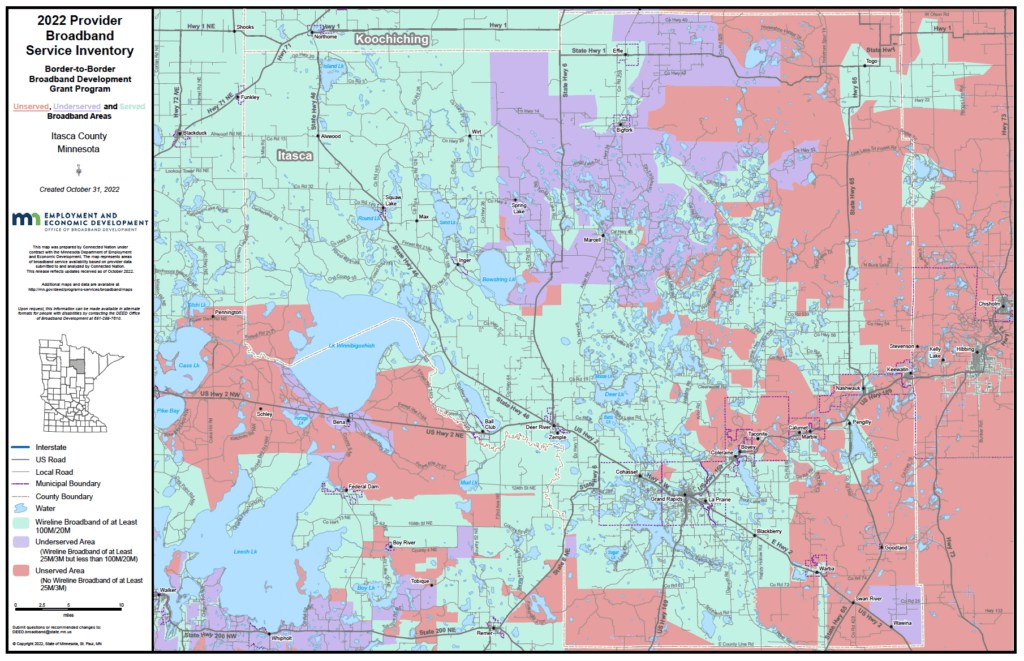 Rank: 31 (out of 87) for access to 100/20 megabits per second (Mbps)
Itasca County ranks 31 for broadband access and 48 for digital equity out of 87 counties. They have hovered around 85 percent coverage to broadband of 100 Mbps down and 20 up since 2019. They have 3679 households without access to broadband at that speed. Estimates indicate that it will cost $34.2 million to get to ubiquitous broadband in the county.
Itasca County has seen very small incremental increases in broadband over the last few years. But they showed a boldness in last 2020, when they decided to invest $293,000 in CARES funding in broadband with Paul Bunyan.
They are home to the Blandin Foundation so the community is engaged; in early 2022, they looked at the local digital divide before and after/during COVID pandemic.
Despite their recent stagnation, they keep their yellow code because they are the home of the Blandin Foundation and therefore have access to local support and an engaged community.
Digital Equity:
Itasca County ranks 48 out of 87 for digital equity. (See full Digital Equity Profile)
Itasca County ranks 54 out of 87 for computer ownership. 90 percent of homes have a computer of device as compared to statewide ownership of 95.5 percent.
Households with Device Access
A Device
85.1%
95.5%
statewide
Desktop or Laptop
73.6%
83.2%
statewide
Smartphone
67.4%
90.1%
statewide
Tablet
52.0%
65.8%
statewide
Has Worked with Blandin Foundation
Yes
Has Received MN Grant(s)
Yes
2017 – Paul Bunyan Communications – North Central Fiber – GRANT $802,620
2016 MEDIACOM HARRIS TOWNSHIP – GRANT: $224,369
2016 – PAUL BUNYAN COMMUNICATIONS HUBBARD, BECKER & ITASCA COUNTIES – GRANT: $1,742,232
2015 – Paul Bunyan Central Itasca County Fiber – Grant Award: $1,980,000
Paul Bunyan Communications – North Central Minnesota Fiber Project– GRANT $2,562,916
Government Districts
U.S. Congress: CD 8
MN Senate: 02, 03, 06, 07
MN House: 02B, 03A, 06A, 07A
Overlapping MN Reservations