Table of goal data by year
Year
25/3 Mbps
100/20 Mbps
2020
#35 of 87
87.67%
#28 of 87
84.14%
2019
#23 of 87
93.12%
#27 of 87
83.06%
2018
#38 of 87
86.15%
#23 of 87
79.44%
2017
#45 of 87
78.92%
#21 of 87
76.35%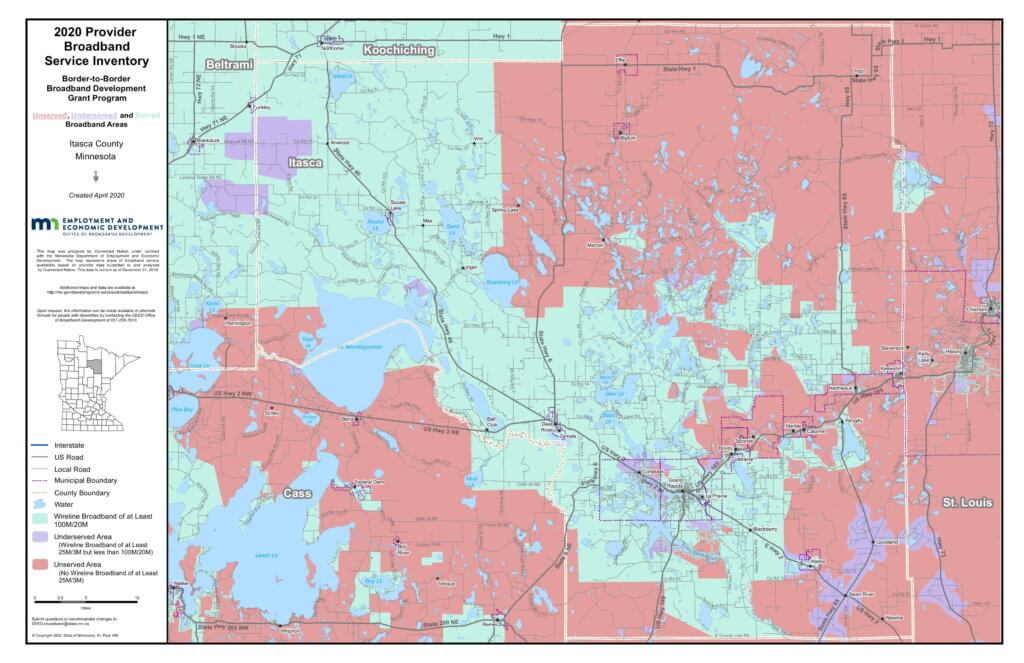 Rank: 28 (out of 87) for access to 100/20 megabits per second (Mbps)
Itasca County has seen very small incremental increases in broadband over the last few years. However, they are in proximity to providers who have shown an interest in serving Fiber to the Home in rural areas and Paul Bunyan received a Border to Border grant that will improve access in the last round of funding. They are sitting on fertile ground.
What we learned in the past:
Itasca has benefited from several MN broadband grants:
2017 – Paul Bunyan Communications – North Central Fiber – GRANT $802,620
2016 MEDIACOM HARRIS TOWNSHIP – GRANT: $224,369
2016 – PAUL BUNYAN COMMUNICATIONS HUBBARD, BECKER & ITASCA COUNTIES – GRANT: $1,742,232
2015 – Paul Bunyan Central Itasca County Fiber – Grant Award: $1,980,000
Itasca County is fortunate in that there are several providers in the area that currently offer Gigabit services. They need to work with providers to extend or expand their services.
Update from 2020:
Itasca County has been one of the counties leading the initative to encourage Minnesotans to take the statewide broadband speed test. And they will benefit from a Border to Border project awarded to Paul Bunyan in the last grant round:
Paul Bunyan Communications – North Central Minnesota Fiber Project– GRANT $2,562,916
This last mile project will upgrade approximately 914 unserved and 439 underserved locations in parts of the Leech Lake Indian Reservation and rural portions of Cass, Itasca, Koochiching, and St. Louis counties. In a funding partnership with the State of Minnesota, Minnesota Iron Range Resource & Rehabilitation Board, Koochiching County, and Morcom Township, Paul Bunyan Communications will improve broadband service levels up to 1 Gbps download and 1 Gbps upload, exceeding the 2022 and 2026 state speed goals. A fiber-to-the premise project, the proposed project areas are a response to consumer demand and will provide relief in economically distressed communities that need new alternatives to diversify and strengthen.
Total eligible cost is $6,268,400
Local match is $3,705,484
Find more articles on broadband in Itasca County.
Households with Device Access
Computer
85.1%
90.3%
statewide
Desktop or Laptop
73.6%
81.1%
statewide
Smartphone
67.4%
76.5%
statewide
Tablet
52.0%
59.3%
statewide
Has Worked with Blandin Foundation
Yes
Has Received MN Grant(s)
Yes
Government Districts
U.S. Congress: CD 8
MN Senate: 05, 06
MN House: 05A, 05B, 06A
Overlapping MN Reservations