Event Details
February 10, 2021
Time: 9:00 am - 11:00 am
On February 10, over 100 economic and community development peers from across the Arrowhead met online for the first step in helping shape the next step in the Arrowhead Intelligent Region initiative, a partnership of Blandin Foundation and Iron Range Resources & Rehabilitation.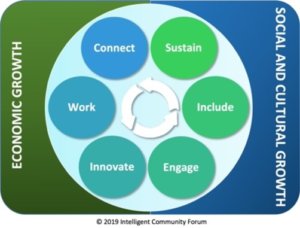 The Arrowhead Intelligent Region (AIR) initiative brings to regional scale the Intelligent Community framework used to date by ten Iron Range communities to develop and implement projects that deliver on the promise of a broadband-fueled economy. If the pandemic has taught us anything, it is that when it comes to broadband, access denied is opportunity denied. Through this initiative we want to work with you and your peers to identify and fund projects across the seven-county Arrowhead region that will improve broadband infrastructure, build a knowledge workforce, incent innovation, ensure digital equality, enable community engagement, and ensure environmental and social sustainability. This approach combines an understanding that broadband is essential infrastructure, while emphasizing that it is the utilization of broadband that drives economic competitiveness. Blandin Foundation and Iron Range Resources & Rehabilitation are committing funds to create a grant pool for regional projects emerging from this process. More details about the grant process will be shared during our meetings.
To identify opportunities and projects to fund, Blandin Foundation and Intelligent Community Forum staff spent the final quarter of 2020 collecting and compiling information for a benchmarking exercise that compares the Arrowhead Region against over 400 communities from around the globe on the framework's elements: infrastructure; workforce; innovation; digital equity; community engagement and sustainability.
On February 10, Dr. Robert Bell, co-creator of the Intelligent Community framework, offered an overview of the results of this comparative analysis and showcase best practices around the increasingly competitive and technology-infused world. We also will host break-out discussions around each of the framework's elements to begin outlining opportunities for collaboration on strategies and projects that would enhance the economy of the Arrowhead Region.
For more information, contact Bill Coleman at bill@communitytechnologyadvisors.com or Whitney Ridlon at whitney.ridlon@state.mn.us
Summit participants are strongly encouraged to attend the Arrowhead Intelligent Region Webinar Series; webinars will take place from 1-2 pm Tuesdays and Thursdays between February 16 and March 9; and a Project Development Meeting on Friday, March 12 from 10am-noon (register).