Image: broadband-conference-2017-alt
Border to Border Broadband: Bridging the Gaps – Expanding the Impact
Event Details
October 25 - 26, 2017
Location: Madden's on Gull Lake
Drawing inspiration from around the state, the 2017 conference showcased a variety of approaches that rural communities have developed to expand broadband's impact, leverage investments, and bridge the digital divide.
Visit the Blandin on Broadband blog for a full conference recap.
This conference was hosted by Blandin Foundation with support from the Minnesota Office of Broadband Development
Platinum sponsor: MN Dept of Iron Range Resources and Rehabilitation
Gold sponsors: Calix, Consolidated Telecommunications Company (CTC), Finley Engineering, Great River Energy, Initiative Foundation, Northland Foundation, Northwest Minnesota Foundation, Resilient Region, Southern Minnesota Initiative Foundation, Southwest Initiative Foundation, and West Central Initiative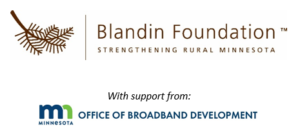 Contact Us
Your feedback strengthens our broadband programs. Contact us to share your thoughts. You may also subscribe to our mailing list, or contact the following Broadband team members.