Image: Blog hero Plant Plate 09 boys dig in
GroundWork
News and ideas you can use to strengthen rural Minnesota communities.
Fueling the engine of hope: Leadership lesson 3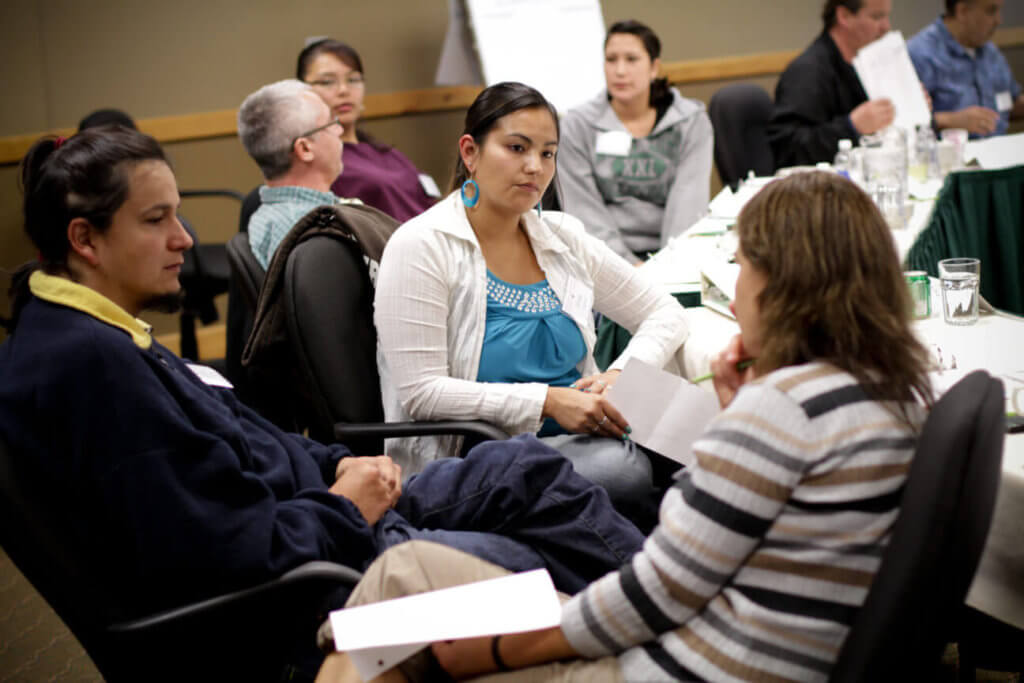 by Valerie Shangreaux Posted in Rural Capacity Building
Blandin Foundation has been in the hope business for more than 75 years. Hope is believing that a different future is possible – for ourselves, our people, our communities. Wise community leaders know that creating a shared vision for the future, a vision arising from and embraced by the community, is the engine that powers change.
This is the third of an occasional series of blogs about lessons we've gleaned as we've propelled leaders in more than 600 rural Minnesota communities to name their assets and claim their vision for a vibrant, resilient future.
At Blandin Foundation, we have a saying that goes like this: Change follows relationships and happens at the speed of trust.
A little corny, right? But think about times when your community work has been particularly effective. My guess is you worked with people you'd known for some time, with whom you shared a common vision for your community's future, and you each brought particular skills and passion for the work.
Which illustrates well our next lesson:
Leadership Lesson #3: Relationships matter
Or put another way:
Sustainable community action is anchored in the quality and diversity of its connections. 
This lesson is the guidestar for Blandin Leadership Programs. Each facet of every program is strategically designed to broaden and deepen relationships among the cohort members and help build resilience – theirs, and the community's as a whole.
It's why we use a five-day "residential cohort" model in BCLP and BRCLP. We ask people to think of these days as a "break in the action" from their daily work and routines, a chance to step back, enter deep conversations and learning with others from their community.
We take that "community" representation very seriously. We strive toward having each cohort be a smaller scale of the community – in demographics, and in the representation of the 9 dimensions of a healthy community. (The Leadership Lesson 1 post describes this process in detail.)
Fostering a culture of hospitality is also key to our retreats. Conversations – even and especially difficult ones – are held in respectful ways. People learn best when they are comfortable, so retreat surroundings offer solitude and group activities, comfortable amenities in a striking natural environment (a special thank you to Sugar Lake Lodge for that!), and of course…food! As our alumni will tell you, there's always something good to eat when Blandin community leaders gather!
These facets of the program may seem like "nice to haves." But we know they are a necessity that helps participants stay focused on their important work: building a supportive group of community leaders equipped to take on collective action when they return home.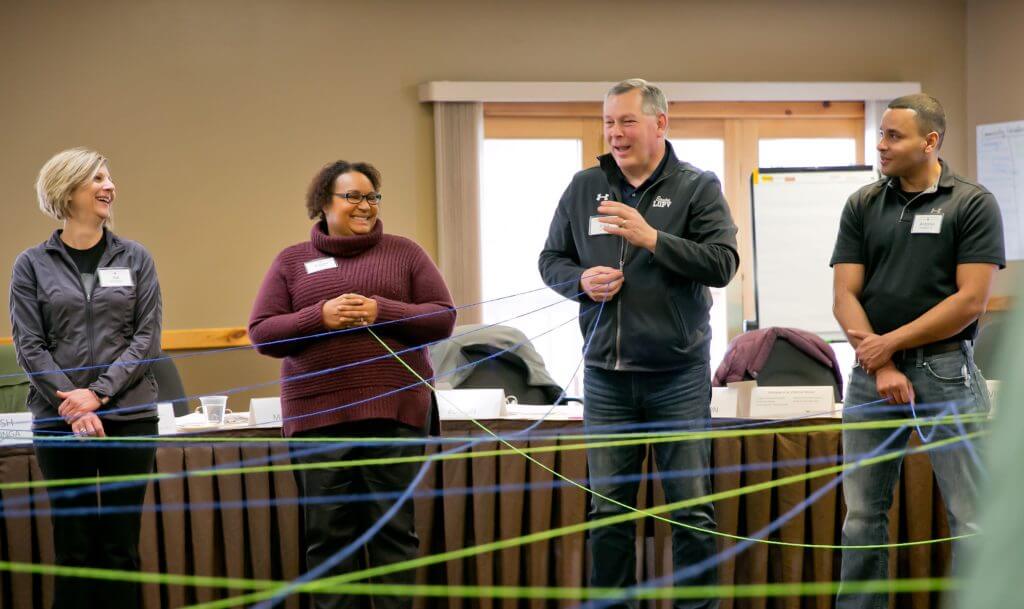 It is always fun to see the new and renewed relationships cohorts head home with at the end of retreat week. What's even more energizing is what they do with it once they're home. (The "Learn More" section below lists a handful of the hundreds of community initiatives with ties to Blandin leadership programs.)
It's back at home where a broad network of relationships really proves its value – to individuals, organizations, the whole community. People feel equipped, and empowered, to build new relationships, especially across cultures and differences. When communities come together to work for all people, community action – progress – will stick better.
The next time you're working in community, ask yourself:
How can you work with others to actively build new relationships, especially across differences? How can you be the ones to stay curious, take risks and reach out?
Learn more
To see where BCLP and BRCLP leaders are making a difference, visit our Partner Directory
A few communities where leaders have been building relationships that matter.
Lower Sioux Community and Redwood Falls
Links to the rest of this series
White paper on principles of the Blandin Community Leadership Program  
Sign Up for E-News
Subscribe to our periodic newsletter for updates and opportunities about vibrant rural Minnesota.