Image: Building on Broadband: Inspiring Progress
Online · October 12-14, 2021
This year, we've all lived through a shared, but unique, experience. What was yours like? How did broadband help or hinder – or motivate – you, or your community?
We know rural Minnesotans keenly felt how important a strong, reliable broadband connection is. When kids can't go to school, adults can't work, and families can't access needed resources, our communities suffer. By working together, though, our communities can forge solutions. Countless rural Minnesota communities have shown the way. Your community can too!
In October, broadband champions in your region and across the state gathered for a 3-day virtual conference to hear what's happening around the state — what is being accomplished, what is still needed, and how we can inspire each other to keep at it! Hosted by Blandin Foundation with support from the Minnesota Office of Broadband Development.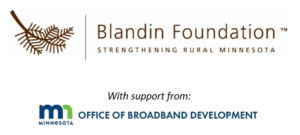 Session Notes and Recordings
Regional Gatherings
At regional gatherings ahead of the conference, more than 300 rural Minnesotans shared their thoughts on what the state needs to prepare for the coming federal broadband funding.
Not sure which region? See this map and list of MN's economic development regions:
Help Spread the Word
Logos and more for you to use if you're mentioning the conference in your newsletter or social spaces.
Sign Up for E-News
Subscribe to our periodic newsletter for updates and opportunities about vibrant rural Minnesota.