2019 Broadband Conference
You're Invited!
Broadband access today is as varied as communities across Minnesota. Some enjoy a gig, others are working hard for any service, and the rest are somewhere in between. This conference is for all communities, regardless of where they are on the spectrum – because we've learned that having broadband isn't enough. It takes inspiration, encouragement and guidance to reap the full benefits. We'll be talking about how to make the most of what you've got and/or get more.
This year's conference will shine a light on local broadband heroes as well as look at several aspects of broadband:
Getting Connected
Community Vitality
Economic Development
Digital Equity
Join policymakers, economic and community development professionals, and community broadband champions from across the state for this annual opportunity to learn, connect, and engage.
We hope to see you there!

Attendee Registration Fee: $180
Exhibitor Registration Fee: $500
Sponsorships start at $1,000
Lodging is not included in conference registration. Lodging is available at Grand View Lodge through September 17, 2019 for $130 per night plus taxes and fees.
If cost is a barrier to participation, scholarships are available. Contact Mary Magnuson (below) for details.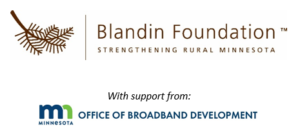 Platinum Sponsor: Minnesota Department of Iron Range Resources & Rehabilitation
Gold Sponsors: ADTRAN, The Benton Foundation, Calix, CTC, Finley Engineering, Initiative Foundation, Northland Foundation, Northwest Minnesota Foundation, PCs for People, Sourcewell, Southwest Initiative Foundation, and West Central Initiative