Image: bb-conf-2020-page-banner-5
Broadband 2020: Connected We Stand
Welcome!
In October 2020 we presented a month of virtual programming around broadband access, adoption, policy, and more! We've all seen over this past year increased recognition that broadband access for all is pivotal to education, work, recreation and social engagement, and civic participation. Broadband access and the skills to use it is indeed more important than ever.
Be sure to check out the Schedule and Resources section below – think of it as your online conference program.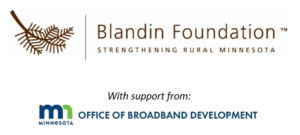 From the Blandin on Broadband Blog
Sign Up for E-News
Subscribe to our periodic newsletter for updates and opportunities about vibrant rural Minnesota.